Nothing's Wrong
  January 26, 2009 Canadian teenager with gun, Tel Aviv, taking part in a Birthright Israel tour Jericho. Mount of Temptation. Forty days for Jesus on these rocks. Today, I'm riding the cable … Read More
By leila segal / April 20, 2009
  January 26, 2009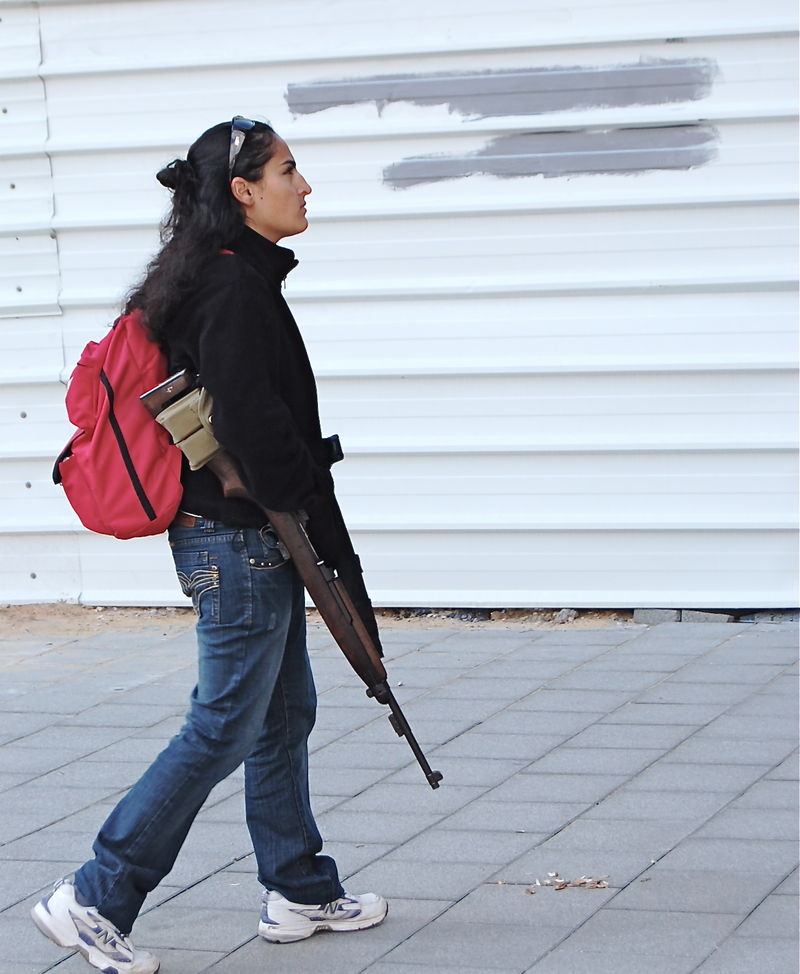 Canadian teenager with gun, Tel Aviv, taking part in a Birthright Israel tour
Jericho. Mount of Temptation. Forty days for Jesus on these rocks. Today, I'm riding the cable car. Me and Khaled, Jamilah and Abdullah, our guide. Last sun shreds the black sky as we descend. Jamilah and Khaled steal a kiss.
Rockets are falling. Jamilah's mother calls. She is crying. Come home, come home.
We stop at the checkpoint outside Jericho, going into Israel. Khaled is driving, I'm with Abdullah in the back. A soldier looms into the window. Khaled winds it down and hands over his blue ID. The soldier takes it, looking slowly into the car. 'Where are you all from?'
'Yafo – she's English.' Abudullah takes my passport and gives it to the soldier, who pages through.
Silence. We sit there. Jamilah straightens her hair.
'Get out of the car.' The soldier points to a lay-by. 'Over there.'
Everyone gets out except me. I can't move the seat forwards. I'm trying to get out and another soldier with dark brown eyes, about 19, looks in. 'Where are you from?'
'London.' I'm still trying to move the seat. 
'Do it.' The soldier indicates to Abdullah.
I get out. We stand. Soldiers pace around the car and look inside. There are five of them, armed.
'What's in there? Open the back,' one of them says to Khaled, as if to a dog. He's nervous, Khaled, I can tell from the way he's trying to open the boot, small by the soldier's bulked-up green. It opens, then falls back shut – Khaled fetches a stick to make it stay. 'What – you've come to hit me?' the soldier sneers. 
Abdullah is pacing. His chest expands as if about to explode. 
'Look relaxed,' Jamilah says. 
'Come this way,' a tall blond soldier tells me. Shit. I go.
'What are you doing here?' he says in English.
'I'm doing a photography project in Jaffa and she – I motion to Jamilah – is my student.'
'She's your student?'
'Yes.'
The blond is translating for the brown-eyed soldier, who seems to be his superior. 'She's the teacher. They're doing a project in Yafo,' he says.
'Yes,' I hurry on, 'photography – we're doing a project.' 
'And everything's OK? You're all right?'
'Fine, fine.'
The soldier looks at me for a moment, then over at the others by the car.
'Nothing's wrong? Are you sure?'
'I'm fine.'
'OK. You can go.' He hands me my passport. 'Sorry… Sorry for the questions,' he says.