Smells Like a Jew
February 08, 2009 Man on a Tel Aviv street (Mor Levy)  I'm in the car, and we're travelling along, Zahi, Karim and me, up to Yafa cafe. We've just been to a solidarity … Read More
By leila segal / April 27, 2009
February 08, 2009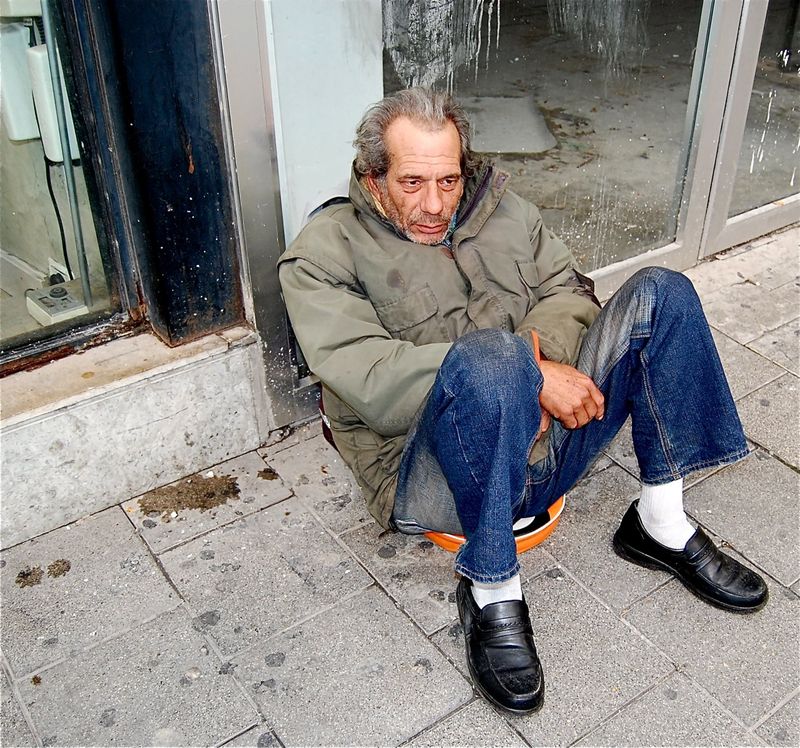 Man on a Tel Aviv street (Mor Levy) 
I'm in the car, and we're travelling along, Zahi, Karim and me, up to Yafa cafe. We've just been to a solidarity meeting with Arabs and Jews where they read poetry in Arabic and Hebrew, and people from the Jaffa community came. It started with a minute's silence for those who died in Gaza. Mohammad, who was leading, had to stop two or three times because he couldn't talk, because he cried.
Jews and Arabs stood in a line on the stage and held each other's hands. System Ali rapped their poetry without music, to mourn. 
And now we're going for something to eat in Yafa cafe.
What no car, Zahi? What happened to your car? Zahi always used to come by and pick me up in a little white car. I don't remember the make. He'd come by when he didn't need to, even, just to be nice. Like, if I could walk there, if it wasn't even far, he'd come by just to take care of me. But anyway, now we're in Karim's car, working out why Zahi doesn't have his.
'Did you write it off?' I ask, turning to Zahi in the back.
'No – it was stolen.' Karim answers for him. Zahi's slow off the mark, he must be tired.
'Stolen–'
'Yeah, stolen. By some Jews.'
What do you mean some Jews? I don't say this. Because I remember the other day, the first day I met Karim, in fact, when we were sitting down to a dinner at Yafa cafe. A dinner with music and oud, and everyone gets up to dance, like Michel the owner and a beautiful girl. And Zahi's asking me if I recognise that kind of dance, if I know what it means, and I say, Zahi, you know some things we have everywhere, and he's, oh you have Arabs in London? And I say, no Zahi – some things are universal. Like what? OK, do I have to spell it out? Some things are universal, like sex.
Karim's to my right at the table, and opposite there's this Jewish woman with very short hair. It's grey and short, and she's always smiling with crinkly bits around her eyes. I think she's the only Jewish woman there, apart from me. This woman asks if we'll light the Hanukah candles. Michel looks around, and there's a menorah, but candles are nowhere to be found.
'Never mind.' Karim leans into me. 'Let's burn some Jews.'
I'm like, what? I don't know what to say. I need some time. Let's burn some Jews.He has a merry twinkle, the kind of goatee you'd find in Shoreditch, and American hip-hop clothes. 
The conversation has moved on slightly. The Jewish woman's spooning up kubbe and smiling again. And I still don't know what to say. OK, now I do. 'I think you meant that as a joke,' I tell Karim, 'but I found it offensive.'
'Why? Are you Jewish?' he says.
'I am, but even if I wasn't, you know, I'd still say it's wrong.'
'But I think it's funny!' the Jewish woman says. 'Don't you see? The power imbalance. Between our two groups. It's funny because of that!'
OK. So you feel better if you get the shit ripped out of you. Somehow, that way, you pay.
Back in the car with Karim, and he's still on his Jewish trip. I'm kind of tired. 'Listen,' I tell him, 'don't do that. You know it feels bad.'
'Jews – yeah, Jews are everywhere. They stole his car.'
I turn my face away. We're still driving, up Yehuda Hayamit. 'Enough,' Zahi says, but he's laughing and it's not enough, yet, for Karim.
'There's a Jew in the car! I can smell a Jew.' He's staring hard ahead. 'Smells like a Jew in the car.'
I slam out as soon as we arrive. Karim follows me and we're both pacing up the hill. We go into the restaurant and sit down – there are five of us at the table. Four men, and me.
'You're not still mad at him, are you?' Zahi asks.
'Why? What happened? What did he say?' Abed wants to know.
So I'm sitting here at this table with these guys in the restaurant where they always go, and I have to say it. 'We were driving in Karim's car, and he told me … he said … Smells like a Jew.'
The whole table bursts out laughing. Abed's laughing. Zahi's laughing, Mustafa's laughing. Karim looks around, then bursts out laughing too. I'm just sitting there and I really wish to be swallowed up by the ground. Instead, I push back my chair, and I go to the bathroom and all of it, Gaza, Jericho, East Jerusalem, the death and the killing, all of this hate, swells out of me, and I cry.