A Week in the Life of The Jewish Princess – Monday
Tracey Fine and Georgie Tam, aka The Jewish Princess, are the authors of The Jewish Princess Feasts and Festivals. They will be guest-blogging on Jewcy this week, and this is their first post. I am sure that when you … Read More
By The Jewish Princesses / October 19, 2009
Tracey Fine and Georgie Tam, aka The Jewish Princess, are the authors of The Jewish Princess Feasts and Festivals. They will be guest-blogging on Jewcy this week, and this is their first post.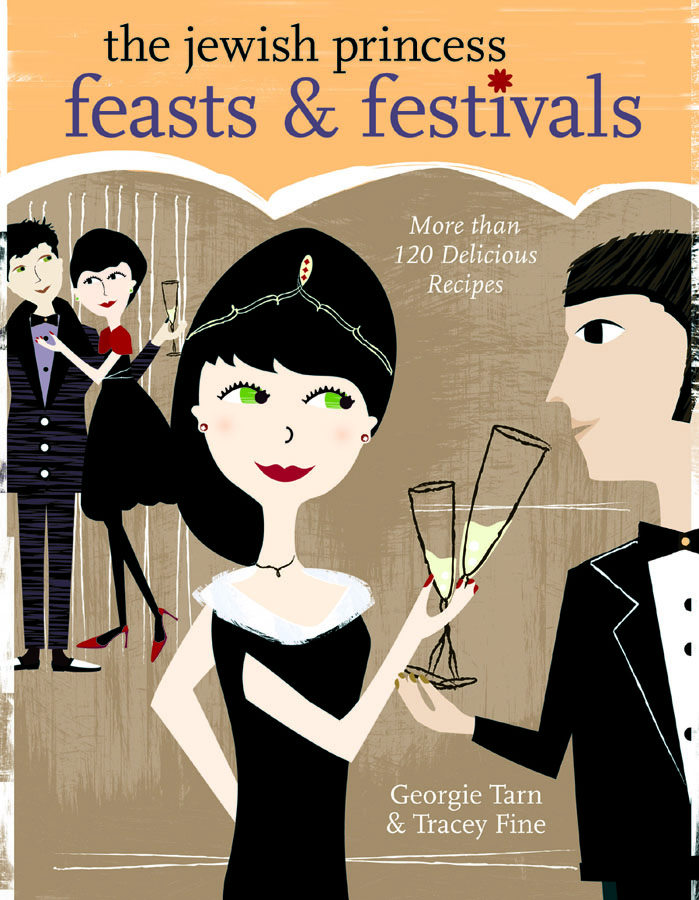 I am sure that when you think of London, you think: red double-decker buses, black cabs, smog (there goes the weather thing). Just like when I think of New York, I think of yellow cabs, pretzel stands, and amazing SHOPS (there goes my reputation) and Broadway of course.  However, all of our historical sites can be found in central London: Big Ben, Buckingham Palace, Harrods and even though I do occasionally visit-Harrods somewhat more than the others, where I live is unfortunately not filled with historical sites, unless I count my high street cobbler, who has been there forever (cobbling is a dying trade) and is a relic himself, smoking fifty a day (very un-PC Princessly correct) sniffing shoe glue, but still there to fix any pair of Jimmy Choos etc. which happens to be most useful. And there is only the occasional black cab that has lost his way and is scuttling back to the West End.
So now I must introduce myself, "How do you do?" I am The Jewish Princess. Bet you didn't think we had any over this side of the Princess Pond, but I am happy to reassure you that we are alive, well, and shopping. In fact, until I decided to come out of the closet (it was quite full) and star in The Jewish Princess Cookbook and The Jewish Princess Feasts & Festivals (just published in the USA by Sterling,) Princesses over here, were not so ready to wave the banner. However, now when I am recognized in my local deli, as fans peer into my shopping basket to see what I am making for dinner (sometimes I have to hide the ready made sauces) or in Brent Cross (my local shopping mall) where I am occasionally stopped, they proclaim that after reading all about me, that they believe they are in fact a Jewish Princess. Sometimes these Princesses are not even Jewish!
You see I had never thought of "Jewish Princess" as a negative phrase and felt that Princesses were getting a hard time. Therefore it was about time to re-brand, after all what is wrong with wanting to look after your family, friends but to also look after yourself?
So I hope that over the next few days you can make time between hair and nail appointments to join me and find out about my family tribulations, what I eat, what I cook, where I go and who I meet. YES, a week in the life of THE JEWISH PRINCESS.  Why not follow me even in your high heels and see if you can find a little bit of a JP in you?
See you tomorrow and remember to stay PPP: Postive, Productive and Princesslike in everything you do!
Cinnamon Cake
serves 10
1 cup (2 sticks) unsalted butter
1 ½ cups sugar
2 extra-large eggs
2 2/3 cups self-rising flour
1 ¼ cups whole milk
1 ounce ground cinnamon (a small pot)
For the Topping
1 ½ cups walnut pieces
¾ cup packed light brown sugar
4 ½ tablespoons unsalted butter, cubed
Preheat the oven to 350°F.
Beat together the butter, sugar, eggs, flour, milk, and cinnamon.
Spread the batter evenly in a 9 ½ -inch round cake pan with a removable bottom.
To make the topping, combine the walnuts, sugar, and butter in a food processor. Blitz until the mixture resembles crumbs, but be careful not to overdo it.
Sprinkle the topping over the cake batter. Bake for 1-1 ¼ hours.
Be sinful: Have a slice of cinnamon cake with butter.