The Weekly Lipa
This week, Lipa Schmeltzer gave us far more than his standard misspelled and gramatically incoherent tweets. Through the God that is Twitter, he provided us with news that he has recently published a Passover Hagadah, linking to a yidenglish "exclusive" … Read More
By Jewcy Staff / March 12, 2010
This week, Lipa Schmeltzer gave us far more than his standard misspelled and gramatically incoherent tweets. Through the God that is Twitter, he provided us with news that he has recently published a Passover Hagadah, linking to a yidenglish "exclusive" interview with a reporter from VIN news, who not only announced  to his viewers that he waited an hour for his VIP interviewee, but reported the wrong date for the release of Lipa's next album, stating a date for the album drop that in no way resembled the actual one.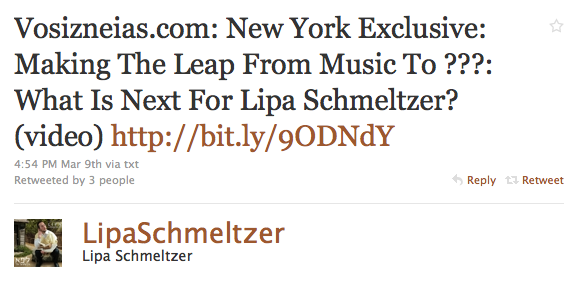 Follow that link and what do you get…Lipa's thoughts on his recent haggada, including images of what happened in Egypt during those wretched ten plagues. Did you know that Egyptians and their Jewish slaves drank out of the same water glass using colored flexi-straws!? – Neither did we. Did you know that the four sons were Hassidic? Or all children of Lipa's? Fascinating.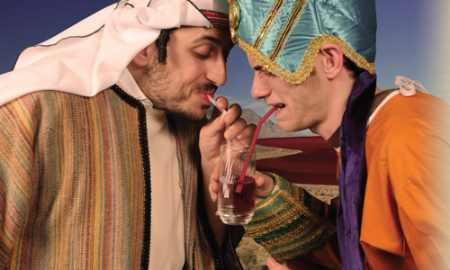 Before parting, leaving readers begging for more, Lipa leaves us with one last video in which after comparing himself to a spicy tuna roll he informs us how much he spent to make each Haggadah, how pricy yet luxurious the art of lamination is, and how much work goes into giving folks a Haggadah that's multi-lingual, translating Passover Seders into English and the ever-loving dead language of Yiddish. He also tells us how many he ordered from his Israeli distributor, how he made his family reinact a Seder in mid-January, and how he avoids phlegm by resisting the temptation to drink kosher virgin strawberry daquiris topped with reddi-whip.
Have a good shaybbos!