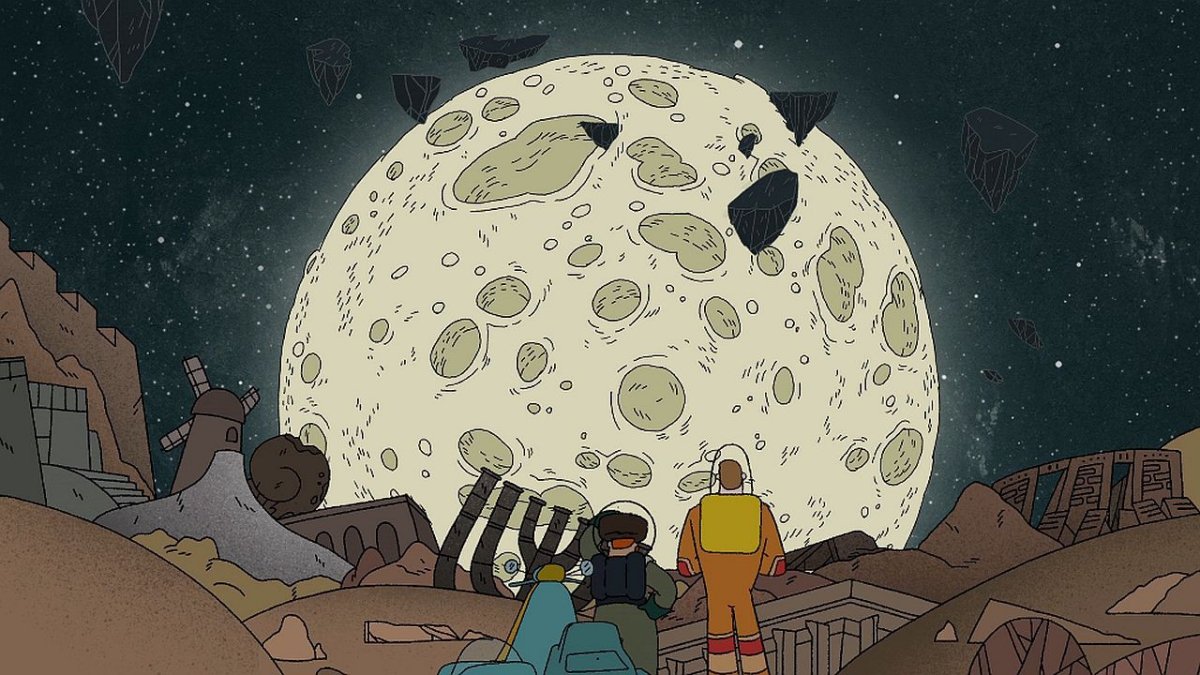 The 21st Annual Brooklyn Film Festival began this past Friday, June 1st, subtitled THRESHOLD. Brooklyn Film Festival Executive Director Marco Ursino sums up its lineup with this great quote: "In the middle of this undeniably appalling time in American history, Brooklyn Film Festival aims to amplify the voices of its films and filmmakers by shedding light, spreading love and celebrating diversity." It shouldn't come as much of a surprise that, with 125 films featured, at least a few would have substantial Jewish content. Jewcy got a sneak peek at three memorable–but very different–animated shorts that fit that bill.
My Yiddish Papi, from Franco-Canadian filmmaker Éléonore Goldberg, is a sobering and powerful seven-minute exploration of a young woman's thoughts and feelings after missing the last phone call from her grandfather before his death. Remembering moments spent together at a bistro hoping to be more fit at his age pale in comparison to the sorrow and seriousness she feels when she recalls the harrowing journey he took to survive the Holocaust. This film does exactly what its late protagonist views as most important: continuing to tell his story so that others will not forget what happened.
Niggun, from Tel Aviv-based animator Yoni Salmon, is a considerably odder production. The twelve-minute film finds two men traveling through space in a distant future looking for the long-lost Earth. One is a space archaeologist and the other is a very frum-looking rabbi. As they arrive to a planet that has fallen apart and seems completely abandoned, audiences are treated to some extremely familiar religious sites that don't appear to have the same effect on the rabbi as one might expect for a modern-day Earth dweller. It's a film reminiscent of the equally strange The Rabbi's Cat, offering a mildly amusing take on Judaism coming out in a way that hardly feels realistic or relatable yet is still fascinating to watch.
Tasteful, from Israeli-born filmmaker Morr Meroz, is the shortest of the three, clocking in at just two minutes. The one-line synopsis for the film describes "a not-so-friendly competition between two food vendors quickly turns violent, as the dishes they serve get less and less Kosher." Its Judaism may not be particularly overt, but this is the latest clever take in the vein of Finding Nemo and Zootopia on what animals as talking beings in a society that resembles our own might say and feel. It's easy to understand that a pig would be offended at the idea of being sold bacon by a pig, and naturally his basest instincts would compel him to offer up sushi in plain view of his newfound competitor. This is simple fun that makes the most of its premise.
My Yiddish Papi and Tasteful are screening together at the NY Media Center on Wednesday and Saturday night, while Niggun can be seen at Windmill Studios on Friday night and Sunday afternoon. Purchase tickets and check out the full lineup of the Brooklyn Film Festival, which runs through June 10th.
Image from Niggun courtesy the Brooklyn Film Festival