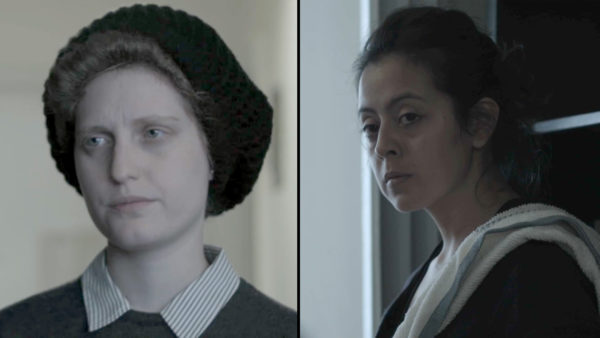 If you're looking for a good Kickstarter project to increase your tzedakah before Yom Kippur, consider Division Ave. The film is fundraising for completion, and it has a strong message of economic and racial justice.
The film explores the ongoing phenomenon that Chasidic homes in Brooklyn hire undocumented immigrants to clean their homes. At times, these women, usually Latina or Eastern European, work in poor conditions, or have no insurance that they will be paid what they were promised.
In Division Ave, Michal Birnbaum plays Nechama, a Chasidic woman who hires Fernanda (Lorena Rodriguez) to clean for her in anticipation of Passover. She learns that Fernanda is having wages withheld by a contractor, and the two form an unlikely team to seek justice. Of course, they discover that they have more in common than they previously thought.
Birnbaum is not only one of the film's stars, but also its writer. Originally from Bnei Brak, she moved to the United States about five years ago after completing her service in the IDF. She currently works onstage and film, including a role in the recent Nerve and participating in the Jewish "24/6" theatre company. She first heard the story of this practice during a synagogue sermon (around Passover) about modern slavery.
"I was very upset, generally because it's not a thing that human beings should do to another human being," Birnbaum told Jewcy. "This is mostly the Jewish community that hires those women. I wanted to explore the situation more." She got in touch with the Workers Justice Project, a laborers' rights organization. The more she learned, the more determined she was to tell this story, and she wrote the screenplay for Division Ave, named for the street where women wait for work for the day, for as little as $7 or $8 an hour. But she also sees the difficult situation of the women on the other end of the hiring process.
"More than even immigration, it's about women, it's about women living under patriarchy," she says. "In my film we see the cleaning lady and her struggle, but we also see the Chasidic woman. She's also under a lot of pressure to be ready for Pesach all by herself."
This feminist attitude continues to the production team, and directing Division Ave is Ofelia Yanez. "It was clear for me that I want a woman to direct this project," says Birnbaum.
As she worked on the screenplay, Birnbaum spoke to immigrant cleaning women, as well as women once from or currently part of the Chasidic community. She found many cultural gaps, sometimes wide enough to create tension or distrust. These could be issues such as the fact that non-Jewish women can't bring their food into the kosher homes where they're working. In one stark example, Birnbaum also found Chasidic women used to scrubbing on their hands and knees surprised when day laborers claim it's humiliating and prefer a mop.
"As human beings, as Jews," says Birnbaum of the cleaning women, it would be better to "do something to make it more bearable for them and just really earn a living with dignity and respect." She cites the WJP's guidelines for fair hiring practices, including a written contract, larger minimum pay, full equipment provided, and to move the hiring corner indoors. Birnbaum admits that some Chasidim express racism towards the women they hire, and hopes that there will be more stories like the one told in her film.
As far as the fundraising process, so far so good.
"We're overwhelmed by so much support from the Jewish community, from the Latin community," says Birnbaum. "It's really touching how many people find it important that we can tell the story of those women."
You know the drill with Kickstarter: There are great rewards and updates for supporters, but funding is all or nothing once the clock runs out. You can watch a video about the film below, and donate before its Monday completion here. 
Image courtesy Division Ave