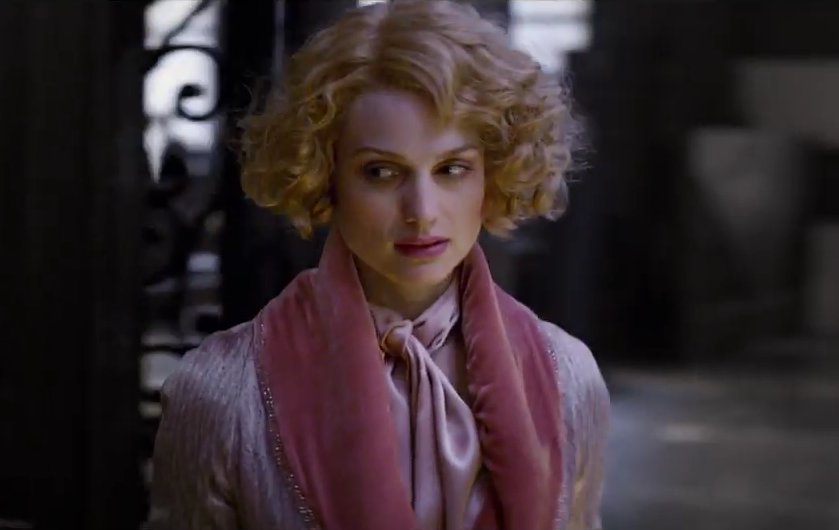 Lord, I have been waiting for Fantastic Beasts and Where to Find Them. This isn't only because it's the first installment in a new series set in the Harry Potter universe, a chance for me to empty my wallet on my childhood and adolescent passion because J.K. Rowling will not let me rest, but also because this movie teased the real possibility of Jewish characters, for the first time in the franchise, either through main characters or the fact that the film's setting is 1926 Manhattan.
So, nu, anything? Well (minor spoilers)… looking for Jewishness in Fantastic Beasts becomes sort of a maddening game.
For example— meet Jacob Kowalski. A Jewish actor (Dan Fogler), and a character name that could easily be Jewish… or Christian Polish. A WWI veteran, factory worker, and aspiring baker, he does reference his grandmother's (to whom he refers to non-ethnically as "Grandma") ponchke recipe (the secret is orange zest, FYI), and while that is the Yiddish word for sufganiyah (a jelly doughnut these days associated with Chanukah), it's also a pronunciation of its Polish cousin, pączki (made with lard, so a no-go). But was that a challah we see he's baked? Unclear. Inconclusive at every turn.
Or, take the Goldstein sisters, confirmed by Rowling to be distantly related to Harry Potter's Jewish classmate Anthony Goldstein (also only confirmed as Jewish on Twitter). That seems pretty straightforward. But alas, neither actor who plays a Goldstein sister is Jewish herself, and there's no reference to their heritage onscreen. Queenie (my new favorite character in anything ever, by the way), does make a mean strudel. And we can see from Porpentina's ID badge that her middle name is Esther— that's good news (could Queenie really be a Malka?)! But no other bones are thrown, and a brief flashback to the Goldstein parents suggests no foreign accent, suggesting the family has been in America at least a couple of generations.
And how would Jewish wizarding families have immigrated to America? Did they live in the shtetl and face violence as Jews? As wizards and witches? Does it seem a bit obsessive weaving through tiny details of one work to try to discover a deeper canon of character backstories? Welcome to being a Harry Potter fan. And does it seem silly to kvetch about historical accuracy in a movie about witches and wizards? Maybe to you, but Rowling has always wanted to portray a society that lives secretly alongside our own, and of all the changes to make to historical accuracy, why whitewash it?
In any case, I am still open to J.K. Rowling's take on all of this (how do Jewish magical people in the Old Country live in two different marginalized communities?). And it looks like I'm going to be waiting for the next movie, at least.
But at least as a Jew I had the chance to try to play heritage detective. People of color wouldn't even be able to do that.
Well, that's not strictly true. The wizarding community onscreen was diverse. While the main characters skewed white, in addition to the president of American Wizardry being an African American woman, American witches and wizards are extremely diverse, not only racially but of the cultures they seem to represent (the costumes for this film are amazing).  So how did filmmakers miss the memo that New York City was diverse in 1926 as well?
Between 1920 and 1930, Manhattan's population was more than a third foreign-born. The African population, while a minority, was sharply growing (it passed ten percent in that decade). There were nearly two million Jews living in New York City around this time,  nearly half of which were in Manhattan, especially in Harlem and the Lower East Side (this film has scenes in both locations, to no avail).
Despite Manhattan then being a city of immigrants, especially Jews, and diverse overall, we just see a lot of white men in fedoras and white women in cloche hats. We don't hear anyone non-magical speak anything but English (though the various New York accents are a-mazing). Despite the vividness of the scenery and costumes, the people are surprisingly… bland.
The first scene in the film featuring non-wizards takes place on a boat. Only white people, and Newt Scamander has been travelling to non-European countries lately, but hey, maybe he took the ship from England. The second missed chance is when he goes into a bank— well, it seems fancy, and those places were certainly discriminatory. But then one scene after another, and nada. I managed to spot one non-white Muggle (excuse me, no-maj), in the entire film. I spotted one woman with a head covering who might have been Orthodox, and this includes a scene that takes place on Orchard Street. Yes, all the storefronts we briefly see are in English. Weird.
J.K. Rowling, if you're reading this, if I have one request, it's that Queenie and Jacob get together in the next movie or two, and that at their wedding (at the latest!) we see that they're a Jewish couple. Also, more non-white characters. Please and thank you.
Image of Queenie being fabulous via YouTube.