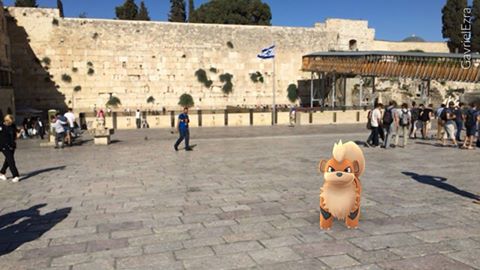 At some point, Pokémon Go became the Most Important Thing happening Anywhere Ever. If you have the app, you're walking down the street, and boom! The image of a Pokémon is projected onto whatever your phone's camera sees. An eevee in your cereal! A charmander riding the bus! The possibilities are endless!
Pokémon know no religion or political ideology, so they appear everywhere, including Jewish spaces. This has included the kotel, and Holocaust memorials to the extent that there have been press releases urging Pokémon Go players to power down while in such solemn places.
So where should we find Pokémon? I'm not in charge of where Pokémon Go puts their pocket monsters (heck, I don't even own a smart phone, so I can't play), but I do know my original 150, and my Jewish spaces. Some suggestions:
Edit: We received a comment asking where to find the Pokémon Golem. That's obvious: in the attic of the Altneuschul.
So go out there, and catch some Jewish Pokémon! I leave you with the iconic theme song (supercut with other, less iconic ones) in Hebrew:
Image credits: Facebook, Wikimedia, and YouTube