You may have heard about Olaf's Frozen Adventure, the 20-minute film playing before Pixar's Coco. Despite attempting to cash in on the ongoing zeitgeist of the 2013's Frozen, this short has been met with controversy— as in, people hate it. You can read tips online as to how avoid seeing it in the theater. At least one Mexican cinema refused to show it altogether. (After all— imagine going to the movies to see a story about a latino child in order to sit through nearly a half hour of snowman shenanigans— literal whiteness.)
that 47 minute long frozen sequel before coco is white supremacy

— m a r i s o l (@charolastre) November 25, 2017
But there's another issue with Olaf's Frozen Adventure. It takes place during the holiday season in the fictional kingdom of Arendelle, but because Disney must pay lip service to other cultures (Walt's racist head is rolling over in its jar!), there are brief shots of non-Christmas traditions, including, yes, Chanukah: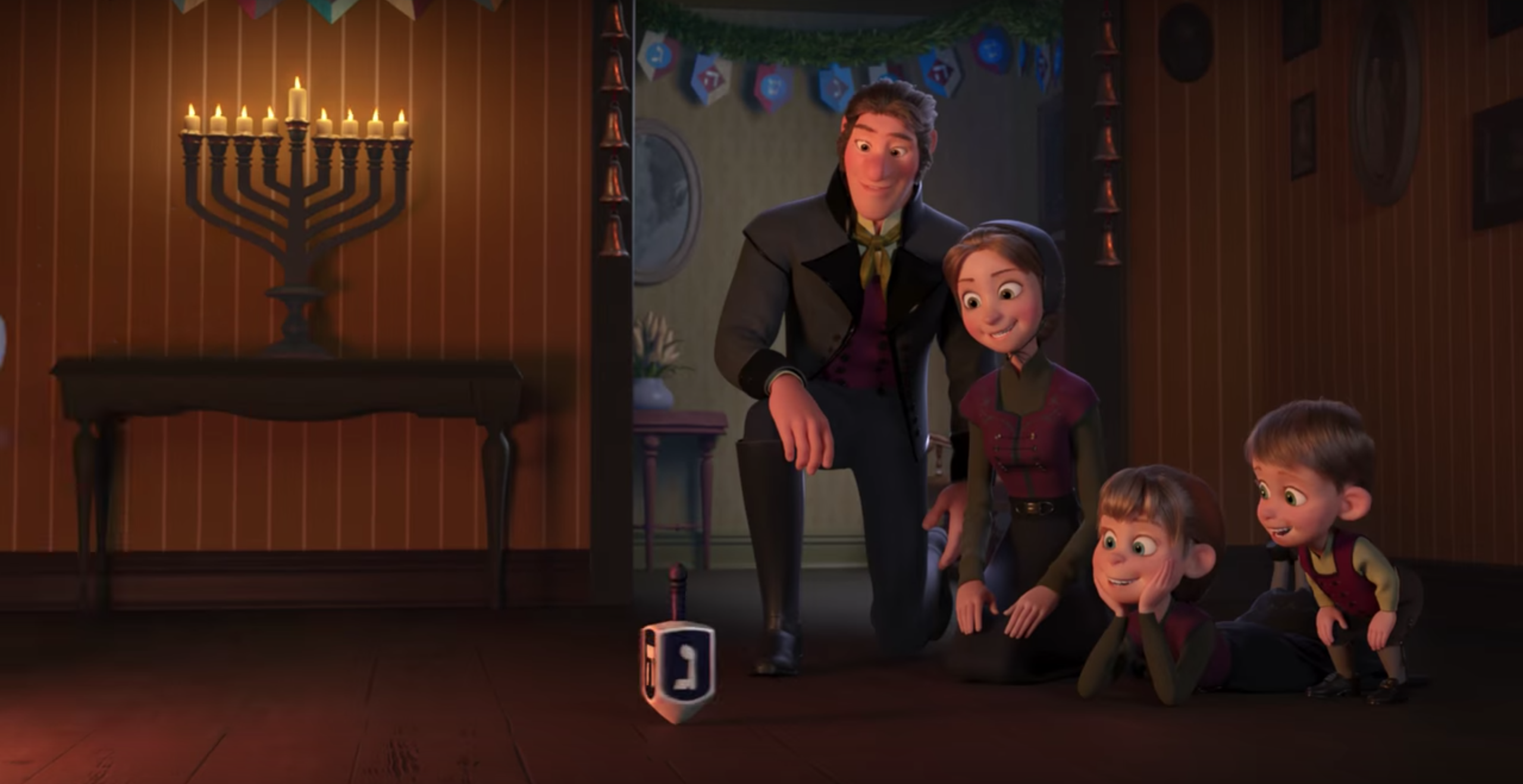 Listen, Jews hail from all over the world, and can look like anyone, and the phrase "looking Jewish" is virtually meaningless. But… boy does that family appear generically white.
Plus, according to the fully-lit chanukiyah, it's the eighth night of the holiday. What a fun coincidence that always seems to happen when non-Jews portray what they think Chanukah is like!
But there's a bigger issue here: Disney has insisted on grounding the Frozen universe in a particular time and place— circa 1840, and Norway. Here's the problem: There was no Chanukah in 1840 Norway, because there were no Jews there.
Jews were periodically allowed in Norway over the centuries, or given special dispensation to stay or travel. But a 1687 ban on Jews was reinforced in the Norwegian constitution of 1814 (Portuguese Jews might have been OK, but let's be real— the family in this picture isn't Portuguese). That law persisted until 1851— over a decade after this film takes place. And the first real Norwegian Jewish community didn't exist until the 1890s (and didn't last long, since the Holocaust was only fifty years away). So the odds of knocking on a door in Norway in 1840 and seeing a family playing dreidl were about as likely as the one knocking being a living snowman.
Yes, it's a Disney movie. Yes, Arendelle is a fictional land that's only Norwegian when it suits. Yes, it would be unfair to exclude Jews from the holiday season in a piece of American-created culture. But it's still so weird and ridiculous to see shoehorned generic Chanukah imagery into a land that until that point would have still managed to be judenfrei.
Of course, Josh Gad, who voices Olaf, and Idina Menzel, who voices Elsa, are both Members of the Tribe, so that's at least two Jews in Frozen, if not the kingdom of Arendelle. But regardless of Jews in the cast or on the creative team of the film, the historical revisionism here is a bit cringe-worthy. When you run Jewishness through the mass-market Disney wringer, and you get something as milquetoast as Walmart fruitcake.
(Thanks to Jewcy reader Adam Freilich for the tips.)
Image via YouTube.