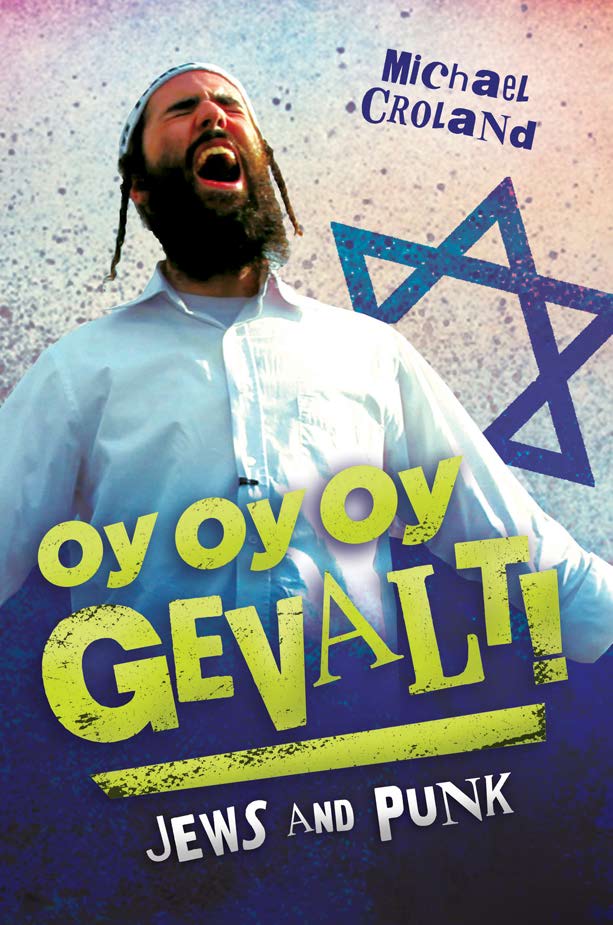 In retrospect, it was inevitable that I'd write Oy Oy Oy Gevalt! Jews and Punk. I feel a personal connection with many of the featured artists, and had circumstances allowed, I gladly would have seen them live more often. Many of them are based too far away, or don't play often enough. Yet, there are two bands in the book that I've seen far more than any others, and I saw both for the umpteenth time last week. Golem, a klezmer-rock band with a punk edge, is the center of attention in my chapter about punk influences on klezmer and other types of Jewish music. Moshiach Oi!, a "Torah hardcore" band, is perhaps the most prominently featured group in my chapter about overtly Jewish punk rock bands.
Why do I keep going to see these bands over and over again? Of course I enjoy the music, and for a long time it was research for my book. Golem and Moshiach Oi! are based in New York and have been around a while (since 2000 and 2008, respectively), which gave me numerous opportunities. But the reasons I went again and again ran deeper.
Golem and Moshiach Oi! reaffirmed for me that Jewish punk (or klezmer-rock with a punk edge, if you will,) was not just a collection of isolated examples. So many of the bands in my book were spread out by time and geography, but they were an exception. Seeing Golem and Moshiach Oi! so often made my research subject—and my passion—tangible. I wasn't only covering a band that played a few shows or a defunct band from halfway around the world. Jewish punk—and its variations—was still going strong.
Golem's and Moshiach Oi!'s music—and concert experiences—also give me satisfaction in my identity as an outside-the-box Jew. This happens at a cultural level with Golem and at a religious level for Moshiach Oi!
My first article about Jews and punk in 2005 began by quoting Golem's then-violinist, Alicia Jo Rabins, and Golem has been a key part of my Jewish punk journey ever since. I recalled my first Golem show, in San Francisco, in my book:
A 2006 concert showcased Golem's potential to give fans a wild, fun Jewish experience. … When Golem played a hora, two or three women wearing sexy dresses danced in front of the band and helped get a hora dance going. They were called the Hanukkah Horas—with emphasis on the first syllable of the second word. About half the crowd exuberantly joined hands, kicked their feet, and circled around a mid-sized concert venue. After starting out with the standard Hebrew lyrics of "Hava Nagila," singer Aaron Diskin frantically sang in English about wanting another tequila with lime and salt. Diskin rolled around onstage, stripped down to "A Great Miracle Happened Here" Hanukkah-themed underwear, which two of his bandmates also showed off.
As I moved around the club intertwined with presumably Jewish strangers, I had a euphoric high and felt "Jewishly connected" on my own terms. I wasn't getting that in Virginia, where I was living at the time. This was fun Jewish culture mixed with debauchery and edginess. I'd waited a long time and come a long way for this. I don't get as excited every time I see Golem, but that experience is ingrained in my mind as the benchmark for what a Golem concert is.
This past Wednesday was my 19th time seeing Golem, and I've written about the first 18. I've started a hora, gotten a hora to switch directions and circle to the left, and danced the hora outside in the rain in December. I've seen Golem at an Oktoberfest gig, multiple Chanukah shows (latkes were involved), a holiday season concert, and a Christmas tree-lighting ceremony. I've even crashed a wedding that Golem was playing at!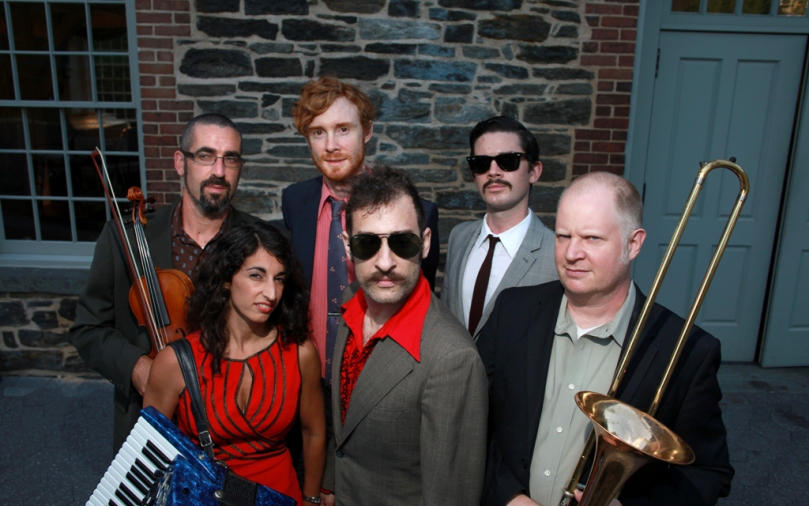 Whereas Golem is the band I want to play my wedding when the time comes, Moshiach Oi! was the band at my book release party. I'd been in touch with guitarist Menashe Yaakov Wagner since 2006 about his band White Shabbos, and in 2008, Wagner told me that his friend Yishai Romanoff had started "perhaps the world's first hardcore vegan straight-edge Orthodox Jewish punk band." Needless to say, I was intrigued! Around the time Wagner helped expand Moshiach Oi! into a quartet later that year, the label was shortened to "Torah hardcore."
In November 2008, I went to Wagner's house and was the first person to interview Moshiach Oi! They'd only played one show, and I was dubious about the band's prospects. I was wrong, and since then, Moshiach Oi! has released two albums, with a third in the works. The group has been featured in one documentary (Punk Jews) and interviewed for a second (Tikkun Olam) and been profiled in The New York Times. Romanoff graces the cover of my book.
On Thursday I saw Moshiach Oi! for the 10th time, and like for Golem, I recounted every show. A Moshiach Oi! concert is an intense experience, not just because the music is heavy. Romanoff has described the band's music as "a punch in the face of godliness." When Romanoff is screaming "Baruch Hashem," it's not just art inspired by Judaism. It's a religious expression of Judaism. "When I'm onstage screaming, I'm trying as hard as I can to only focus on one thing, that I'm doing this for the sake of G-d … only to make G-d's name great in the world," Romanoff explained in Punk Jews. Romanoff hopes that his punk rock version of "Shema Yisroel," for example, makes the prayer more relatable for people who don't connect with a conventional rendition.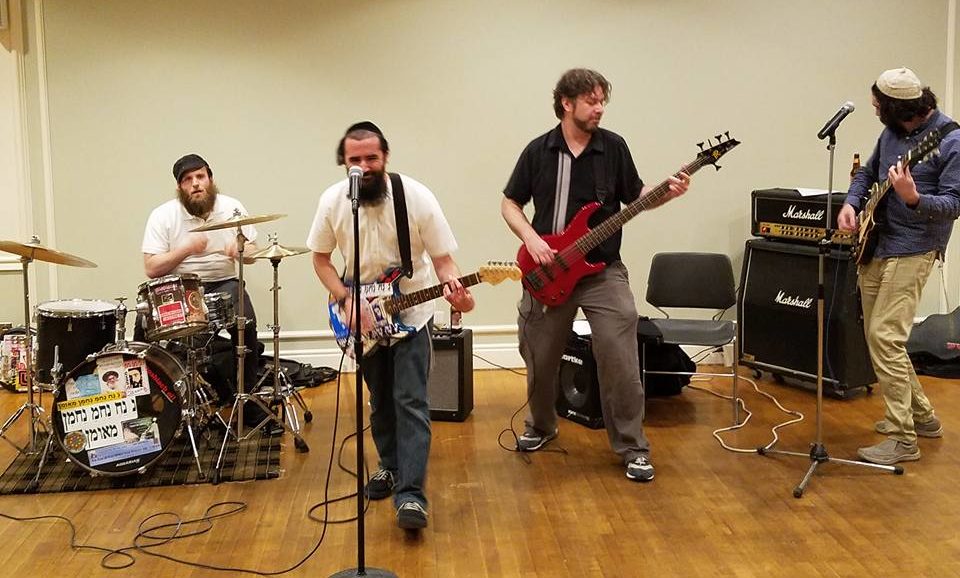 When the opening chords of "Am Yisroel Chai" strike, I get into a focused state. When the lyrics kick in, I scream along with the message of the Jewish people persevering. At my book release party, Romanoff passed me the microphone so I could sing, "We are the children of Abraham… He was the first man to break apart and raise up a fist and smash his culture's lies and scream 'Resist!'" Romanoff doesn't merely tell the story of a Biblical character. He recites it as a battle cry that seamlessly melds his Jewish and punk identities.
When the bridge of "Avoda Zara" kicks in and the musical intensity picks up, I have an out-of-body experience. "No, no, no, I only bless Hakodesh Baruch Hu [the Holy One, Blessed Be He]," Romanoff screams and so do I, before repeatedly screaming "Hey!" in the coda to sustain the momentum just a little longer. During that song, I am filled with a fierce, fierce love for Hashem. That might sound like an oxymoron, but the praise for God is genuine and it's wonderful. Nothing else brings me closer to God with such concentrated passion in the moment.
I know that that not everyone is reassured in their Jewish identity or feels an unparalleled connection with God. I do, and with these concerts I keep going back for more.
Oy Oy Oy Gevalt! Jews and Punk was published in April by Praeger (an imprint of ABC-CLIO).
Image credits: Cover of Oy Oy Oy Gevalt! Jews and Punk
Golem via Golemrocks.com
Moshiach Oi! performing at the Oy Oy Oy Gevalt! Jews and Punk book release party in June. By Michael Shields.