Watching hundreds of stylish Brooklynites slink away from the Williamsburg Waterfront Park yesterday, most everyone scowling, seeing as headliners …And You Will Know Us by the Trail of Dead couldn't play their set due to a lightning storm, I realized just how much JellyNYC's free summer concert series has grown over the last four summers. From the looks of the crowd, this was the event they had been looking forward to all weekend. Though I imagine it isn't ever easy, the equation just works.
"The first Pool Party [in 2006] was a scary day," said JellyNYC founder and co-owner Alexander Kane, "it was the world cup finals and there were some great bands, and a decent crowd, but it was much thinner than we had hoped. The game went into double overtime, but when the game ended floods of people came in." Kane, besides being a member of the tribe, also runs Brooklyn's only completely free large-scale outdoor summer concert series. JellyNYC's Pool Parties have become synonymous with summer in Williamsburg, an iconic representation of what the sweatiest months in Brooklyn have just now come to look like: raucous games of dodgeball, Ray-Ban Wayfarers, cold beer and cutting-edge artists from all sorts of genres. Formerly housed at Williamsburg's dilapidated McCarren Park Pool, this summer has found the Parties moved to a new space at the East River State Park at the Williamsburg Waterfront.
After last summer's series ended, the city decided to turn the empty McCarren Park Pool back into a community pool, forcing JellyNYC to find a new home. I asked Kane if he thought the Pool Parties' success had anything to do with the decision to turn McCarren Park Pool back into a functioning pool: "The series definitely helped (as did some of the other big shows) put that site back on the map…there are organizations that have been trying for 20 years to turn it back into a pool, and Bloomberg put it back on his list because he couldn't ignore it anymore." Kane explained that Mayor Bloomberg included the pool as part of a $350 mil. greenifying program that he was leading. While the other projects included in the program were dropped when the economy crashed, McCarren Park Pool somehow maintained it's position as a top priority. Still, Kane made sure to note that the Pool "was always kind of an interim site." JellyNYC's initial success wasn't immediate, nor was it sustainable without certain challenges. "The first years were extremely stressful," said Kane, "things got steadily easier, and we had a great run at McCarren, but now with the state parks there are new issues and headaches." There are things JellyNYC can't do anymore because they are now hosted by a state park, "like not having a beer garden-having one this year is hard, and not being able to have the slip n' slide, which was something we liked having on site, and audiences did too," Kane lamented, "if we could transplant what happened at McCarren to the [Waterfront] park, everyone would be a lot happier, but we enjoy the breeze and the backdrop." Things have changed a lot at the parties, but Kane made sure to let me know there's hope for improvement. "Everyone has been behaving, and everyone is just having a good time…[and next year] hopefully the state will lift some of the restrictions." Yesterday's show, the third party of the summer, boasted a lineup as diverse as you'll find: Latin-beat act Grupo Fantasma, noise rock from HEALTH, scratchy Americana from Black Lips and what was supposed to be a high-energy set from …Trail of Dead. The music was wilder than last week's triple bill boasting The Dirty Projectors, Magnolia Electric Co. and Crystal Antlers, but the crowd still managed to keep themselves out of trouble. Like most young Jews, Kane admitted he went to summer camp, and though those memories have influenced his vision for the parties, "JellyNYC's general company ethos is good ideas and fun before anything else. We all try to bring out the inner child when we conceptualize the programs."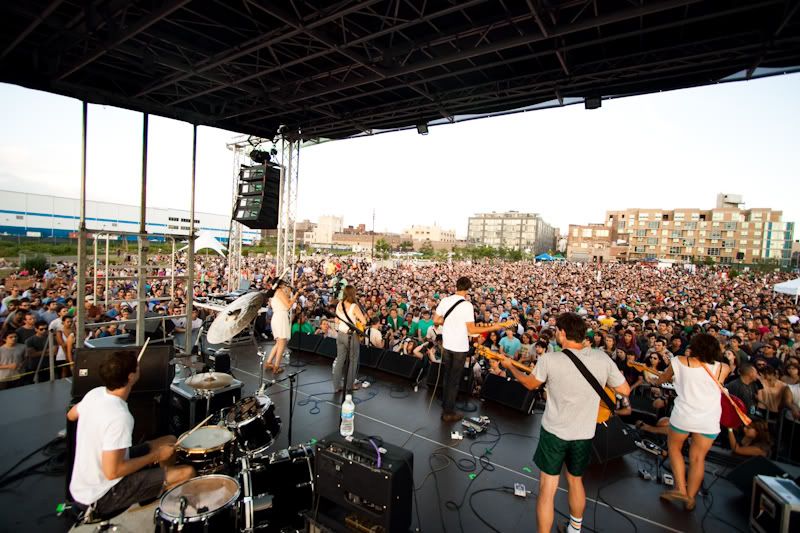 I can't help but agree with Kane, seeing as the Pool Parties are some of the only remaining events in Williamsburg that welcome square and hipster alike. "We've never had an air of exclusivity," Kane emphasized, "it shows in our activations on site. Maybe if we had an eyeliner one or a tshirt ripping area, [but] it's just not how we approach things." He is referring to the sponsors that work on site, setting up different 'activations' to engage the concert-goers. "If someone is on site they're enhancing the experience somehow, like Converse basketball, Red Bull dodgeball, Mavi hosing people down and [stuff] like that." The fact that all the Pool Parties are free also helps the events feel welcoming and open. Kane explained that the JellyNYC team agreed that "If they're not free, we shouldn't do them. The first year we asked for donations, but this year, and the last three, we're not. That's how we wanted to distinguish ourselves from the Summerstages and Prospect Parks, not because they're wrong, but because we want [The Pool Parties] to be free." That is why the events rely so heavily on corporate sponsorship, though Kane stressed that "if you go to any ticketed festival you're going to see a lot more branding on site." When I suggested that perhaps the economy tanking had something to do with concert-goers being more open to corporate presence at the shows, Kane laughed, finally saying "You can give someone a free car, and they'll always find something to complain about…but company ethos is Robin Hood taking big corporate dollars and putting them to good use." Whether you buy that or not, it's hard to deny that Kane and his merry band of JellyNYC staff members have looked a bad economy in the face and told it to back off. Though they were forced to cancel a confirmed Pool Party series in San Francisco, they're still keeping up with paying state park costs and regular expenses, and the company has managed to program another summer of great Pool Parties here in Brooklyn. And what about the rumors of national of expansion? "Definitely," Kane said, "the idea of taking free programming to other cities is definitely something we're inclined to do and we hope to do it sooner rather than later. Remaining JellyNYC Pool Party dates: 8/2 – Dan Deacon, Deerhunter, No Age 8/9 – Simian Mobile Disco, Fiery Furnaces, Dark Meat, The Netherlands 8/16 – Del The Funky Homosapien, Gravy Train!!!, DD/MM/YYYY, Kenan Bell 8/23 – Girl Talk, Max Tundra, Wiz Khalifa 8/30 – Grizzly Bear, Beach House