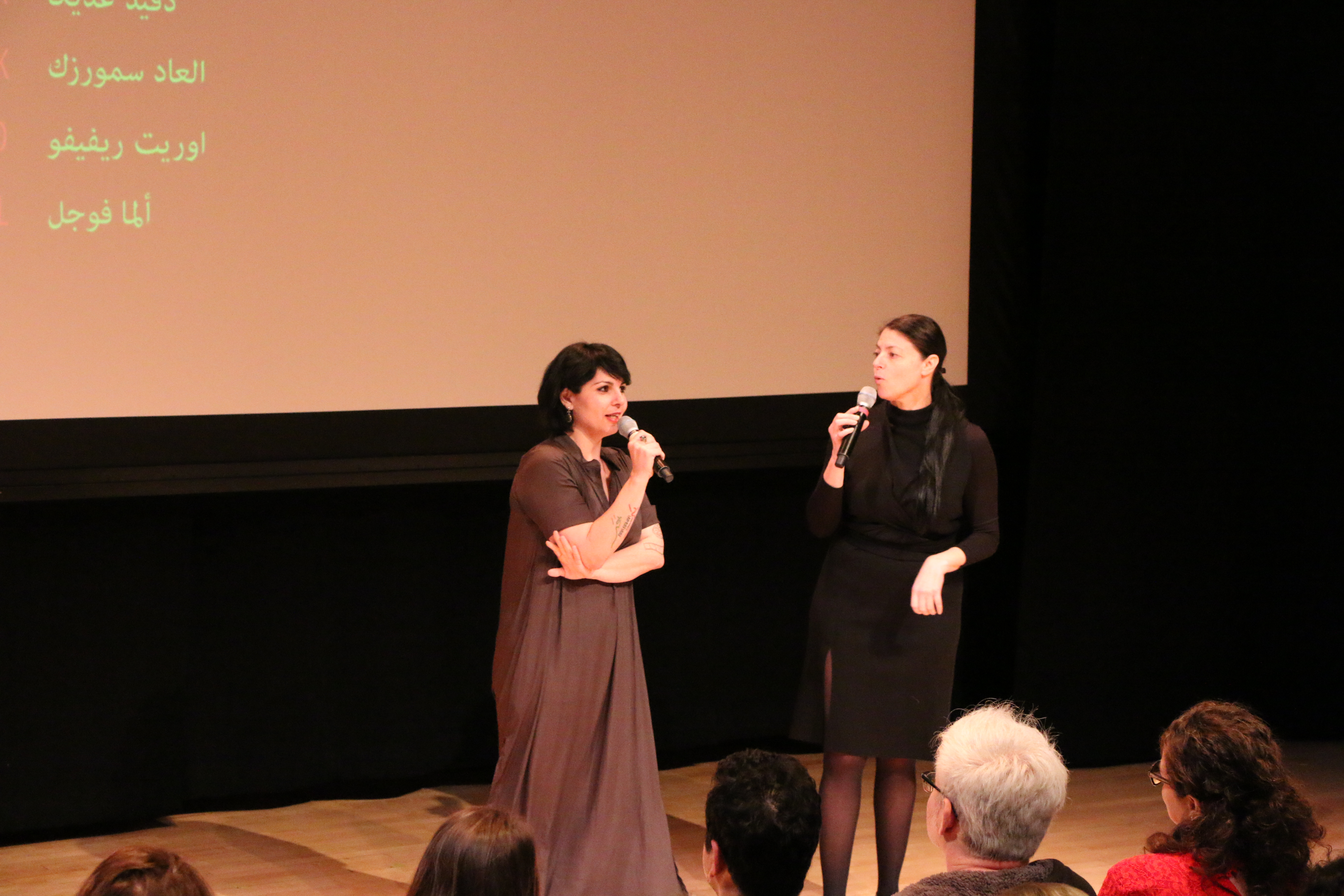 This marks the eleventh year of the Other Israel Film Festival, presented by the JCC Manhattan, which features films that showcase minority populations in Israel. Most of the selections are documentaries, including Desert Wounds, which follows Sudanese refugees in Israel, and The Field, which explores the Palestinian Center for Nonviolence, which hosts regular conversations between Palestinians and Israeli settlers. These films tackle hard questions about the complexities of life in Israel, and often their conclusions don't present the country in anything resembling a positive light. Two narrative films, however, serving as the opening and closing night films of this year's festival, have both made quite a splash for their portrayals of a segment of Israeli society that can function alongside the more mainstream Jewish population.
The opening night selection, In Between, premiered at the JCC on November 2nd. Hungarian-born Palestinian director Maysaloun Hamoud brings to the screen a story that sounds like the beginning of a joke. Three Palestinian young women share an apartment in Tel Aviv – Laila (Mouna Hawa), a stylish lawyer, Salma (Sana Jammelieh), a lesbian DJ, and Nour (Shaden Kanboura), a religious Muslim computer science student. Nour, who moves in to take her cousin's room, stands out the most from Laila and Salma, good friends whose work ethic and ability to hold down a job separate them. Despite the setup, this premise is far from a laughing matter, and serves as the launching point to offer an entertaining, affecting look at three women representing different facets of Palestinian society in Israel.
There are a few moments in which we are reminded that these characters live in someone else's country, like when Laila tells a flirtatious coworker that his mom will only approve a "kosher Jewish bride" and when Salma flips out on the manager of a restaurant where she works for telling her that the customers don't want to hear the cooks yelling in Arabic while they're eating their meal. But, more than a film about inequality of religion or origin, this is a strong showcase of women and the experience of living in a culture-based and gendered society. Though Laila has a great job and is perceived well by all her colleagues, her boyfriend Ziad (Mahmud Shalaby) is far from eager to introduce her to his family and take their relationship seriously. Salma begins a relationship with Dunya (Ashlam Canaan) while still traveling home to be set up by her conservative parents with eligible bachelors. Nour is engaged to Wissam (Henry Andrawes), who thanks her for the dinner she cooks him but reminds her that the Quran says that a woman's place is in the home and urges her to leave the corrupting influence of her two secular roommates.
If the film doesn't drill into the ways in which Palestinians lead unequal lives to Jewish Israelis, the Q&A session that followed the screening certainly did. After a gushing introduction about Hamoud's talents from festival founder Carole Zabar, whose family owns the popular Upper West Side store, Hamoud was invited up to participate in a conversation following the film with Israeli MK Merav Michaeli. While commending the film, Michaeli prompted an aggressive response from Hamoud in the way that she asked questions, seeking to hold this film's success up as an example of positive Palestinian progress in Israel. Hamoud isn't content with the way things stand, and she cites the Nakba, the Second Antifada, and the Arab Spring as prime influencers of this new generation of the Arab underground in Israel, which, she notes, listens to the same music and watches the same movies as populations in countries considered enemies of Israel.
At one point, Hamoud chastised Michaeli for "right wing talking," arguing that comparing the Palestinian experience to worse situations in other countries doesn't mean that they deserve it. Michaeli fired back, "So it's a lose-lose situation for leftist Israelis," prompting much laughter from the audience in attendance.
This film embodies so much of what the Other Israel Film Festival is about. Produced by Shlomi Elkabetz, brother and frequent filmmaking partner of the late Ronit Elkabetz, this film was nominated for twelve Ophir Israeli Academy Award nominations and wins for both Kanboura and Hawa. It is also the subject of controversy, with a fatwa issued on the director by the mayor of an Arab town. The conversation that happened after the film – which the organizers of the festival hope will continue throughout the weeklong festival – is almost as valuable as the film itself.
After nonfiction films about a Palestinian zoo and the two-state solution play, Holy Air will wrap up this festival next Thursday. This film, which played at the Tribeca Film Festival this past April, focuses on an entirely different segment of the population in Israel. Its protagonist, Adam (Shady Srour), is a Christian entrepreneur in Israel who is trying to come up with a perfect product so that he can support his ailing father and the child his wife is about to have. His great idea is ingenious – bottling "holy air" captured from Mount Precipice and selling it to visiting believers. In his efforts to market this product, Adam must interact with Jewish funders, Muslim gangsters, and Christian authorities to ensure his success. While it lacks the same dramatic poignancy of In Between, this film serves as a fun and thought-provoking look at a businessman trying to make it big in a particularly unusual market.
Tickets are still on sale for many of the features and shorts playing at the Other Israel Film Festival, which once again proves that there are so many stories to be told from those living in or interacting with Israel, and what better way than film to do it?
Visit www.otherisrael.org for information and to purchase tickets! Holy Air also runs in New York at the Village East Cinema starting November 17th.
Photo by Seth Golob. Maysaloun Hamoud is on the left, Merav Michaeli is on the right with the black dress.