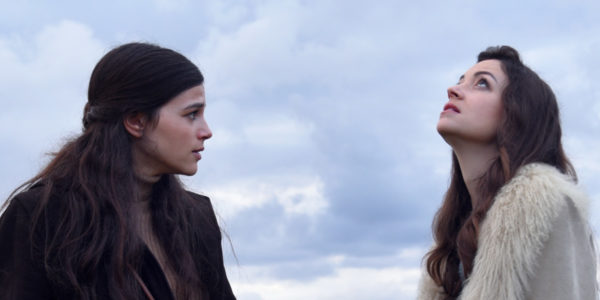 Past Life tells the story of two sisters, Nana and Sephi, in the 1970s in Israel who begin to realize that their father has been hiding troubling secrets about his experiences during the Holocaust. We caught up with Nesher during his fourth Toronto International Film Festival to discuss his new film.
Jewcy: What is it like to be at TIFF for the fourth time?
It's the best festival by far. I love that it's not competitive. I've always taken exception to film festivals being played like sports. It's the most scholastic festival. Even the writing in the catalog is so deep and brilliant – it doesn't feel as oily. There's something in the spirit of the people here. They are so committed to cinema as an art form.
Jewcy: How did this film come about?
It came about in an odd way. I made a film called The Matchmaker which was a Holocaust movie, and I try not to go back to anything successful. But then a woman contacted me with her father's diary. She was very insistent. We met in a crowded café in Tel Aviv. I told her I can't do another movie about the Holocaust, and she started crying. She's a great composer, a great woman – she told me the whole story and it touched me. I realized that I could really relate to it.
Jewcy: This film is part of a planned trilogy?
Yes, people have been calling it the "Present Past Trilogy." Israel is a country of the past, traumatized by the past, held back by the past. It would not exist without the past but cannot move forward because of the past. The world has moved on from the Holocaust but we have not. The next film in the trilogy is set in the present; the third isn't written yet. The presence of the past is the only thing they have in common.
Jewcy: How did the casting process work?
The screenplay is a point of departure – after that, you start dealing with other artists. I used to be a jazz musician (not a very good one) so I treat actors as you'd treat other musicians, as collaborators. It takes me forever just to do casting. In cinema, you can fix just about anything except casting. You cannot fake intelligence. It's hard to find someone funny and smart, and Nelly Tagar, who plays Nana, is just that. I often kid her that she's wasted in cinema and should go into politics. I wanted someone with a musical background for the other role, and even though Joy Rieger, who plays Sephi, doesn't have that, she made the commitment to work four to five hours per day on her voice. It was a miracle when they did a joint audition and we saw them together. It was like finding Butch Cassidy and Sundance.
Jewcy: What do you think about Israeli cinema today?
The great thing and the horrible thing about Israel is that cinema is not an industry – you cannot make money. Making movies in Israel is like writing poetry. For the people who do make movies, something pains them or they have a new theory of cinema. You have complete freedom, artistically, which is great. I have a running gag with my American agent – if you can get me that kind of freedom, I'll make a movie in the United States.
There is a lot coming out of Israeli cinema today. At TIFF, a young Palestinian-Israeli woman, Maysaloun Hamoud, made In Between. Talya Levie made Zero Motivation, which was fantastic. There are great feminist filmmakers, as well as men like Joseph Cedar, who made Footnote. Everyone comes from a different walk of life. I can't recall anyone being as obsessed with the past as I am.
Jewcy: What has the response to the film been so far?
Monday was the world premiere at TIFF. We've done previews in Israel, Paris, and London. The Israeli experience was very intense. They loved it and found it very powerful. Internationally, it has been very well-received, but more as a film about sisters and trauma. There are things the audience missed. In Israel, the Holocaust is a trump card. When politicians want to rile you up, they use the H-word.
Jewcy: What's next for the film?
This is just the beginning. We've submitted to tons of festivals and have been invited to God knows how many Jewish film festivals. I expect that it will play a lot like The Matchmaker did because they're similar movies. The musical angle is very interesting, and it deals with the Holocaust and feminism. My daughter calls it the most feminist Israeli movie of all time. It's about how art is created – we spent a great deal of time on the soundtrack. I hope people will enjoy it!
Image Credit: Joy Rieger and Nelly Tagar in Past Life.