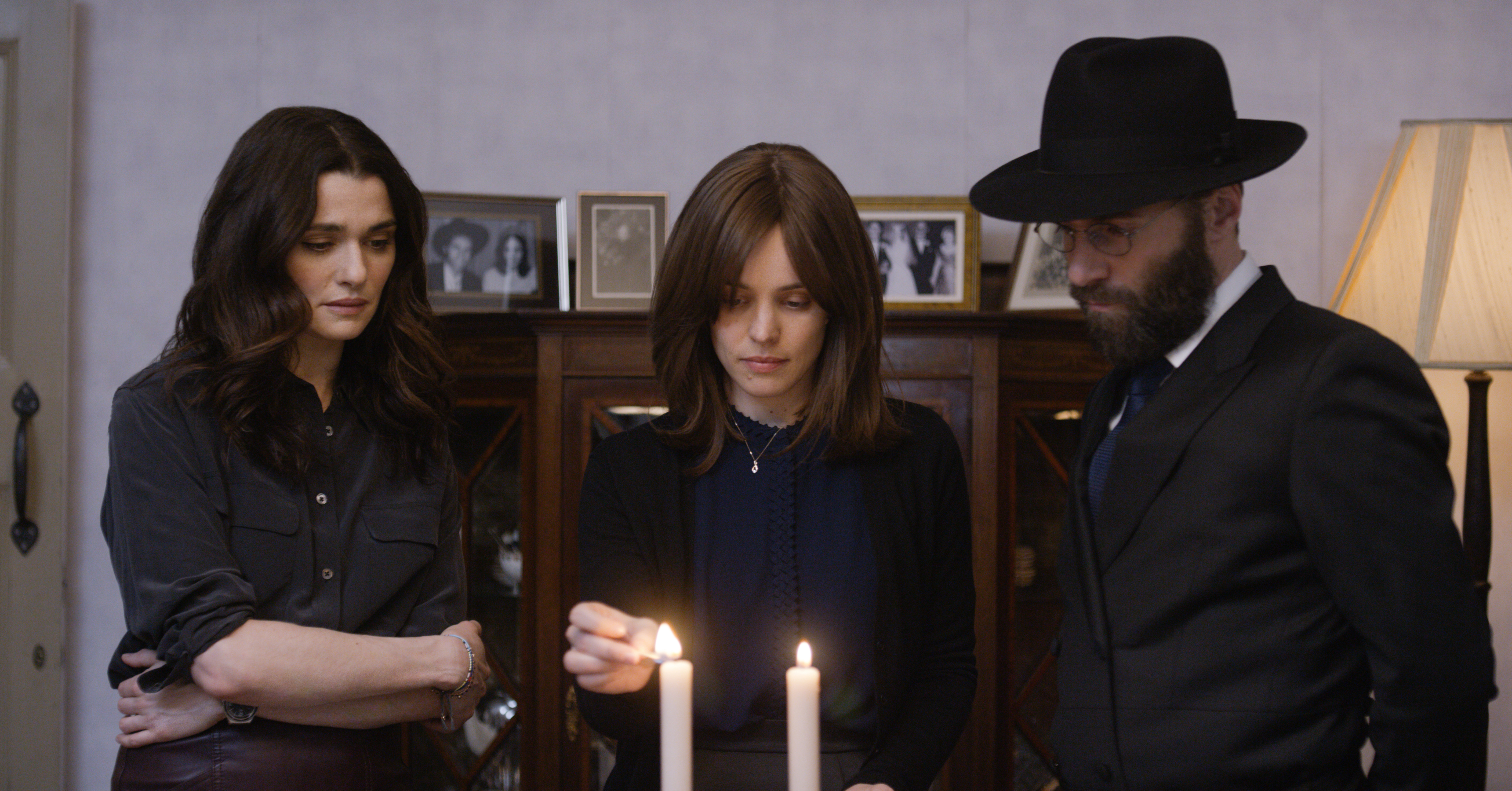 Fresh off an Oscar win for Best Foreign Film for A Fantastic Woman, starring transgender actress Daniela Vega, director Sebastián Lelio is moving over to English-language cinema. His latest film, Disobedience, stars Rachel Weisz as Ronit, who returns home to the London Orthodox community she left behind at a young age when her father, a prominent rabbi, dies. She finds herself shunned by many but welcomed by her childhood friend Dovid (Alessandro Nivola), now himself an esteemed rabbi, and his wife Esti (Rachel McAdams), with whom Ronit shared a forbidden relationship that bubbles back up to the surface when they are reunited. Jewcy sat down with Lelio to discuss the making of this immersive deep dive into a reclusive community.
Jewcy: Congratulations on winning an Oscar for A Fantastic Woman. How do you feel that these films connect to each other?
They are both taking female characters that are on the fringes of either society or narrative and putting them in the absolute center. They are creating these cubist portraits where they are observed from every possible angle and the stories make them go through an entire emotional spectrum.
Jewcy: How familiar were you with the book by Naomi Alderman and what inspired you to get involved with the project?
I didn't know about the book, but one of the producers of the film, Frida Torresblanco, pitched the story to me and I knew that she was partnered with Rachel Weisz. They had both seen my film Gloria and somehow they thought I could be the right person for it. I liked the idea of this very particular love triangle, these confused, vibrating human beings that are trying to do their best, in flux, operating in front of a backdrop that is more or less made of fixed conceptions and ideas. I found that very fascinating, even though I'm not British and I'm not Jewish.
Jewcy: How familiar were you with Orthodox Judaism before making this film?
Not very. I had some notions but it was fascinating to write about this world. It was like writing about an unknown world, one that is completely created already that has aesthetics. It has a God. It has a set of rules, a moral code, a tradition, music. It was really interesting to dive into that mysterious planet. The dynamics of the rituals, how Shabbat works, how that somehow glues everything together and has survived for many centuries. That was something that I didn't know very well and I was quite surprised to learn about. It's there in the film.
Jewcy: There are a lot of very intensive Jewish practices and expressions that are in the film that probably aren't familiar to casually Jewish viewers and definitely not to those who aren't Jewish. Did you feel any pressure to explain some of those things rather than just presenting them as something that they are living and makes sense to them?
I didn't want to fall into the "manual" trap because I don't think that's interesting. I became quite obsessed with getting the cultural part of it right, so we had a few consultants for the writing process. Naomi Alderman was helping also throughout this, talking to our co-writer Rebecca Lenkiewicz about the details of what life was like inside that very secretive neighborhood. Later on, during pre-production, we increased the number of consultants to twelve. We really wanted to get it right and then forget about it, to be able to concentrate on what was really important, which is the three main characters.
Jewcy: Can you talk about the three main actors and how they approached their roles?
It was great fun to discover who needed to be part of that triangle. I knew that we needed two very strong counterparts. I always felt that Rachel McAdams was going to be great as Esti. The fact that she has so much joy inside was going to be interesting in a role like this where joy is really repressed, wearing unflattering costumes and all that. I was convinced that they were going to have great chemistry – the two Rachels. For the character of Dovid, I really wanted to cast someone who could reunite a great masculinity, even a sexual presence, with the ability to transmit that he is a spiritual person. I think Alessandro brought all of that to the equation. It was quite amazing to see him transform.
Jewcy: In the film, you combine orchestral music with ritual Jewish chanting. How did you put that together?
I love using music in films. There was a great opportunity to use this beautiful, ancestral music that has thousands of years behind it and use it grammatically in a way that belongs to this world. It's so particular and has so much identity, so painful and so charged, and I didn't want to miss that opportunity. At the same time, we combined it with Matthew Herbert's score, which is operating in a very different direction. It's a score that is almost like a sci-fi score. I was trying to create this feeling of strangeness through music.
Jewcy: For your next project, you're adapting your 2013 Chilean film Gloria into an English-language version?
Yes, I'm finishing the cut. I'm about to start post-production. It's an idea that has been brewing for a few years. I met Julianne Moore before shooting A Fantastic Woman and Disobedience. We agreed that I would make these two films first, which was a good thing because after making them I felt that it was okay to revisit my previous material and be in a place where I could find a way to make it vital and vibrant again. In the meantime, the world changed. Trump got elected and the entire landscape changed, and suddenly a film about a woman that doesn't want to throw in the towel became urgent. It was a luxury to work with her and John Turturro. We had fun.
Jewcy: Is there anything else you'd like readers to know about making Disobedience?
One of the things that was very revealing in the writing process was discovering that the antagonistic force wasn't really coming from the community but the characters themselves. They are the main obstacle to overcome. That helped with escaping the cliché idea that the community is bad and that these are just victims of their environment. It's much more complex than that. I think the fact that I'm not Jewish or British helped me to connect with whatever is universal in that story.
Disobedience is now playing in New York and Los Angeles.
Image from Disobedience