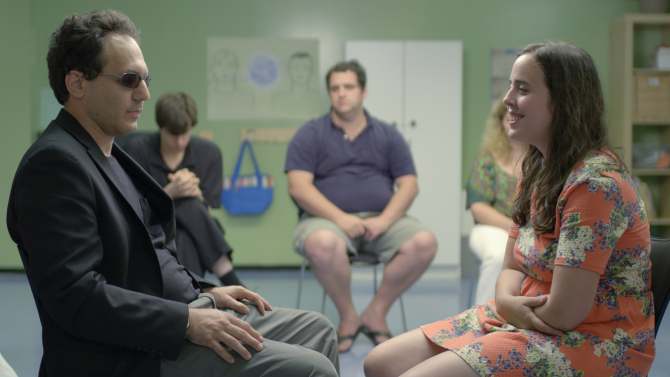 Much has been made recently about actors being honored for performances in which they simulate disabilities that they do not actually have. Hong Chau pretended to have a limp in last year's Downsizing, earning accolades and best-in show reviews in part for her mimicry of something she researched. Joaquin Phoenix portrays a quadriplegic cartoonist in Don't Worry, He Won't Get Far on Foot, which premiered at this year's Sundance Film Festival. At a Q & A for the film, director Gus Van Sant was asked about more inclusionary casting featuring real people with disabilities, to which he responded that acting has always been about people pretending to be something else, whether it's gay, foreign with an accent, or something physical. In these times where terms like "inclusion rider" are increasingly calling for diversity of all sorts in the production process, it's understandable that all people would want the chance to see themselves portrayed authentically on screen.
For all those seeking a film with performances that can be described as purely genuine, there's Keep the Change. Rachel Israel directs this story about two people on the autism spectrum who meet in a theater group and develop an unlikely romance. Actors Brandon Polansky and Samantha Elisofon, who respectively play David and Sarah, are in fact both on the spectrum themselves, and though the two of them didn't fall in love in real life, they did meet in the same community. This film offers an incredible opportunity, as Israel explained in a conversation with Jewcy, to see that autistic actors can act, and this film is just as sweet and compelling as any other love story.
In the film, David and Sarah meet at Connections, a fictionalized version of a similar program called Adaptations which meets at the JCC Manhattan, where much of the film takes place. While Israel and much of the cast is Jewish, Adaptations is open to people of all faiths— Israel says she was inspired by the actors' identities to make their characters Jewish as well.
David, like Brandon, on whom he is based, is an aspiring filmmaker who is eager to share the film that he has created with all who want to see it. As for Jewish moments, David's Bar Mitzvah features prominently in it, with clips taken from Brandon's real-life home videos. Israel describes David as an "equal opportunity offender," using his Judaism as something that he also uses as part of his stand-up routine, which earns mixed reactions from his audiences. In the film, when Sarah is unhappy about a joke about a Muslim exploding sex doll, David follows up with another joke that involves Jews and how they don't like to go to camp. (Sarah retorts in a straightforward manner, arguing that she is Jewish and does like to go to camp, a place where she's performed in a number of musical productions.)
There is a wonderful tone of sincerity to be found in this film, which feels realistic in not always pleasant ways, as obstacles emerge for David and Sarah in relationship both to each other and to the demands of their daily lives. Israel says that concerns others had about her actors not being able to do a twelve-hour shoot each day were unfounded, and that the script was developed over two years in collaboration with the cast. Featuring Brandon, Samantha, and other members of Adaptations helps to make this a film in which those who typically have no voice on screen can truly be heard. And they just so happen to be Jewish, adding a nice touch to a winning film.
Keep the Change is now playing at the Quad Cinema in New York City, with a release planned for April 20th in Los Angeles and a national rollout to follow.
Image: Brandon Polansky as David Cohen and Samantha Elisofon as Sarah Silverstein in Keep the Change. Photographer: Giacomo Belletti.