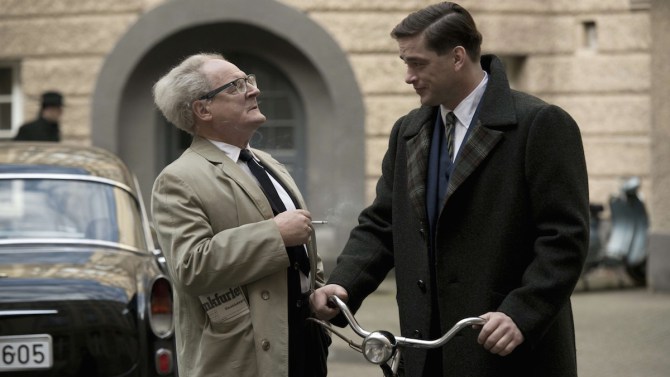 The People vs. Fritz Bauer (awkwardly similar in title to The People V. O.J. Simpson, but commonalities end there), is a bit of a misnomer since Fritz Bauer is not the one on trial. The famed German attorney general later went on to orchestrate the Auschwitz trials in the 1960s, but this story takes place in 1957 when he receives word that Adolf Eichmann is hiding out in Argentina. His enthusiasm to catch Eichmann and put him in trial in Germany is not matched by those around him, particularly a number of high-ranking officials who have a vested stake in ensuring that the war criminal does not name names.
It seems that films about the way that non-Jewish Europeans acted during and after the Holocaust are almost as prominent as those set during the Holocaust. Sure, Schindler's List and The Pianist are the ones that went on to win Oscars, but there's something to be said for reflection and for showcasing the way that the mindset of the times is hard to overcome. The Polish film Aftermath, released in the United States in November 2013, told one such story, of two brothers targeted for dredging up their hometown's vicious role in the murder of its Jewish population. The French film The Round-Up, starring Jewish actress Mélanie Laurent, spotlighted the eagerness with which the French authorities rid themselves of their unwanted Jews, with little prompting necessary from the conquering Nazi forces.
The anti-Semitism of The People vs. Fritz Bauer is not nearly as overt. Bauer, who was born in Germany and returned from Sweden after the Holocaust, was Jewish, and he is notably the only Jew in such a position of civil service when the film begins. He is adored by many and has friends, but he also knows that there are those within the government and judicial system with Nazi leanings who will stop at nothing to make sure that their complicity and guilt is not brought to light. Bauer enlists Karl Angermann (an idealistic young prosecutor, a fictional composite of those dedicated to Bauer's cause,) as his ally, fully aware that he can trust no one else.
History knows that Eichmann was ultimately put on trial in Israel and hanged for his crimes. This film doesn't offer too much suspense in its insular universe in terms of how events will play out, but it does paint a harrowing picture of the struggle for change in postwar Germany. Bauer knows that contacting Mossad for help in tracking down Eichmann may be considered treason, but worse still, Mossad is uninterested at first, telling him that they need more solid proof to go after this lead. Bauer wants Eichmann brought to justice, but in doing so he also wants to put Germany as a whole on trial, a goal that seems unachievable given the many obstacles in his way.
This portrait of the 1950s bears some resemblance to a recent Oscar-winning film, The Imitation Game. Though the plot primarily involves Europe and the Nazis, the true villain is the backwards nature of laws and society at the time. A conniving enemy of Bauer's mentions early on that they have a dossier on the Jewish civil servant which includes multiple arrests for male prostitution. As if being Jewish wasn't enough of a crime, charges of homosexuality could really destroy a man. The hope for contemporary audiences would be that widely-supported homophobia and anti-Semitism are both things of the past, though recent world events have shown that it's hardly the case.
The People vs. Fritz Bauer won big at the German Film Awards, scoring trophies for Outstanding Feature Film as well as for director Lars Kraume, supporting actor Ronald Zehrfeld, who plays Angermann, and its screenplay. Don't expect this film to take home any Oscars – it's a decent drama but not in the same category as recent German Oscar nominees like The Lives of Others or The White Ribbon, both of which also addressed lingering suppression after World War II in Germany. This is an important story but doesn't even feel like the most interesting part of its protagonist's life, in which, at the Frankfurt Auschwitz trials, he later finally had the chance to put the nation of Germany of trial.
The People vs. Fritz Bauer opens in American theaters on August 19.
Image: Still from The People vs. Fritz Bauer