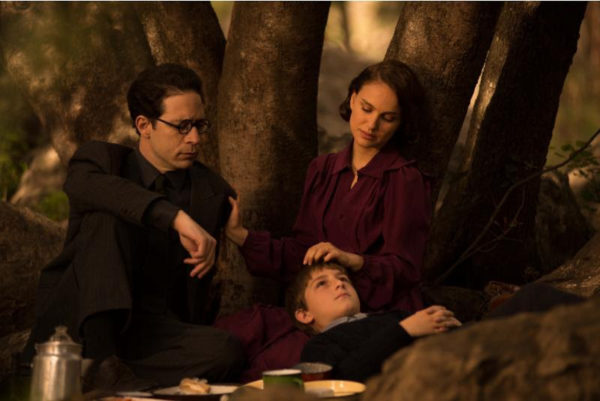 Fans of Natalie Portman who proudly count her among the Jewish people likely know that she was born in Jerusalem and grew up in Long Island. Though she previously played a Hasidic Orthodox woman about to be married in one of the segments of New York, I Love You, she has rarely tapped her Jewish background in her cinematic career. The thirty-five-year-old actress is inarguably successful, starring in the first of the Star Wars prequels at age eighteen and winning an Oscar just eleven years later for her magnetic performance as a ballerina losing her grip on reality in "Black Swan."
Now, Portman has proven that she can act across a variety of genres, and she seems ready to step into new roles both in front of and behind the camera. After helming a segment of New York, I Love You (not the one in which she starred) she makes her feature film debut as director with A Tale of Love and Darkness. This adaptation of Amos Oz's nonfiction novel finds Portman and the rest of her cast speaking only in Hebrew, and this depiction of early Israel from one of its foremost writers is sure to receive plenty of attention thanks to the prominence of its proudly Jewish and Israeli director-writer-star.
For those unaware of who Amos Oz is in real life or why it might seem appealing as a film subject, this film offers no clarification. There's no explanation of little Amos's later career as a writer, or that he'll one day turn his childhood memories into a book. But even if you know the greater context, A Tale of Love and Darkness opens as an alluring and intriguing look at an old man recounting his childhood in British Mandatory Palestine with a particular focus on his mother, Fania (Portman), who struggled to adjust to normal daily life after a harrowing escape from extermination in Europe during the Holocaust. Though details of Oz's later career might be helpful, this film instead ensures that its story is engaging enough in its own right.
Where Portman's film succeeds wildly is in capturing the mood of the times. The birth of the State of Israel isn't about religion; little about faith or being Jewish is even discussed. Rather, it's about a sense of freedom, but a highly tentative one for Fania, Oz, and his father, Arieh (Gilad Kahana), wrought with tension. One memorable scene finds Oz joyfully playing with the daughter of Arieh's Arab colleague and having the moment ruined entirely by an unfortunate accident that demonstrates the large gap between their cultures. Only a short time later, Arieh celebrates with tears in his eyes when a United Nations vote passes for the partition of Palestine into two states, one Jewish and one Arab.
That feeling of joy and achievement doesn't last long, however. The film is full of potent observations on what it was like for the Oz family to live, and in Amos's case grow up, in Palestine as it became Israel. One poignant moment expresses the roots of the Palestinian-Israeli conflict aptly: two peoples so persecuted should have become friends, yet the Palestinians saw the Israelis as yet another European conqueror and the Israelis saw the Palestinians as anti-Semites who were essentially bringing back lingering Nazi sentiments. How could either side be expected to see eye to eye with the other with that pretext?
Portman's film shouldn't be considered a political movie, even though it does deal with politicized events. What Portman has done is taken an autobiography and turned it into a narrative, one shaped around a character that she embodies and plays well. Portman is skilled at digging deep into the minds and souls of troubled yet powerful women, and her performance here is strong. Her impressive Israeli accent (she honed it especially for this project) doesn't hurt either. Kahana complements her well as her eager, excitable husband, not the muscular pioneer she dreamed of, but a hard worker committing to providing her and Amos with a fulfilling life. And young Amir Tessler, who portrays Oz, is a particularly revelatory find, demonstrating exceptional depth and maturity as the writer-to-be.
There is much in the way of social commentary to be found in A Tale of Love and Darkness, perhaps even more than anything political. This is a sign that Portman has a promising career ahead of her in many aspects of the film industry, and a triumphant and exciting intersection of Israeli cinema and American stardom at the same time.
A Tale of Love and Darkness is out in limited release on Friday, August 19. You can watch a clip here on Jewcy.
Image credit: Still from A Tale of Love and Darkness