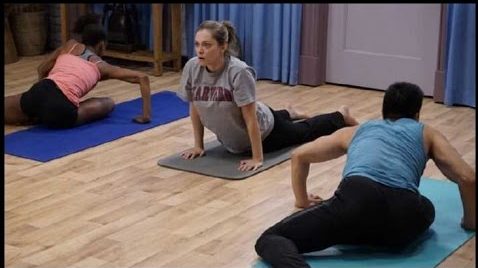 Who doesn't love an anti-hero? Sure, they're not paragons of virtue. They may lack basic morals. They hurt a lot of people, including their loved ones, and you wouldn't want to know them in real life… but they make for great TV.
Now, in UnReal and Crazy Ex-Girlfriend, women get their chance, not just as those boring housewives who care about the welfare of their family (ugh), but as harm-causing protagonists in and of themselves.
They happen to be Jewish, too.
"Happens to be Jewish" describes the main character of UnReal. Her name is Rachel Goldberg, she's played by Shiri Appleby…That's about it, to be honest. In an interview with Tribe Magazine, Appleby says, "Judaism isn't a focus of the show… but Rachel is definitely a Jewish girl. You see the relationship with my mother… and in the second episode, I say, 'Sheket b'vakasha [Quiet please].'"
Not exactly in-your-face representation. Perhaps that's better since Rachel does reprehensible things. Her job is to create drama—essentially, to destroy people— for Everlasting, a reality TV show that is legally not The Bachelor. Her greatest asset is emotional acuity. She moves like Othello's Iago, earning people's trust, finding their insecurities, and orchestrating their breakdowns. She compels her victims to ruin their own lives on nationally broadcast television, and they don't realize until it's too late.
According to co-workers, Rachel's skills come from her own instability (self-destructive tendencies, ambiguous personality disorder, requisite toxic relationships). It's heavily implied that Rachel's mental and emotional problems are caused by her mother, a psychiatrist who used "treatment" to control and abuse Rachel. Unfortunately, that's the relationship with her mother that Appleby was referring to when she talked about the show's Judaism.
UnReal is astoundingly on Lifetime, not HBO. The ensemble consists of beautiful women, not tough Jersey mafiosos.  Instead of a drug empire, Rachel has a mushy romance show, complete with horse-drawn carriages and ball gowns, but the UnReal writers openly aspire to the heights and depths of  The Sopranos, Mad Men, and Breaking Bad—and the critical consensus is, UnReal reaches them.
Crazy Ex-Girlfriend is a musical comedy, so its tone is considerably lighter tone than UnReal's. Rebecca comes off as cringe-inducing, not dangerous. Her vulnerability and often-addressed mental health issues make her relatable. However, away from the quirky charm, it's easy to see how toxic Rebecca is. In any other show, Rebecca would be the, well, crazy ex-girlfriend. Here, she's our protagonist—and it works, thanks to show creator/lead actress Rachel Bloom's performance and the show's willingness to address certain issues openly and with nuance. The narrative neither completely absolves nor condemns Rebecca Bunch's actions, and the same is true of Breaking Bad and Walter White.
Like UnReal's Rachel, Crazy Ex-Girlfriend's Rebecca Bunch is an excellent manipulator and a consummate liar. (She's a lawyer after all, ha ha.) When she runs into a long-ago summer camp fling, he mentions he's moving to California, so she abandons her New York job and follows him, playing it off as a coincidence. Then, she insinuates herself into his life and wins over his friends with her helpfulness and and supposed altruism. Feigned compassion might be an occasional trick for male anti-heroes, but it's Rachel's and Rebecca's M.O.
Unlike in UnReal, there's no coyness about Rebecca's heritage. The  career-driven, Ivy League-educated New York-based lawyer isn't just coded as Jewish; it's explicit. Not surprising, considering Rachel Bloom's YouTube videos include "Chanukah Honey" (a parody of "Santa Baby"), and "You Can Touch My Boobies," about a boy fantasizing about his Hebrew school teacher.
In one episode, Rebecca squares off against her lifelong rival. Their "JAP Rap Battle" is as densely packed as Hamilton's "Cabinet Battle," so listing all the Jewish references would be too much. Some noteworthy ones include:
"Shebrews from Scarsdale"

"Translating for the goys" what "shondeh" means
"Sheket bavaka-shut the hell up."

"

Should we shake hands/And erase the hate/Created by our mothers pitting us against each other/ for accolades and grades/ We were egged on like Seder plates."
Apparently there's no escaping the Jewish mother stereotype. Rebecca's mother, Naomi (played by Tovah Feldshuh) made an earlier appearance in the Christmas episode (natch). Upon arrival, Naomi repeatedly demands to use the bathroom while criticizing Rebecca's weight, apartment, job, home decor, appearance, and life choices. When Rebecca tries to respond, Naomi chastises her for interrupting.
At the end of the episode, Rebecca confronts her mother and says,  "If I ever have a kid, I will only care if they're happy." Naomi responds, "'Happy?' What's 'happy?' …Our people are not about happy. We're about survival. That is why I'm glad that you stood up to me. Because that means, when the Cossacks come, you can fight back."
It's far from a moment of redemption, it doesn't quell the problematic Jewish mother stereotype—it may even exacerbate it— but these shows are not about feel-good moments or palatable role models. They're about women who are as troubled as iconic male anti-heroes.
Rachel Goldberg first appears sprawled on a limo floor in a rumpled "THIS IS WHAT A FEMINIST LOOKS LIKE" T-shirt. It's a tone-establishing, tongue-in-cheek visual: can feminism look like a dirty Jewish woman who does profoundly un-heroic things?
In a world full of Heisenberg t-shirts, yes.
A final note: I would be journalistically remiss to not mention Girls, so here I am, mentioning Girls.
Image credit: Rachel Bloom on Crazy Ex-Girlfriend, via YouTube