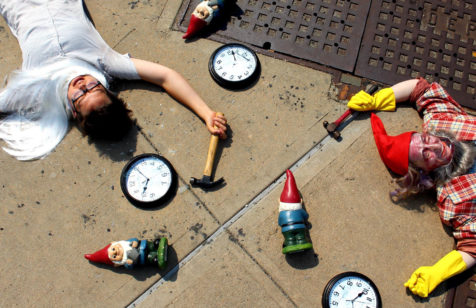 Theatrical company Little Lord is mid-campaign to Kickstart their next project, entitled (and the bold is part of how it's stylized): NOW IS THE TIME. NOW IS THE BEST TIME. NOW IS THE BEST TIME OF YOUR LIFE. Watch the video below:
So, are we clear? No? Well, let's try this:
This play was inspired by a bit of history: Washington Irving (who wrote Sleepy Hollow, Rip Van Winkle, etc.,) also wrote about New York under the pen-name Diedrich Knickerbocker— it's from where the New Yorker as "Knick" originally comes. And so, NOW IS THE TIME. NOW IS THE BEST TIME. NOW IS THE BEST TIME OF YOUR LIFE. (the title is too fun to abbreviate), will move Knickerbocker upstate to a Kutsher's-like resort, convalescing in decay as the world changes around him. Kutsher's during its heyday was a model for the retreat in Dirty Dancing, which will feature prominently in the play. Other sources for the text include Prometheus Bound and the book of Ecclesiastes.
Is this starting to come together yet?
"Knickerbocker is writing about the Dutch immigrants making a new world in America, nostalgic for the good old days," One of the company's artistic directors, Michael Levinton, explained to Jewcy. "This felt very very tied to the Borscht Belt heyday — again, immigrants and the children of immigrants carving out a piece of America/New York for themselves, building up their own mythic worlds, and its subsequent decay and return to the earth. A very personal history getting sucked up into the larger American history and march of progress and change."
"It's Halloween," Levinton added of the work's impending October premiere, "And this show is a bit of an existential horror show."
The work will also feature themes of artists trying to claim spaces in NYC, the ever-changing Lower East Side, and a country steeped in anxiety before a surreal election (spoiler: this one).
If this list of elements is starting to look as big as the periodic table, be assured that Little Lord know what they're doing; I had the pleasure of reviewing their last production, BAMBIF*CKER/KAFFEEHAUS, for Tablet, where I wrote:
"To call the work ambitious is an understatement. It's fearless in its weirdness, and its wonderful cast can make even the comically erotic retelling of a children's story feel utterly sincere… This show is theatrical cholent at its meatiest… It's queer, it's Jewish, it's transgressive, but it's definitely a good time."
The strange, talented minds at Little Lord have a knack for seeing patterns and creating some sort of order from chaos. BAMBIF*CKER, for example, examined how one man immersed in early-twentieth-century Viennese cafe culture wrote both Bambi and a famous pornographic novel and personally knew Theodore Herzl. Its other references ranged from Cabaret to Klimt's portrait of Adele Bloch-Bauer II, but somehow it all worked.
Plus, Little Lord always delivers in the snack department. BAMBIF*CKER sold lots of refreshments, including coffee and pop tarts ("strudel"). NOW IS THE TIME. NOW IS THE BEST TIME. NOW IS THE BEST TIME OF YOUR LIFE. will reportedly serve pickles and cole slaw.
And if for nothing else, I'm going to see this play to see what the heck they do with the iconic Dirty Dancing lift.
There's just over a week left on the Kickstarter as of this writing, and about $5K left to go (the Jenny Grossinger 'zine reward tier looks especially tempting).
The play is set to run from October 19th to November 5th, at the Abrons Arts Center in New York City.
Photo credit: Whitney G-Bowley