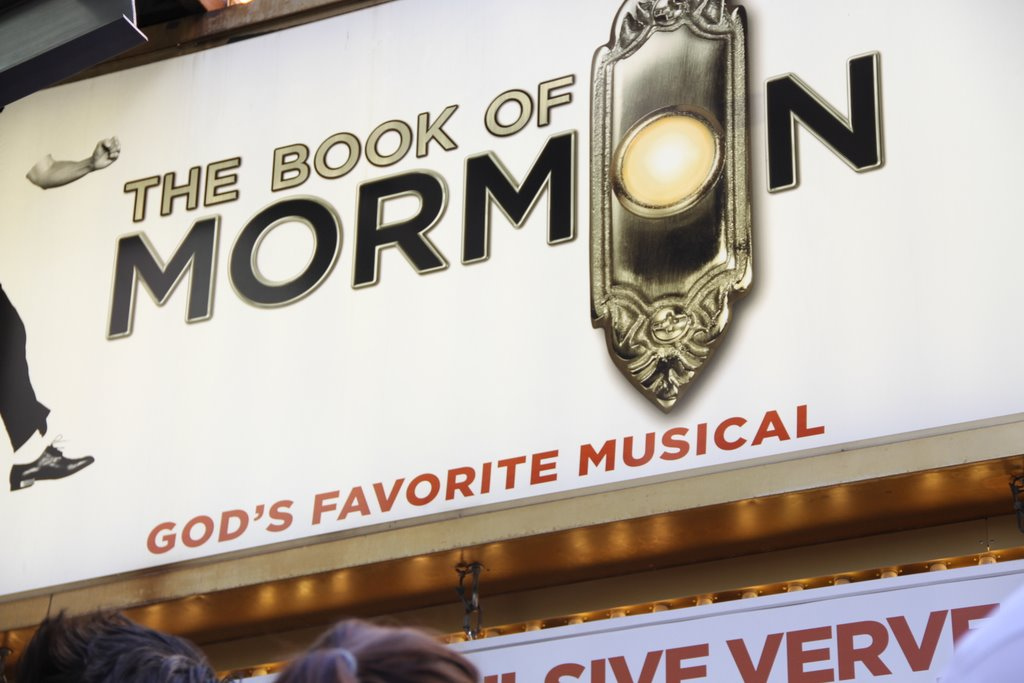 The Book of Mormon (the musical, not the scripture), opens with young Mormon missionary Elder Kevin Price trying to interest people in the holy Book of Mormon.  If a door-to-door missionary looked like Kevin Price—perfect hair, gleaming smile, all-American good looks—I would let him prattle about Jesus forever. As one of his peers gushes, Price is  the "smartest, best, most deserving Elder the world has ever seen."
Other charming, put-together missionaries join in. They ring doorbells and sing in perfect harmony, smiling, complimenting houses, and praising their amazing holy book.
Then, the unkempt Elder Cunningham breaks the synchronicity, barging in and shouting: "HELLO WOULD YOU LIKE TO CHANGE RELIGIONS I HAVE A FREE BOOK WRITTEN BY JESUS!!!"
Price and Cunningham are a Mormon Odd Couple, a devoted Golden Boy partnered with a schlubby, loud, and shrill Star Wars nerd. Eventually, Cunningham reveals that he hasn't even read the Book of Mormon, to Price's horror. Together, they must go to Uganda to convert as many people to Mormonism as they can.
Andrew Rannells, whom Ben Brantley called a "human Ken doll," originated the role of Elder Price on Broadway. Josh Gad—the voice of Olaf from Frozen, lest we forget—originated Elder Cunningham. Rannells went to an all-boys Catholic school in Omaha. Gad is Jewish, as was his understudy and eventual replacement Jared Gertner, as was Gertner's understudy, Jon Bass (I could go on).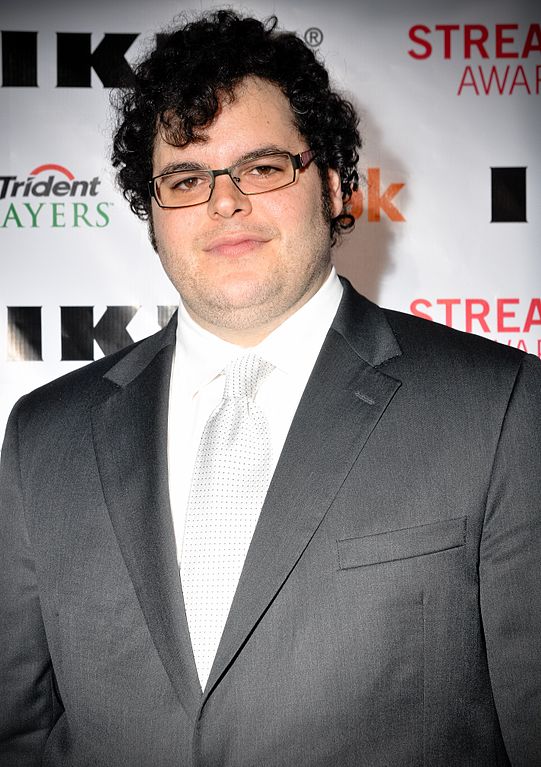 In the Chicago tour, the pair was played by Nic Rouleau, another Catholic school alumnus, and Ben Platt, another Jew. Although Platt deviates from the physical formula of previous Cunninghams ("You're skinny, I'll say it," Rouleau says in an interview), he still looks more New York corned beef than Utah cornfield—in other words, visibly Jewish.
Gertner is the only actor to talk at length about how (at that time) every Elder Cunningham had been played by a Jewish person. In an interview with Jewish Journal, he explains, "Maybe if you're looking for people who are very different from an all-American, uptight, very white, very blond person, then physically you're going to look for a difference; maybe you're going to find a Jewish person… And if there's any Jewish humor in the show, it's just humor that comes from us, because we actually all are Jewish."
Sure, Jews are funny, but there are other types of people who look different than, say, Rannells and Rouleau. So why are Jews consistently cast as a Mormon? Is it anti-Semitism? Should we be offended?
Maybe—if the show's character arcs didn't end in brilliant subversion.
It turns out Price's greatest asset in Utah is a liability in Uganda. He's too full of his faith—and himself—to convince anyone to listen, let alone convert. His preaching of the "blonde-haired, blue-eyed voice of God" is profoundly tone-deaf (meaning "not receptive to his African audience." Everyone who has played Elder Price sings beautifully). He bravely marches up to a warlord, confident that his faith will protect him. He is wrong.
On the other hand, Elder Cunningham breaks through to the Ugandans, not through strict adherence to the Scripture, but through creativity and adaptation. Unlike Price, he is willing to alter Mormon text to include problems like dysentery and AIDS, which are conspicuously absent from the original teachings. Cunningham starts as the comic relief and sidekick, but his weakness  in Utah—making things up—becomes his strength.
If  the embodiment of Mormonism starts out as a rigid literalist from the American Midwest heck-bent on converting as many people as possible, then clearly his physical—and ideological—opposite would be Jewish, or at least Jewish-coded.
Strangely, show-writers Trey Parker and Robert Lopez are not Jewish. The third writer, Matt Stone, is the exception, having a Jewish mother, though he identifies as Jewish only ethnically, and religiously as secular/agnostic.  Still, the show taps into Judaism's inherent curiosity and questioning as a contrast to Price's strict adherence to stories that, by his own admission, sometimes don't make sense.
Yes, there is the immediate physical contrast of the Mormons' perfect (usually light) hair and impeccable posture with the slouching Cunningham's dark, wild Jewfro. There's also the strong connection of Judaism and humor, as Gertner points out. But more important than the comedy of the mismatched duo is the musical's message about faith.
At the end, a humbled Elder Price proclaims, "We are all Latter Day Saints, even if we change some things, or break the rules, or have complete doubt that God exists." His new faith focuses on helping others, not his own personal glory. The conclusion wouldn't be possible without the culture clash between not just the Americans and the Ugandans, but also between Price and Cunningham. When unquestioning faith fails, Price embraces what Cunningham represents: a fluid, realistic, but still hopeful religion—what Judaism happens to be known for.
That's not to say that The Book of Mormon is like an inverted Jews for Jesus, trying to stealthily convince Mormons to become Jewish. The Book of Mormon ends with a message that is oddly both agnostic and faith-affirming. As irreverent as The Book of Mormon can be, at its heart is deep respect for whatever belief systems help create kinder, better people.
Image credits: Wikimedia and André-Pierre du Plessis via Flickr.