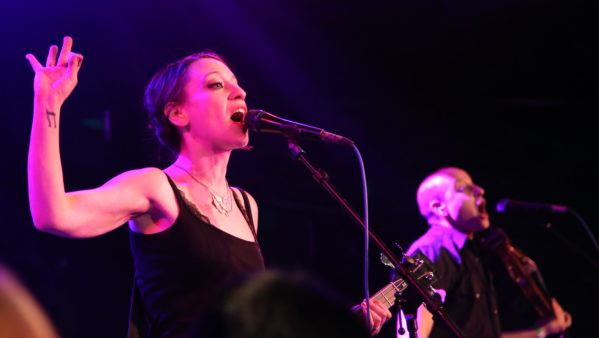 The Shondes have been around for about a decade, and in the band's early days, it was all too easy to label them based on their punk/riot grrrl background, their Jewish and queer identities, and their radical politics. The Shondes never abandoned any of those. But with their brand-new fifth album, Brighton, showcasing the band's songwriting depth and pop sensibilities, pigeonholing the Shondes with such labels would sell short just how far they've come.
The opening number, "Everything Good," is the Shondes' version of a happy pop-rock song. The musical highlight of the whole album is this song's breakdown, which combines Louisa Solomon's beautiful but powerful vocals, a distinctive violin part, and crunchy guitar chords. It's pretty and heavy, all wrapped up in one. It rocks, especially when performed live at the CD release show this past weekend. The title doesn't lie: It's everything good.
The next track, "True North," is a testament to steadfast faith: 
"When we say 'next year in Jerusalem'/We say 'every day is revolution'/We raise the torch, we face true North…/Don't tell me hope is naïve/It can anchor any strategy/I still believe, I still believe"
The song is about clinging to your ideals, as grounded in Jewish terms.
Solomon explained, "We wanted to write a simple pop song about being at a point in life where our ideals had taken a lot of blows, and yet, the act of imagining (a brighter future, justice, revolution, the mythical messianic 'Jerusalem' Jews evoke at Passover) itself could provide a kind of groundedness in conviction."
The ideas here aren't simple, though. Solomon noted that the Jerusalem reference is a nod to "an ancient Jewish tradition of imagining," not the city's present-day role as the capital of Israel. The Shondes have long been outspoken as "firm opponents of Israeli policy" who "renounce claims of Jewish birthright" in Israel, as Solomon put it.
The Shondes have alluded to Jewish topics throughout their career, but Brighton has the most overt Jewish references since their debut. "True North" is one of four songs—out of ten total on the album—with Jewish/religious content. "My Ghost" and "The House" both mention God in their choruses. The anthemic "Unstill Ones" refers to "what the sages meant" and quotes the Song of Songs. The most-Jewish-since-their-debut characterization is even more apparent if one includes "Jacob and Rachel" from Brighton's "B-sides" collection.
Solomon was inspired to write "Jacob and Rachel" while planning her wedding. The chorus recalls how Jacob "wept when he saw Rachel's face" and that he "worked seven years for her love." Solomon was touched by the story of Jacob weeping for his bride. She explained, "Finding romantic precedent in the Bible is tough … and it inspired this song for me as I tried to write through the intensity of my connection with [my husband]."
The chorus also includes the line "So break a glass for all the past that never goes away." Solomon used the Biblical story to discuss romance in a Jewish context and then built on it. She said, "I used the Jacob and Rachel entry point, trying to get at a connection that feels way beyond size and words—out-of-time in a distinctly Jewish way, just as the Jewish ritual we were planning at the time pulls us out of linear time and asks us to exist in the company of ancestors and unknown descendants via tradition."
The Shondes' overtly Jewish lyrics in particular offer thoughtful commentary from intelligent musicians. These are complex ideas told through rocking songs with pop hooks. Don't just call them simple pop songs. That would sell the Shondes short as much as all the other labels by which their music doesn't need to be defined.
Photo by Emily Millay Haddad / Circles of Fire Productions.