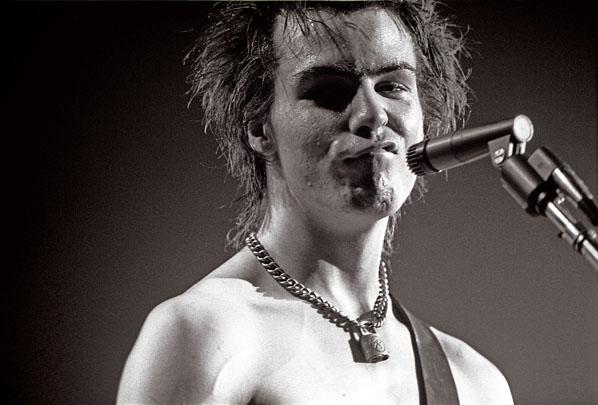 This Sunday marks the 40-year anniversary of the Sex Pistols' last concert at Winterland Ballroom in San Francisco. As the show progressed, it became clear that the iconic punk band had no future.
According to Jon Savage in his landmark book, England's Dreaming, when the Pistols played "Belsen Was a Gas," it was an "awful" moment marking the show's downturn. The tactless song about the Belsen concentration camp, written by bassist Sid Vicious, talked about Jews' graves and "fun" in consecutive lines. Savage wrote, "On the very last word, the group cuts dead, so that the audience, stunned, fails for a few seconds to cheer. The rushing silence is like a black hole: within it, the group implodes. After 'Belsen,' there was no way back."
Vicious's Holocaust song was hardly a unique expression for him. He frequently wore clothes with swastikas. In the Pistols movie The Great Rock 'n' Roll Swindle, Vicious walked around a Jewish neighborhood in Paris in a swastika shirt, yielding tears from elderly women on the streets during filming.
Punk's arch-villain was more provocative, insensitive, and immature than Jew-hating, but he was still genuinely offensive. The situation is more complicated than meets the eye. Vicious's fraught relationship with Jews featured a handful of them in key roles. Here are four Jews who figured prominently in Vicious's life—and two examples of how Jews have put their own spin on his name and legacy. Nearly four decades since Vicious's death in 1979, Jews are having the last laugh.
Key Jews in Vicious's Life
Malcolm McLaren
Pistols manager Malcolm McLaren steered the band toward chaos and controversy. McLaren brought punk from the U.S. to the U.K., promoted it to a large audience, and pioneered punk style (in part through SEX, a clothing store he ran with fashion legend Vivienne Westwood). According to the book El Sid, McLaren "programmed" Vicious. McLaren and Westwood gave him a "steady diet of poisonous ideas," including "books on Charles Manson, Nazi paraphernalia, [and] murderous hatred toward the establishment."
Nancy Spungen
In addition to being a drugged-out disaster, Sid and Nancy were punk's "it" couple. Nancy Spungen grew up in a Jewish family in the Philadelphia suburbs. When Spungen took Vicious home to meet her parents, she requested bagels and lox and he refused to eat lox. Vicious was not the "nice Jewish dentist" that Spungen's mother had wanted for her. Vicious allegedly murdered Spungen, but he died from a drug overdose before he could stand trial.
Keith Levene
Guitarist Keith Levene played with Vicious in the Flowers of Romance (the pre-Pistols band that Vicious wrote "Belsen Was a Gas" for) and was also in an early version of The Clash. Vicious and Levene infamously got heroin together in April 1977, leaving Vicious hospitalized for over a month with hepatitis B. He missed signing the Pistols' record deal on time and recording most of their album.
Mick Jones
Mick Jones is the Jewish guitarist who did remain in The Clash long-term. Jones played guitar for a Vicious solo show in New York after the Pistols disbanded. The Clash played a benefit show for Vicious's legal defense in the wake of Spungen's murder, for which Vicious's mother called Jones a dependable friend.
Putting a Jewish Spin on It
Yid Vicious
The Wisconsin klezmer band Yid Vicious included the songs "Never Mind the Cossacks" and "Anarchy in the Ukraine" on their 1998 album. The playful song titles spoofed the Sex Pistols' Never Mind the Bollocks, Here's the Sex Pistols and "Anarchy in the U.K." In the liner notes, Yid Vicious explained that while some people assume they "play some sort of punk klezmer hybrid," their "take on klezmer is a fairly traditional one."
Sid Yiddish
Sid Yiddish leads the band Candy Store Henchmen and has been on America's Got Talent. As an actor, he has appeared in Shameless, a Burt's Bees commercial, and the video for Ludacris's "Jingalin,'" frequently portraying a rabbi. He ran for president in 2016, vowing to "buy everyone a brand new pair of shoes and hand out kosher bubble gum, accompanied with good comics." He was aware of Yid Vicious and thought Sid Yiddish would be "an even funnier play on Sid Vicious's name." He said that Sid Vicious "was a punk in every way possible," and Sid Yiddish was "punk in my own vein, but a funnier sort of way."
For more information about Sid Vicious, Malcolm McLaren, the Sex Pistols, and punk from a Jewish perspective, check out Michael Croland's book, Oy Oy Oy Gevalt! Jews and Punk.
Image via Wikimedia