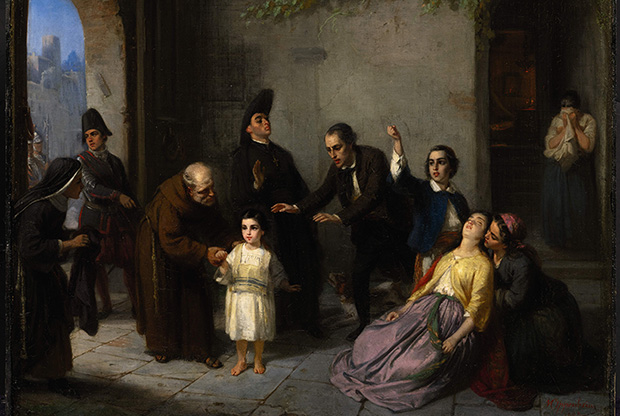 Steven Spielberg's next film is another Jewish piece, addressing one of the most notorious cases of state-sanctioned anti-Semitism of the nineteenth century: The Kidnapping of Edgardo Mortara.
The short version of the story is this:
An Italian Jewish merchant family, the Mortaras, without warning had one of their children, Edgardo, forcibly taken from their home by military police when the boy was six, in 1858. This was because, as an infant, Edgardo had grown sick, and a Catholic servant claimed that she had given him an "emergency baptism," so that he could enter heaven upon death. Edgardo survived, and years later the Church was claiming that the boy was technically a Christian, and therefore his Jewish family was forbidden from raising him. A storm of legal and political conflict followed as the Mortaras tried to get their son back, and he child became a pawn in larger conflicts of the very power of the papacy in Italian unifcation.
Spielberg is directing and producing the film adapted from a 1997 book of the same name by Jewish historian David Kertzer. And if Spielberg wasn't impressive enough, adapting the book into a screenplay is playwright Tony Kushner.
What we know of the cast so far is impressive too, beginning with Spielberg's latest recurring star Mark Rylance. Rylance will play Pope Pius IX, the central figure working against the Mortara family. This is exciting news; Rylance is one of the greatest living actors in the theatre world. Essentially, he thought, "Why not give movies a try?," walked on to the film set for Bridge of Spies, and the Academy handed him an Oscar.
Speaking of Oscars, Star Wars star and real-life fairy-tale prince of our dreams Oscar Isaac is also set to star in this film, though it's unclear as whom (could he be a member of the Mortara family, perhaps?).
The film is extremely promising, but prepare for a tragedy: The true story didn't have a happy ending; Edgardo was not returned to his family, and in fact learned in custody of the Catholic Church to fear and reject the Mortaras. The arguably brainwashed young man became a priest, and though eventually reconnected with his mother in his twenties, he spent the remainder of her life urging her to convert to Catholicism (she did not).
The film is set to begin filming at the beginning of 2017, for release in the end of that year.
Image Credit: The Kidnapping of Edgardo Mortara, painting by Moritz Daniel Oppenheim, 1862. Via Wikimedia.