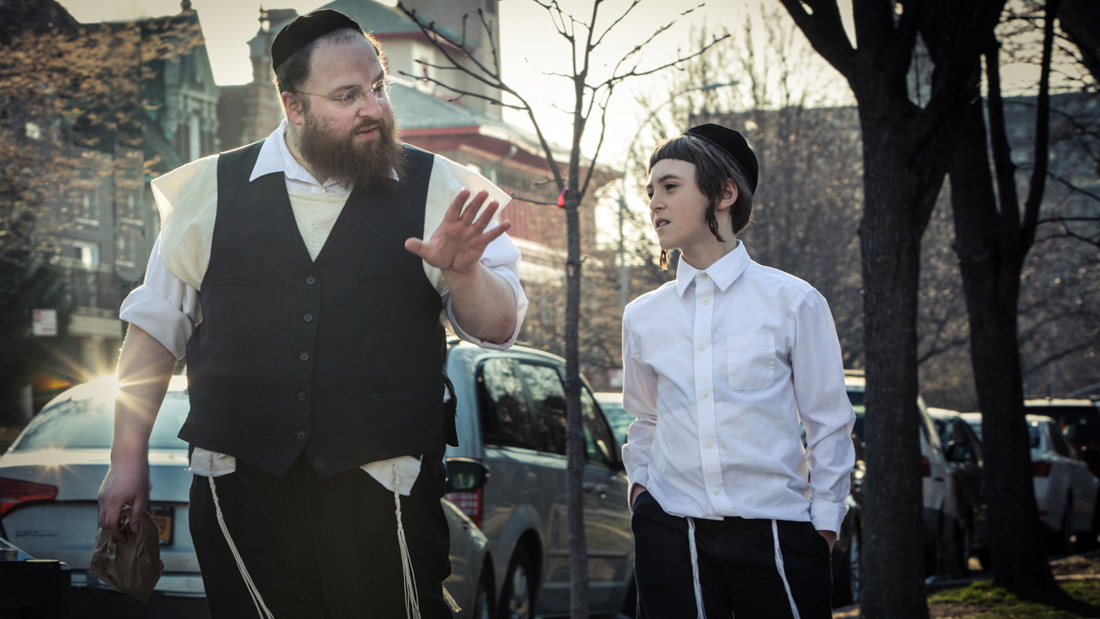 Greetings from snowy Park City, Utah, where the 2017 Sundance Film Festival is in full swing! Over a dozen venues around town are showing movies from as early as 8:30 a.m. to well past midnight every day. Jewcy has been keeping an eye out for any films that seem especially Jewish, and there's one that stands out far from the others. Menashe, from director Joshua Z Weinstein, is showing as part of the NEXT category of innovative films spotlighted during the festival.
This film couldn't be any more Jewish. Not only is all the dialogue in Yiddish (with subtitles, of course), it's so deeply immersed in the Hasidic community in Brooklyn that anyone unfamiliar might think it was set in another country – or another time. The film's protagonist, a well-meaning widower and father described unfavorably by those around him as a schlemiel (no subtitles necessary for that Yiddish), has an older cell phone capable of recording video and occasionally drives the delivery van for the grocery store where he works, but otherwise, there are few instances of modernity – or secularism – to be found here.
Menashe is a strictly observant ultra-Orthodox Jew, but he still finds himself as an outcast withitn his own community. He wears tzitzit and a black kippah, but not a hat or a coat. When he visits the Ruv, as the respected rabbi is called, instead of placing a donation in the tzedakah box, the Ruv slips him money, knowing that he is facing hardship. Miserable at his job, Menashe has also lost custody of his son Rieven since the Ruv has determined that he would be better off in a two-parent home with Menashe's brother-in-law Eizik, who never liked Menashe and thinks very little of him.
Every part of this movie is built around Menashe and his identity as an observant Jew. He may disagree with a prospective match about whether women should be allowed to drive – as permitted or prohibited by the rabbinic authorities – and clash with his boss about whether unwashed lettuce should be considered kosher because of the potential for worms, but there is no point at which Menashe questions his commitment to his faith. He strives to impress the Ruv and respects his authority, and he doesn't feel his attire should make him any less of a Hasid. When he tries to be a good person and put on a memorial for his late wife, his neighbor scoffs at his request for a kugel recipe and reluctantly gives him one that she deems "bachelor-proof" that he still manages to screw up.
While this film is so intimately and explicitly Jewish, its story is a very relatable one, however specific its particular events may be to this community. There are no title cards or introductions to explain that this story could easily have happened and that these people really do live and exist in their own giant bubble in a borough in New York City. Audiences may be confused about certain traditions and behavior, and fortunately this film more than makes up for any insider content with a truly human and universal narrative.
A major part of what makes this film work is the sympathetic lead performance from Menashe Lustig, who achieved some fame for publishing a few YouTube videos. The real-life Hasid brings with him a tremendous authenticity, which has to do with his own life story inspiring Weinstein's film. Menashe is far from an impressive man, never seeming to do the right thing even if though he tries – not always that hard – yet he has an endearing energy about him, and it's impossible not to relate to his experiences and the way he's perceived by others. Ruben Niborski, who plays Rieven, is also a find, and this almost entirely Hasidic cast is just what this film needs.
More than anything, it's especially cool that one of the most talked-about (and well-reviewed) movies at Sundance this year is this Yiddish-language project that might seem completely insular and unappealing to the masses at first glance. Anyone who sits down to experience the film should appreciate that it's much more than that, bringing culture gaps and language barriers to offer up an honest drama that doesn't sugarcoat or tone anything down. Keep an eye out for this one, since it seems unlikely that its energy and positive reception will end at Sundance.
Film Still via Sundance.org