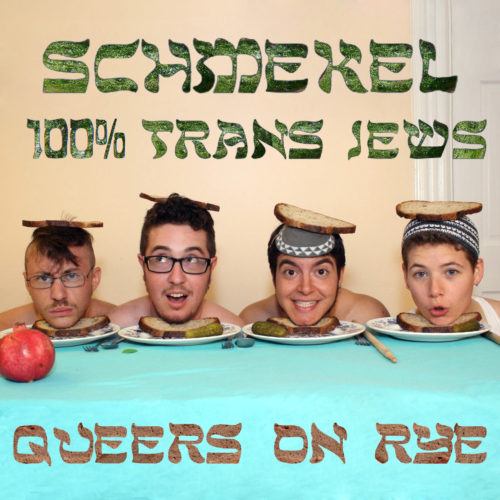 The transgender Jewish punk band Schmekel (Yiddish for "little penis") is, alas, defunct, but at least we still have their songs about almost every Jewish holiday. For this time of year, there are numbers about the upcoming Tishrei parade of Rosh Hashanah, Yom Kippur, Sukkot, and Simchat Torah. These holidays are vehicles to explore what it was like to be transgender in conjunction with being Jewish, and they used some very Jewish tools to do so— like nerdiness, humor, passion.
Schmekel saw Jewish holidays as a resonant, familiar path to discuss that topic in varied ways. When interviewed for my book, Oy Oy Oy Gevalt! Jews and Punk, Schmekel singer/guitarist Lucian Kahn said that Schmekel aimed to "talk about all of these different times in the cycle of the Jewish calendar and find ways of relating those things to trans experience."
"The Binding of Isaac" is a poignant song, in part because of an evocative "Avinu Malkeinu" interlude. The lyrics discuss how a transgender Jew named Isaac presents himself as male, binds his breasts, and sits in the men's section in shul on Rosh Hashanah. "Old Marvin from the Y," whom Isaac has known since childhood, asks Isaac's father how his daughter is doing. The father brushes off the question by saying Elaine (Isaac's birth name) "is fine," as if Isaac isn't present. Heartbreakingly, while the father just continues praying, Isaac looks down in dismay and his knees buckle.
As the listener hears the story, Isaac's father is to blame for failing to acknowledge the presence of his transgender child. But Kahn explained that the situation was "based on snippets of truth" and wasn't so straightforward.
Kahn said, "Old Marvin's not a real person, but he might as well be, because all of us have had an experience … running into … some sort of not core person in your life, and having that experience of, okay, they don't recognize me … because the last time they saw me, they thought I looked like a woman. … Should I reintroduce myself? Should I pretend I'm someone else? Should I just ignore them?" These questions represent complex practical considerations related to transgender transitioning. "The Binding of Isaac" puts them into a fictional context where listeners can understand and relate to the plight of a transgender person in this situation.
Whereas "The Binding of Isaac" was one of three Tishrei holiday songs on Schmekel's 2013 album, The Whale That Ate Jonah, "I'm Sorry, It's Yom Kippur" appeared on 2011's Queers on Rye. The lyrics discuss "atoning for some shit I might have done wrong." The atonement included transgender-related examples like assuming a heterosexual person was ignorant, coming out in an "awkward way," and putting breast binders in the drier. The song includes a shofar blast as well as Schmekel's take on the "Al Chet" prayer from the Yom Kippur liturgy.
The prestigious Jewish Music Research Centre at the Hebrew University of Jerusalem praised the song as a venue for "atonement through punk (and traditional Jewish music)." In the article, Kahn explained that the notion of "screwing up" was more relatable—and applicable to his life—than "sin." He said that it was "more productive" to "reflect with a sense of humor upon my mess-ups."
"I wrote that song when I was not supposed to be writing that song; I wrote it while I was fasting," Kahn told me. "So I was also really amused that a song that I wrote, definitely breaking a commandment or a mitzvah or something to actually write it, ended up getting analyzed by" the Jewish Music Research Centre.
"Occupy My Sukkah" is a Sukkot-themed, X-rated song about a "broke-ass queer" looking for "somebody from the one percent." The song includes Hoshana Rabba, the seventh of Sukkot's eight days. The lyrics ask: "If you've got abundance, won't you be my sugar abba [daddy] / And smack me with your arava [branch of a willow tree] 'cuz it's Hoshana Rabba?"
"Maybe She's Shomer Negiyah" has the strongest lyrics of the Tishrei songs, but it adheres the least to a holiday theme. The setting is a Simchat Torah party, but the holiday isn't discussed beyond the opening line of the song.
Shomer negiyah refers to men and women not touching each other, and in the song, the transgender male narrator dances the hora with other men. He realizes that the men probably wouldn't want to hold his hand if they knew he was transgender. He also discussed not shaking hands with a woman when he said "chag sameach" because "she's keepin' it kosher like Shmuley Boteach."
Schmekel's songs were more than just catharsis for the band members as they dealt with their transitions. The humor in their songs served a larger purpose: Schmekel deliberately used humor to lower the defenses of non-transgender audiences and make the topic seem more approachable. From there, people could learn about and empathize with the transgender experience.
The Jewish part of making the transgender experience seem relatable had to do with Schmekel's expertise with Jewish topics. Kahn explained, "It's probably a little unusual to have within one band somebody who has a master's degree in history of religions and somebody who studied Jewish education and someone who was a Jewish studies major. It's like … a brain trust of people who have studied Jewish history." Writing clever lyrics like the "sugar abba"/Hoshana Rabba couplet would be beyond the capabilities of most Jews with casual knowledge of their religion.
Schmekel disbanded in 2014. Kahn still has a decent chance of making some High Holidays music, though. He lives in Crown Heights, and in his own words, "I cannot make it between my building and the subway two blocks away on Rosh Hashanah without being handed a shofar at least three times."