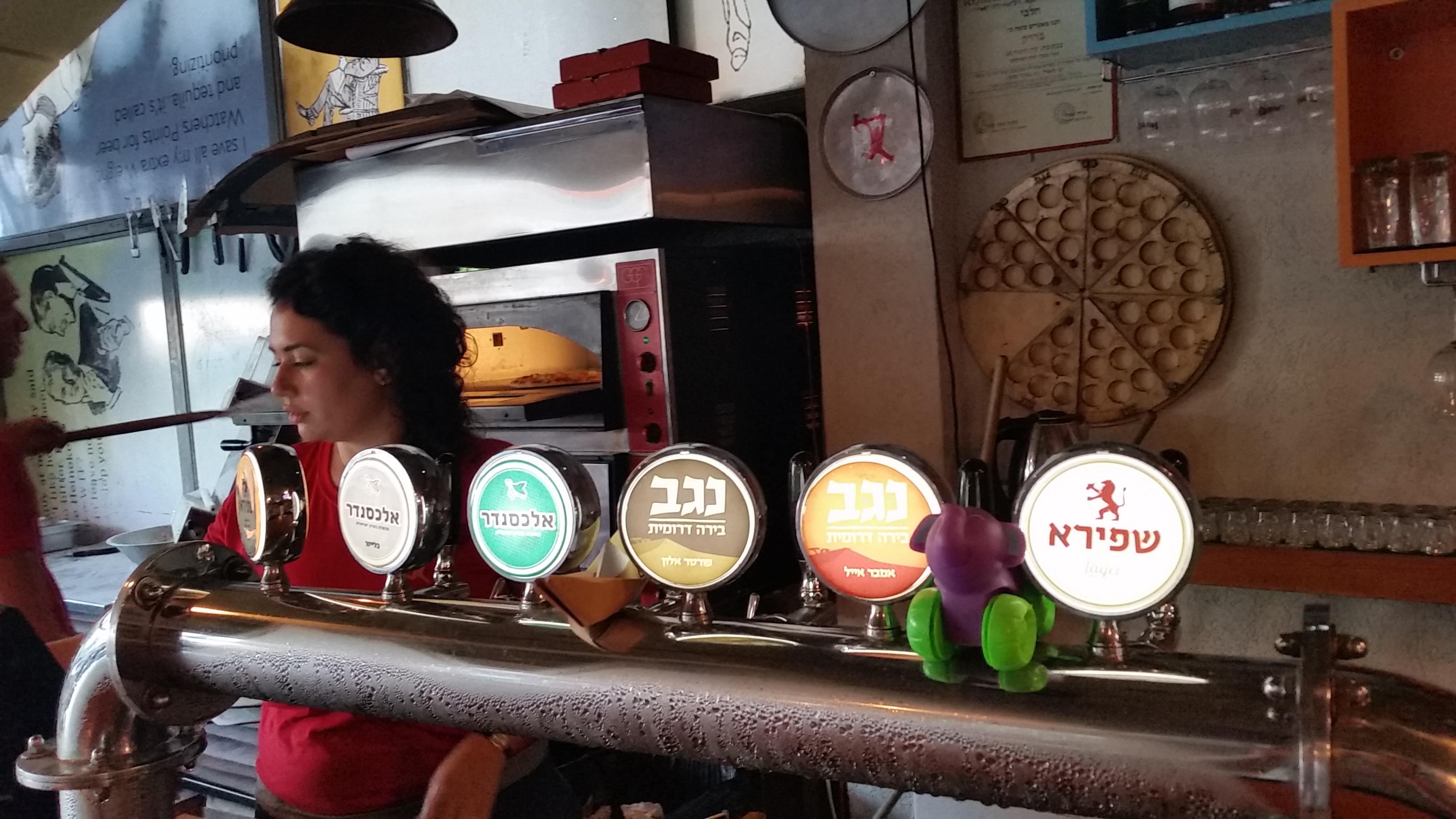 A culture of high quality consumption in a relaxed, social space—akin to the growing third wave coffee culture—is the idea fermented with the new beerah boutique (Hebrew for "craft beer") culture in Israel.  These microbrew havens are reflecting a shift in the Israeli bar culture—from a pub serving a handful of beers like Goldstar and Tuborg with "chasers" of liquor—to a consumer culture interested in products made with high quality ingredients and individual attention.
For a water-strapped country whose first microbrewery opened in 2005 (Dancing Camel Brewery), Israel seems to be doing quite well for itself. Accordingly, the folks at Beer Market claim there to be almost 100 craft breweries operating in the country. (Do not forget Taybeh, a great brewery from Ramallah that has been crushing it for the past 8+ years.)
Fortunately, there are scores of unique Israeli craft beers available in bars throughout Israel, and as more Israelis develop a preference for these better, local beers, this list will only grow. Until more bars start to serve craft beer on tap, join your new Israeli friends at the bars below. L'chaim!
Beer Bazaar (Shuk HaCarmel, Tel Aviv)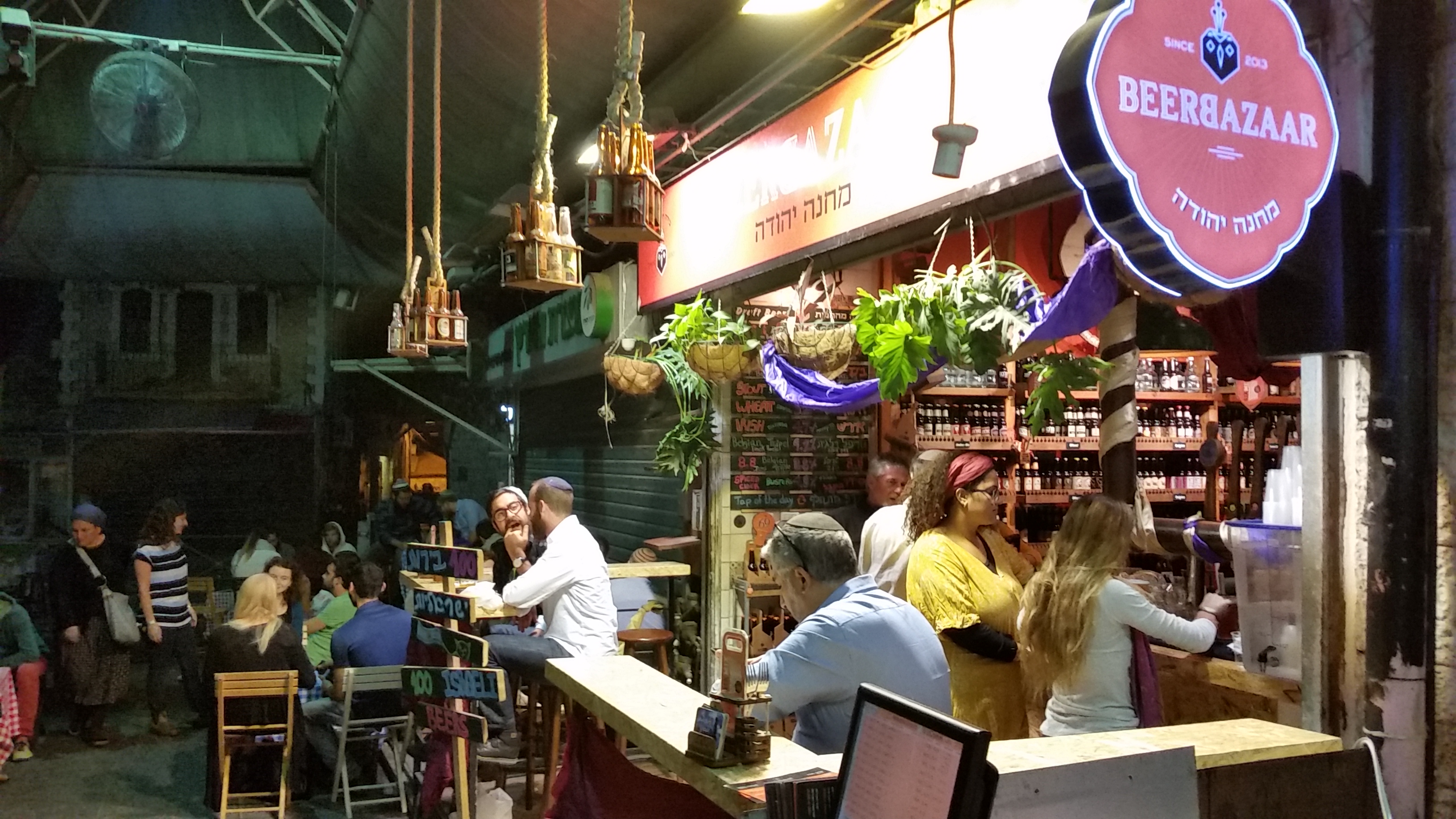 Take a break at the shuk with a cold treat at Beer Bazaar. With eight craft draft options and a cooler of over 70 varieties ranging from more traditional wheat and IPAs to Belgians, smoked, blondes, and ciders, there's plenty here to keep you happy. BB TLV is full of young adults, with a sprinkling of more senior patrons, drinking together as if it were a café or backyard barbeque.
Evenings at Beer Bazaar exude a comfortable and familiar feel, that of a neighborhood bar for hanging out with best friends.
1 Rambam, Tel Aviv. 36 Yishkon St., Tel Aviv.
Beer Bazaar (Shuk Mahane Yehuda, Jerusalem)
BB Jerusalem is located in the narrow, covered portion of the shuk and pulses with a different, louder energy than its Tel Aviv counterpart. Despite the fact that most of the street's shops close for the evening, there's a surprising vigor in the shuk at night. The crowd here feels more diverse than the Tel Aviv branch; it's full of American expats, Israelis, Arab Christians, and yeshiva students of all ages. Beer Bazaar Jerusalem offers craft beer lovers a break from the stiffness of much of Jerusalem, a mutuality of people from a host of backgrounds, and a really different (great!) way to experience Mahane Yehuda.
Going to Beer Bazaar during market hours will feel like you are at the market. If drinking a craft beer will help ease your tensions—yalla. If you are new to craft beer or can't decide, you can get a flight of four 200 ml drafts for $12. ½ liter of craft beer is $7.65, and liters are $14.50. They also sell bottles.
3 Etz Chaim, Jerusalem.
Café Halutza (Jaffa)
In the corner of Jaffa's Noga neighborhood sits Café Halutza, a delightful neighborhood restaurant with Israel's best craft beer deal. While a ½ liter of Malka Beer is regularly $6.35 (good deal!), a second ½ liter is only $3.20! In addition to this draft, they also have bottles of Hahalutz, a small brewery from Beersheva.
Beyond the beer (sometimes there is another reason to go somewhere), this is a worker cooperative restaurant. All of the employees are educators in youth movements, schools, and other informal education programs. Profits from the restaurant support the Dror Yisrael Educator's Kibbutzim and all tips are distributed to a different educational program each month. The food is "kosher," very vegan-friendly, and quite good. This is a great café to grab a coffee, snack, or best-priced ½ liter drafts in the country.
Poriah 12, Jaffa.
Bogart Red (Givatayim) and Bogart RG (Ramat Gan)
Come to Bogarts for the craft beer—6 taps of Israeli craft beer (Jems) as well as bottles from Negev, Bazelet, and others—but stay to relax outside of the bustle of Tel Aviv. This suburb of Givatayim, a 5-minute bus trip from Azrieli or Arlozorov, is a rapidly yuppifying community. Sitting at Bogart, you'll be hard-pressed to find any tourists, patrons over 40, or e-bikes on sidewalks (the bane of Tel Aviv life). Sitting outside at high-top tables, each group is noshing, rolling cigarettes, or both. The music transitions between smooth jazz, blues, and Mizrahi pop… a clear favorite, as there is often dancing and cheering from the staff, customers, and pedestrians when the local pop stars start crooning. The bar honors its roots as Israel's first DVD rental shop—named after Casablanca's Humphrey Bogart—by reusing old DVD racks, posters, and some original old design elements. In addition to a solid happy hour special 9 pm Sunday-Wednesday, they often host live music.
Katnelson St. 55, Givatayim. Sderot Yerushalayim 5, Ramat Gan.
Porter and Sons (Sarona, Tel Aviv)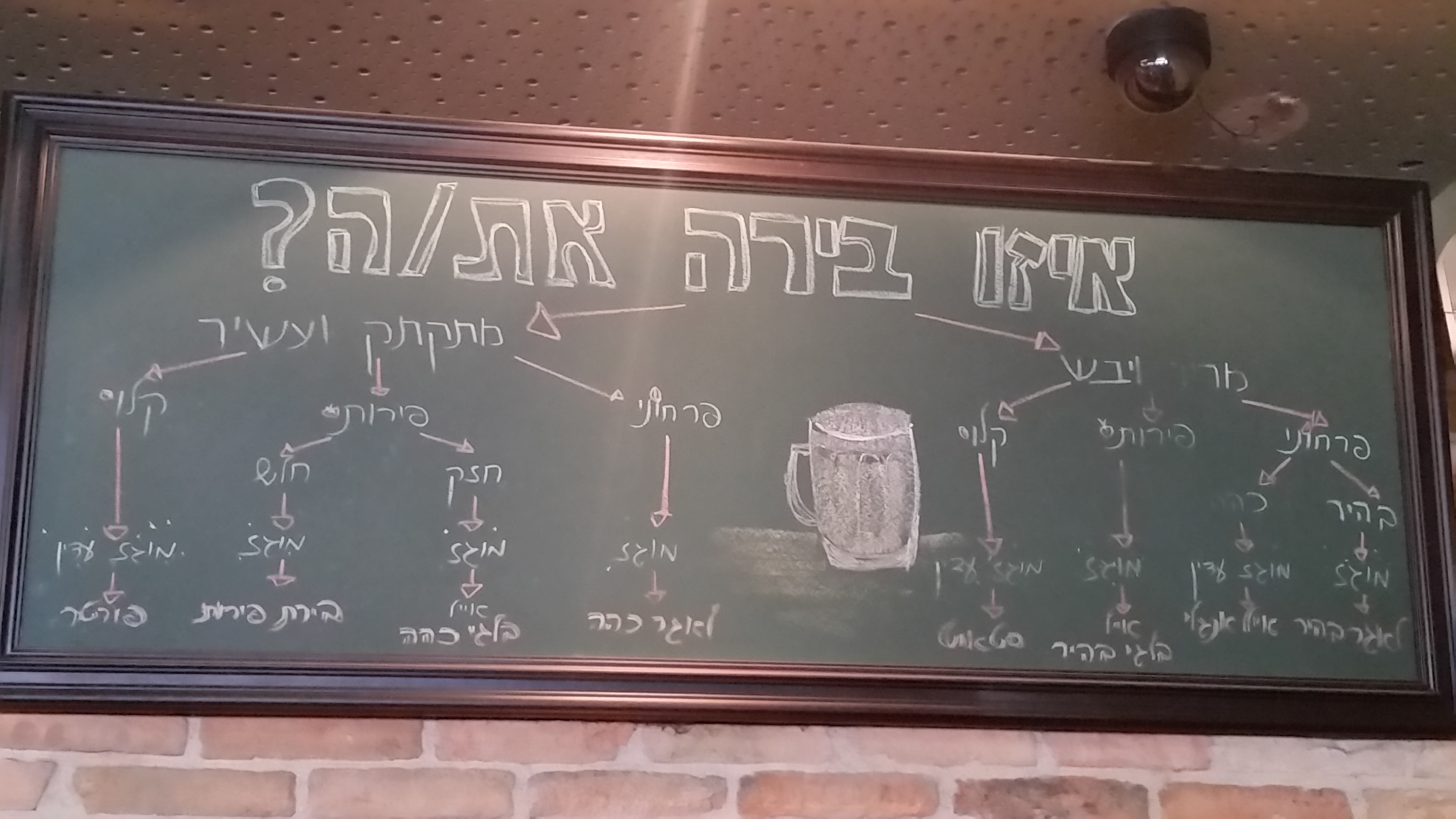 Porter and Sons is without a doubt Israel's premier location for craft beer on tap. With 50 different taps offering no fewer than 17 Israeli craft beers and ciders, this is the draft beer king of Israel. If you're new to (craft) beer, navigating this Israeli beer heaven may seem daunting. Don't be afraid— Israelis want to help you expand your drinking habit, and there's a chalkboard map to help direct your beer choice based on taste preferences. Also, the staff at Porter and Sons is very proud of their selection and generally enjoys talking with customers about the different beers (in English and Hebrew), giving a tour of their keg room, and offering tastes.
This brasserie (not kosher) tries its best to be a traditional English pub, staying open until the last customer stumbles out and leaning heavily on hearty, yet upscale pub grub.
They also have an amazing unlimited draft beer happy hour.
14 Ha'Arbaa St., Tel Aviv.
Perla (Florentine, Tel Aviv)
Situated in the heart of the über-hip Florentine neighborhood of Tel Aviv is Perla, a 25+ bar that is without a doubt one of the most conventionally hip places to grab a craft beer in Israel. With a beer menu organized by drinking "mood"—Native Israeli, Brave, Easy-drinking, and Nostalgia—and complimented by an exhaustive list of liquors, you're expected to take your drinking seriously. The 9 Israeli craft drafts and 15 European options are briefly described in the menus, encouraging people to choose a beer without asking too many questions (which would be difficult over the loud music). This is a quintessential Florentine neighborhood bar, where the prices are a little steep and the pulse is quick; partying goes until very late. Beers cost around $9 for a 14 oz glass (smaller than a US and Imperial pint). From 4-7:30 pm there is a buy-one-get-one happy hour, making weekday drinking a much more economic time to explore Israeli craft beer in Florentine.
Florentine 8, Tel Aviv.
Beer Market (Shuk Sarona, Tel Aviv)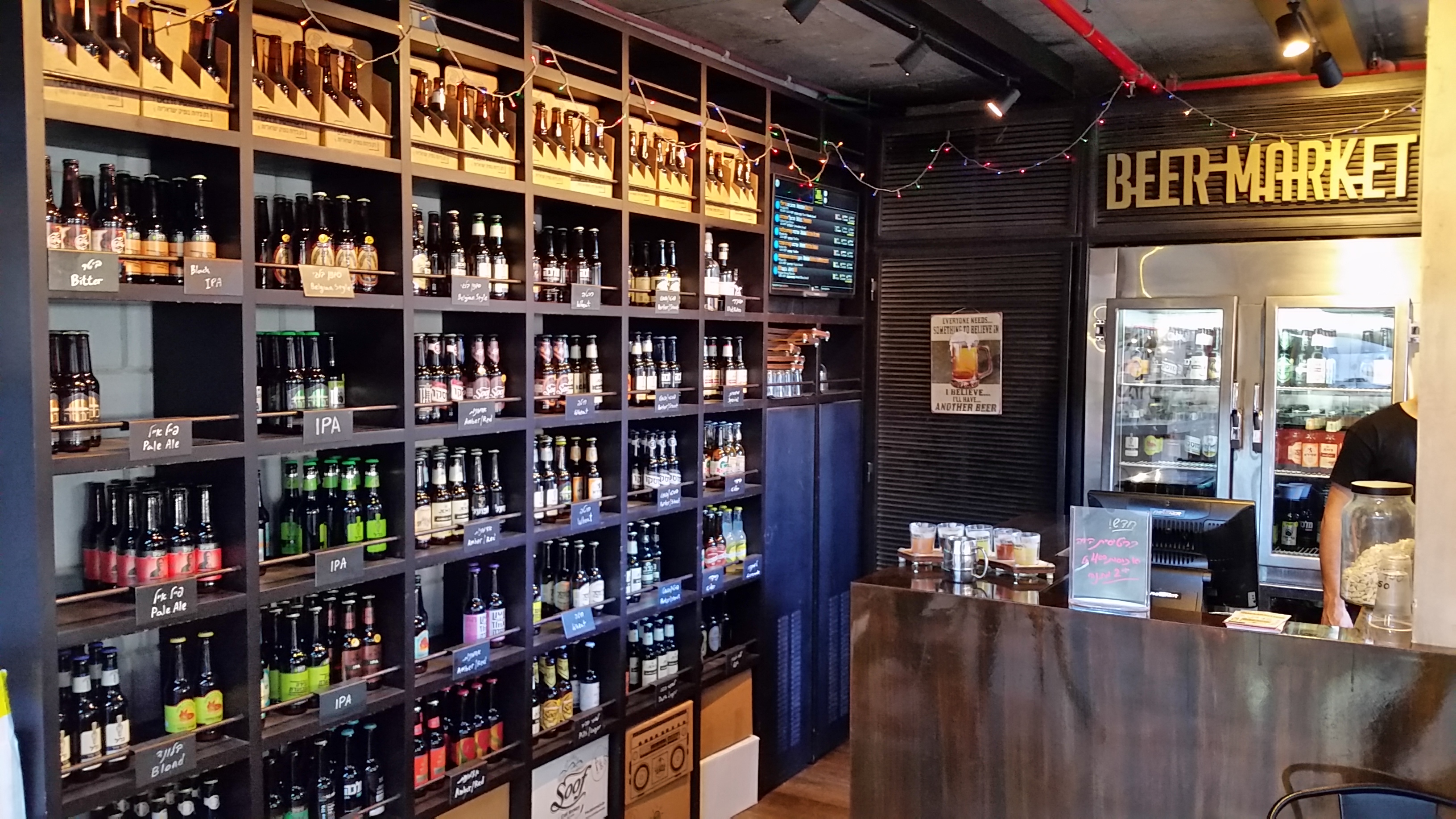 Tel Aviv's newest shuk, the Sarona Market, is a gourmet assault of the senses. This market has everything; it's like Chelsea Market eloped with the Grand Central's Great Northern Food Hall and birthed a darling haven for Silicon Valley expats.
At the far eastern entrance of this clash of culinary cultures sits Beer Market, a haven for craft beer lovers and exhausted market-goers alike. With six taps, 100 different bottles, and a very knowledgeable staff, this is one of the meccas for Israeli beer. If you're interested in the history of homebrewing in Israel, the movers and shakers in the local boutique business, and anything else hopped in Israel, this is a great place to start. Beer is reasonably priced with a bottle selling for $5.80, a 400 ml glass for $6.85, and a 1.5 liter pitcher for $24.
Birateinu (Jerusalem)
Less than a block from the Mamilla Mall is this unassuming Israeli craft beer spot. With a constantly changing selection of 6 taps, most of which are rarely found outside of brewery taprooms, Birateinu prides itself in always offering something new and delicious from Israel. Draft beers are reasonably priced at $7 for ½ liter, $5.75 for a 1/3, and $4.50 for a highball glass. In addition to the taps, they have scores of Israeli bottles available in refrigerators and shelves to drink on the premises or to take home. They host special release parties for breweries, and this is a place to celebrate and learn about craft beer in Israel (like Beer-D in Jaffa or Buster's in Beit Shemesh). If you fall in love with their creative beers, they have brewing workshops and plenty of supplies for homebrewing.
3 Yanai St., Jerusalem.
Glen Whisk(e)y Bar (Jerusalem)
Don't be too surprised to know that Jerusalem's biggest whiskey bar (over 100 whiskeys) is also one of its best beer bars. At the corner of history, you can enjoy an Israeli IPA, Amber, wheat, stout, and so much more from the tap or in a bottle. Though the bar is known for their whiskey, consumed mainly by recent male olim and tourists, it is known as a fun place for students, soldiers, and others to hang out. Easily accessible by most transportation in Jerusalem (it's next to Mamilla), and open until late in the morning, as well as on Shabbat, this is always a good choice for drinks in Jerusalem, especially late night.
18 Shlomtzion HaMalka, Jerusalem.
Bardak (Jerusalem)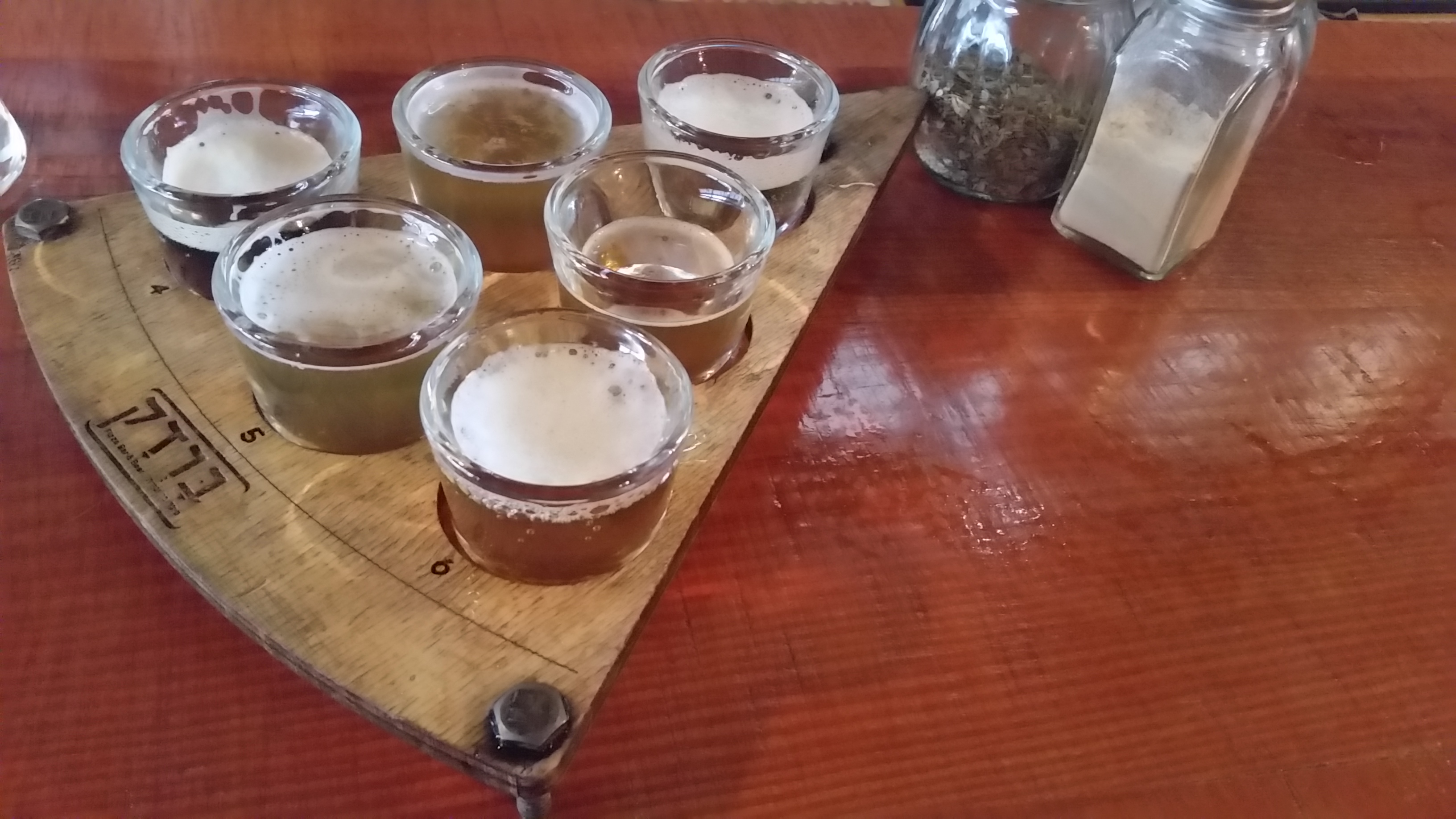 Pizza and beer is a winning combination anywhere in the world, but in Israel, the pizza is often disappointing. So, if you find yourself in Jerusalem and looking for great pizza and beverage match, go to Bardak. A delicious and creative menu of pies pairs well with their crowd-pleasing taps and nearly 20 bottles of Israeli boutique beer.  Offering a basic primer to craft beer, Bardak provides "slices" of tastes, providing a brief description for their taps: wheat, lager, amber, porter, strong ale, and IPA.  Though the pizza is expensive relative to other pie options in Israel, it's well worth it. And the beer is very reasonably priced with liter-sized pitchers for $15. Nestled between the First Station, Mishkenot Sh'ananim, Rehavia, and Talbiya, Bardak is accessible to all of Jerusalem. It's a late night hangout for youths, families, and tourists alike (who doesn't like good pizza!?). Though most customers are Israelis (surprising for this area), this kosher dairy restaurant is very English friendly. Like most Israeli restaurants and bars, the place is quite deserted between 3 and 8 pm.
38 Keren HaYesod, Jerusalem.
Libira (Haifa)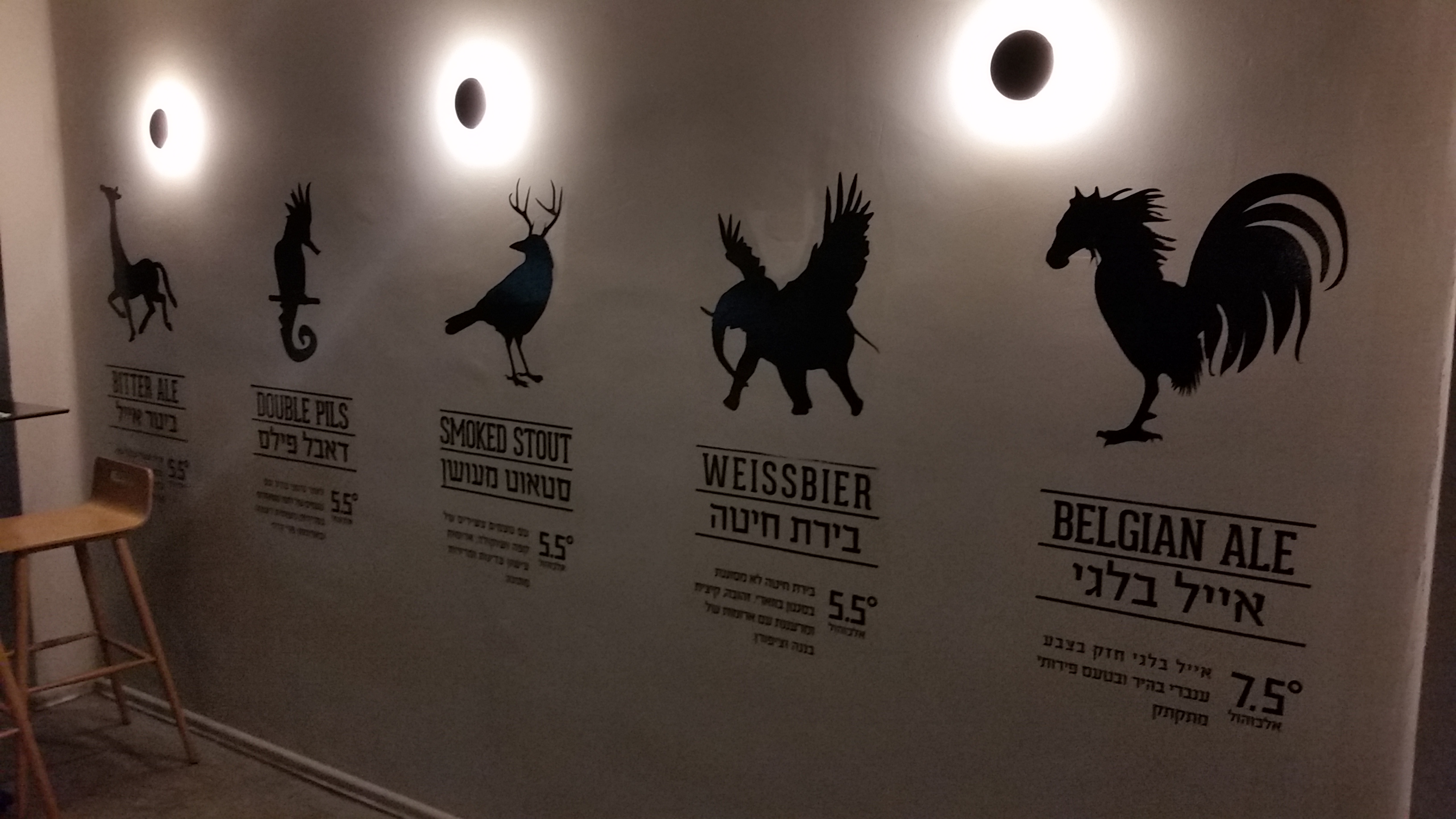 In the city of coexistence, equality, and public buses on Shabbat, sits Libira, an exciting brewpub in the heart of the downtown port district. In this industrial warehouse-like space, soft lights illuminate the massive, dark canvases (~12 m2) of the beer labels.
Even though all of the draft beer is made in house, you could imagine it travelling thousands of miles from its muses. In homage to these traditional methods, Libira makes a Bavarian "Weiss," German "Double Pils," British "Bitter" ale, Irish "Smoked Stout" ale, and Belgian "Strong Golden" Ale. Despite their pedigree, these beers are approachable for beer drinkers of most any experience.  If buying a whole glass seems intimidating, you can get a flight of 150 ml tasters ($9.75 for 5 tastes). If you love the beer, you're also welcome to purchase bottles at the great price of $17.15 for a six-pack.
The kitchen is a local favorite, offering classic and modern seafood dishes, upscale bar snacks, and a very popular burger that go well with the beer.
Sometimes Libira even runs out of a beer (the Bitter goes fast), which must say something about the quality of their brews.
Maayan Habira (Haifa)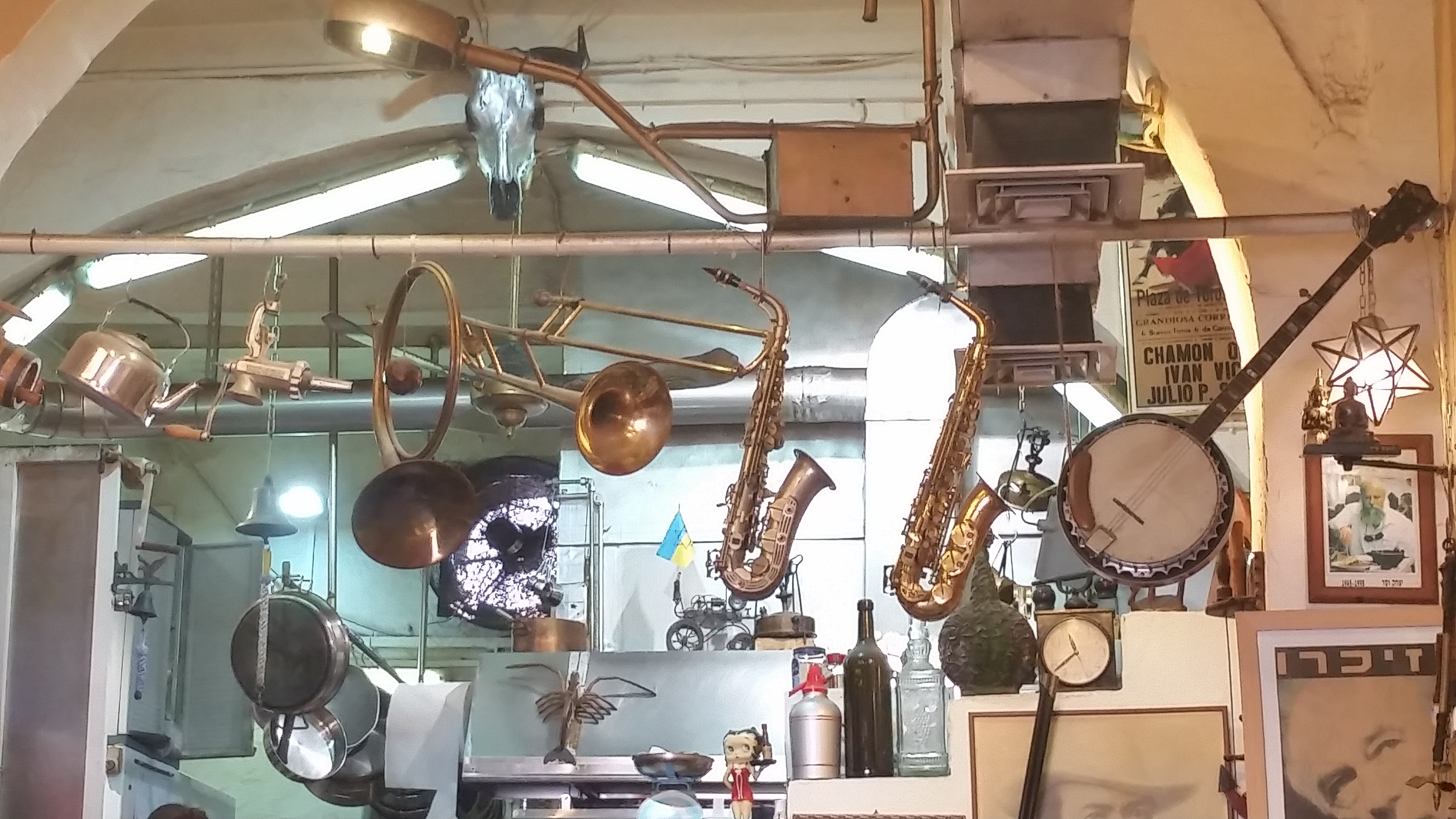 You know there's something special about a bar that opens at 10 am and closes before the 5pm happy hour, which is why I joined the Haifa sailors and longshoremen for a beer and bread at Ma'ayan Habira. This large bar, which caters primarily to the men who work(ed) in the port in the early morning, is a vestige of years past, serving complimentary bread and horseradish (shtetl nostalgia fit well here) with beer and black coffee. With the craft beer and demographic shifts in the neighborhood, there are increasingly younger crowds, but this is primarily a bar for an older generation who has been coming here since they opened in 1962.
This unofficial historical landmark is the only non-religious space to offer p'tcha, kishke, gefilte fish, and Friday cholent/goulash.  They count 4 Israeli craft taps amongst their 28 drafts, which is only dwarfed in bar space by their selection of 75 different whiskeys.
Food and drink aside, the eclectic décor of old brass instruments, collector beer steins, and a massive fresco of a medieval soldiers/monks drinking Israeli beer is worth the visit.
4 Natanzon St., Haifa.
Agnes Pub (Hod Hasharon and Tel Aviv)
A hip Tel Aviv spot in the Old North, this brasserie is modeled after the love child of a New York deli and Brooklyn gastropub. Alongside the eight Israeli taps ($8-$9 for a ½ liter), they offer greasy sandwiches that would make any heavy drinker happy, ranging from a vegan patty to a bevy of beefy burgers, a BLT, and a mustard-laden reuben.  And like any hip Tel Aviv restaurant these days, they have a house specialty cauliflower option (lightly fried, served with a basil aioli). Starting with the after-work crew and lasting late through the night, this restaurant bar in Tel Aviv and Hod Hasharon is helping to build a stronger culture of boutique beer drinkers in Israel. They occasionally host special brewery nights where they celebrate the release of new Israeli craft bottles and breweries. If you're looking for a reuben and a beer, this is your place. And even if you don't want the reuben—still worth it.
Ibn Gvirol 129, Tel Aviv. Bnei Brit 4, Hod Hasharon.
—Avery Robinson