When researching Victorian Jewish slang, halfway through the various slurs and corrupted Yiddish I found this:


Stuffed monkey (Jewish Lond.). A very pleasant close almond biscuit. Now the confectioner exchanges his stuffed monkeys, and his bolas… for unleavened palavas, etc.—Zangwill, Children of the Ghetto.
I had never heard of a "stuffed monkey," so obviously I had to find out how to make it for myself. I've since received requests to share, so here it is: A stuffed monkey.
The recipe seems to come from Sephardic Dutch Jews (they would have originally been from Portugal) living in England. It's sweet, but not rich, and serves like a tart or a pie. The above-cited 1902 book Children of the Ghetto references it as a "contemporary confectionary," though I found a reference to it by name in as early as 1882. So, now you know exactly what to serve at your Jewish steampunk tea party!
In regards to the weird name (yuck, it does not make you think of an appetizing pastry), the "stuffed" is a reference to the nature of the dessert.  As for "monkey?" There are multiple theories, including that the family that popularized it was called Monnickendam, or that it comes from the Arabic for stuffed: "makhshi."
The recipe below is a cobbled together version of three that I found online: From Cook It Simply,  Jewish Mother Cooking, and The Vintage Cookbook Trials (which took its recipe from Florence Greenberg's 1967 British Jewish cookbook):
For the crust:
2 cups and 2 tbsp. flour
1/2 tsp. salt
1 tsp. ground cinnamon
1 stick of butter
2 eggs, lightly beaten
1/2 cup brown sugar
½ tsp. vanilla (optional)
For the filling:
The peel of one large orange
1/2 cup golden raisins (or try dark raisins or dried cherries)
1 1/3 cup chopped/slivered almonds (feel free to experiment with other nuts)
1 ½ tbsp. brown sugar
½ tsp. cinnamon
3 tbsp. melted butter
1 egg yolk (save the white for glazing)
For the glaze:
1 egg white
handful of sliced/slivered almonds
DIRECTIONS:
1. Sift the flour, salt, and cinnamon into a bowl, and rub in the butter until mixture resembles breadcrumbs.
2. Stir in the eggs, sugar, and vanilla, and knead into a smooth dough.
3. Divide the dough into two sections. Wrap each half in plastic and refrigerate for at least 20 minutes.
4. Preheat oven to 375°F.
5. Combine all the ingredients for the filling in a bowl and mix well. Use a food processor to make the mixture paste-like. Don't worry about it being smooth; it's fine to have bits of peel, almonds, raisins, etc., visible.
6. Lightly grease an 8″ pie or other baking tin
7. Roll flat and spread one of the dough pieces out into the bottom of the pan.
8. Spread filling over the dough, then roll out the other piece of dough and lay it over the filling.
9. Pinch edges together so the filling doesn't leak out (it helps to smooth out cracks with a teaspoon of water). Brush top of dough with the egg white mixture and generously sprinkle with the almonds.
10. Bake for 30 minutes, or until golden-brown. Let cool and serve!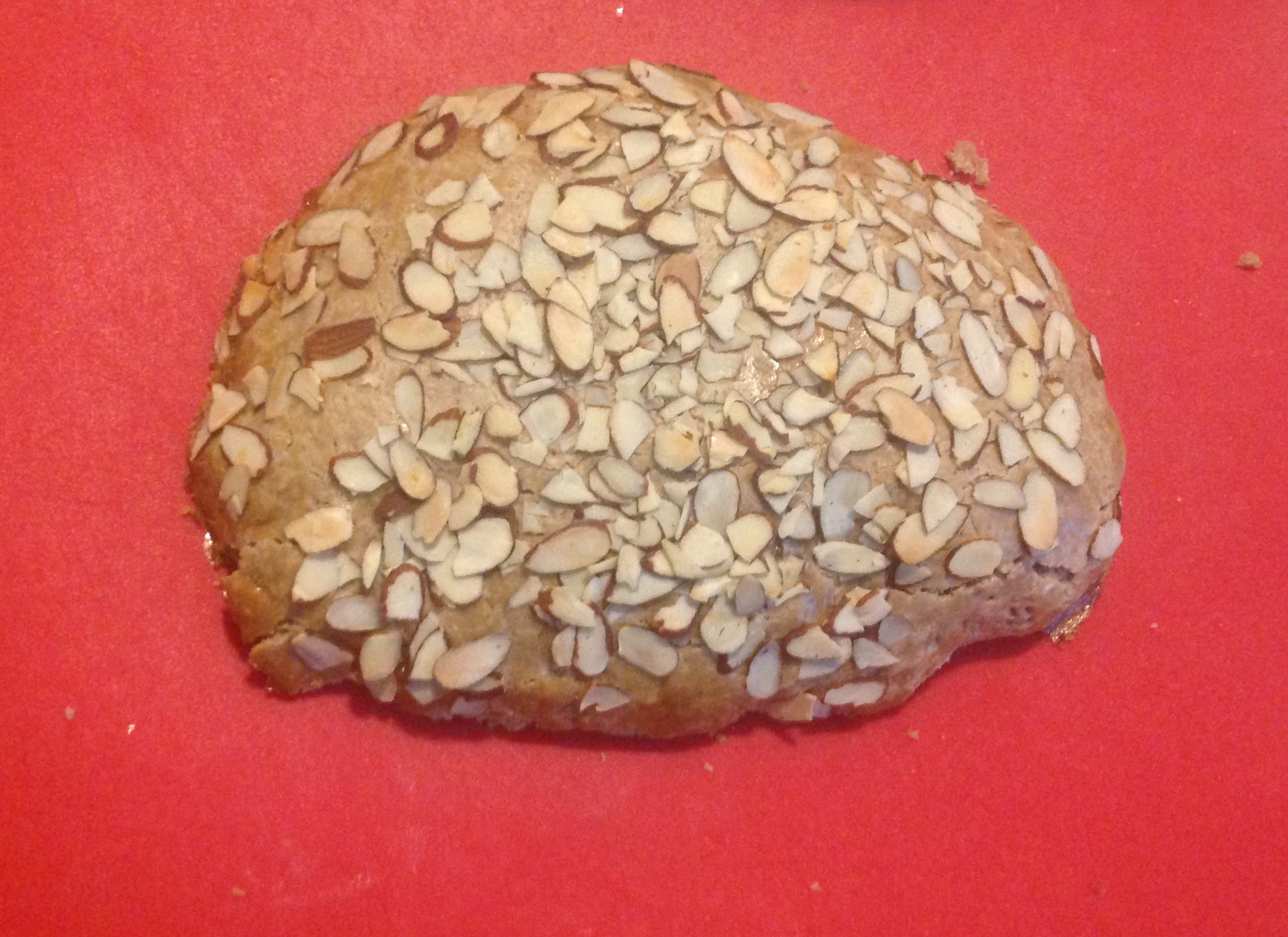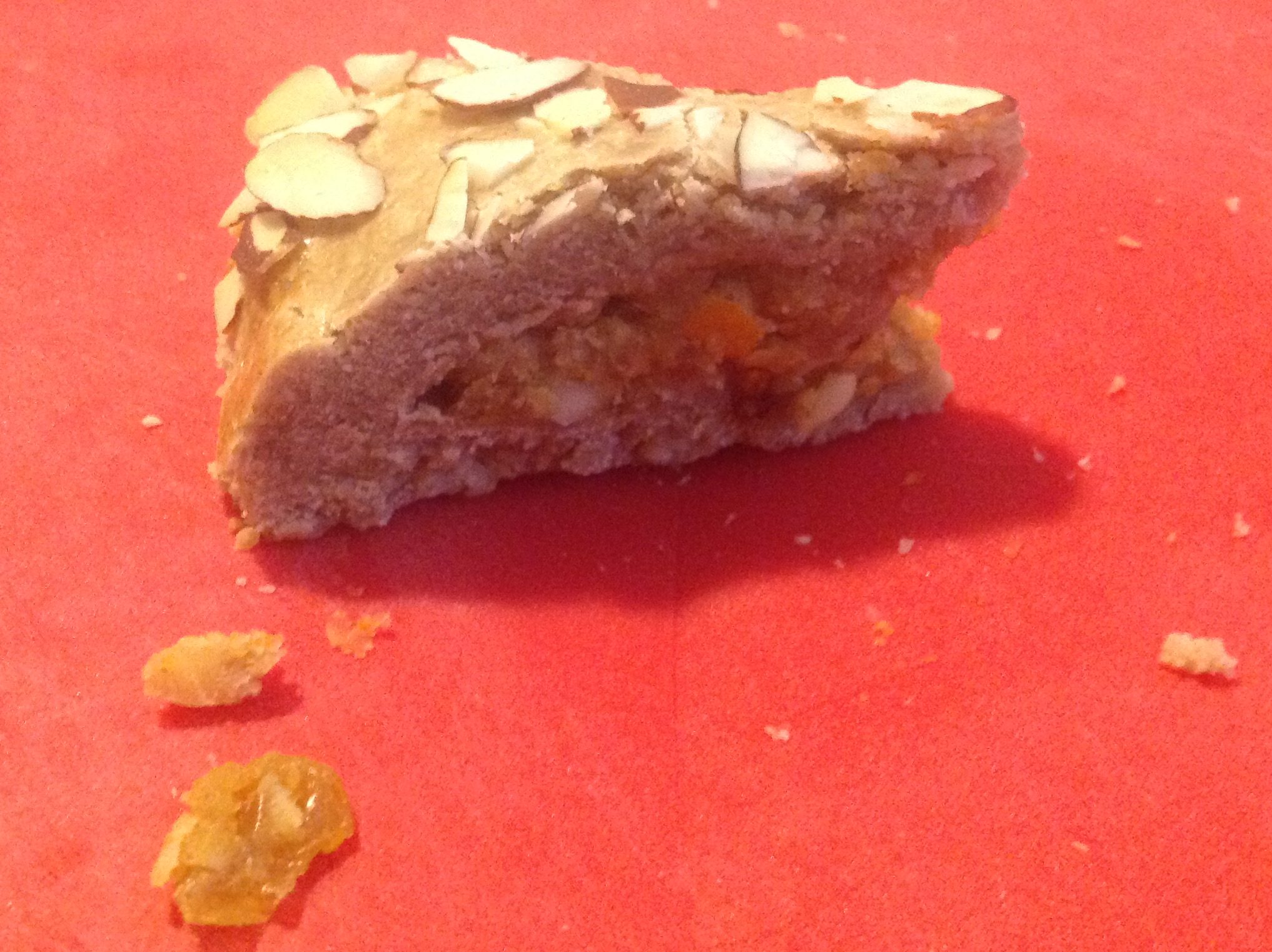 Enjoy, and comment below or tweet us if you try it out!
Featured image credit: Wikimedia