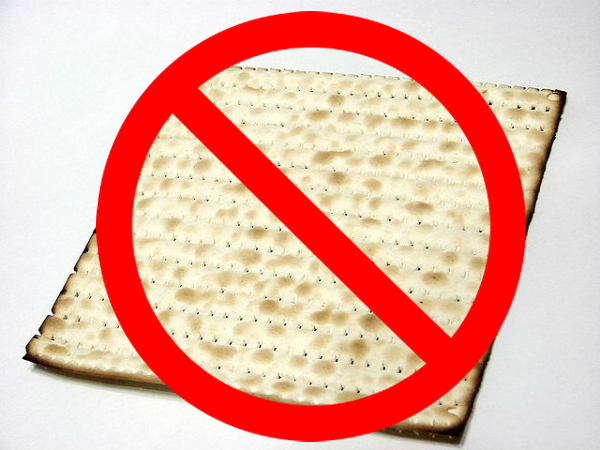 Can you believe Passover is eight ENTIRE days? More like eight and a half (insert Fellini joke here) when you take into account the day of the first seder.
Well, if you've run out of yummy treats and have matzo coming out your ears, here are three unusual holiday recipes. All of them are delicious. All of them have the potential to be pareve. And none of them have matzo.
Our first recipe is gluten-free pancakes (you may have seen them online before), which don't sound like they should resemble pancakes at all, given the fact that the main ingredient is banana.  But it's actually not bad, and it's also OK regardless of if you eat kitniyot on Pesach:
Recipe #1: Perfect Passover Pancakes:
Ingredients:
2 bananas
1/2 cup of almond butter (or peanut butter, if you like/are able)
2 eggs
1 tsp cinnamon
1/2 tsp vanilla
drizzle of honey
Directions:
Shmush everything together (if the bananas are ripe enough, a fork and elbow grease should do it).  Bananas first, then eggs, then almond butter, then extras.
Fry 'em up like you would pancakes!  Keep 'em small, and be patient as they cook.
Recipe #2: Hannah's Chanukah, But Notka
This latke springtime treat comes to us from Hannah Simpson. She honestly wonders why more people don't do this.
Ingredients:
1-2 onions, grated
Potatoes, grated (3 times as many as onions, and they should all be of comparable size)
1 chute of diced scallion per potato
1 egg per 3 potatoes
Salt, to taste
Extra virgin olive oil, for cooking
Directions:
Mix all ingredients in a large pot. Take golf-ball sized scoops placed into EVOO, squished down repeatedly, flipped once or twice, and served burnt. Let fresh latkes cool over paper towel. Serve with sour cream, or apple sauce to keep it pareve.
Recipe #3: Black Salt Avocado Pickles
This hardboiled egg alternative for vegans comes to us from Ashley Goldstein. It's quick and very easy:
Ingredients:
1 ripe avocado
1/2 tsp black salt
3 tbsp vinegar
Water to cover
Directions:
Slice avocado and place into a sealable (ideally glass) container. Add the rest of the ingredients and allow to pickle for at least an hour.
And there you have it, kids.  Now go forth, enjoy, and power through your Passover.  We believe in you.
Image by Jewcy via photos from Pixabay and Wikimedia