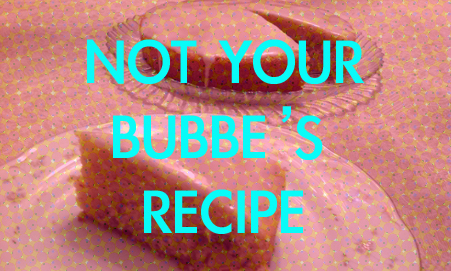 As we've all heard 100 times by now, Hanukkah celebrates the miracle of the oil (and maybe some other things): The eight days we observe with our candle-lighting and dreidel-playing represent the eight days the temple's menorah stayed lit with only a single day's supply of oil. To commemorate this, Jews across the world eat fried foods, such as latkes and donuts (to which you might be tempted to ask "How is this night different?"—wrong holiday).
Though every year I plan on staying away from these oily fried foods, I can't seem to do it—I have too much holiday spirit to renounce the tradition all together (especialy if they're Indian-spiced)! Instead, I decided to come up with another option for those more health-conscious and more averse to oil stains: Olive Oil Cake.
Olive oil cakes have been around for centuries and are often found in Mediterranean cookbooks (see, it's really a Jewish tradition). It is lighter and healthier than butter and lends a slightly fruity note to whatever you are baking. Heavier olive oil, the ones tinted with more of a green color, will give a more distinct olive oil taste, so for baking I would go with the lighter oils. Olive Oil contains Vitamin E and good cholesterol, and has little saturated fat. If health wasn't motivation enough to swap the doughnuts for the olive oil cake, consider this—olive oil is also the oil said to have been used in the temple services and is touted as the best oil to use today in modern Hanukkah rituals. Latkes and donuts are never fried in olive oil (olive oil has too low or a burning point to be any good for deep frying), but rather in vegetable oil or shortening. To be truer to the historical miracle and kinder to your arteries, give this cake a chance.
You won't be sacrificing anything in the taste department. It is moist and light, with soft citrus and almond notes. It's a breeze to make (easier than peeling and grating all those potatoes) and will be gone in minutes. The perfect light ending to a holiday meal. Or a holiday snack. Or a holiday breakfast…
The best part: It won't make your home smell like a deep fryer for hours on end.
Not Your Bubbe's Almond Olive Oil Cake
Ingredients:
Cake:
3/4 cup all-purpose flour
3/4 cup ground almonds
1 ½ tsp baking powder
1/2 tsp kosher salt
3 large eggs
3/4 cup granulated sugar
1/2 cup extra-virgin olive oil
1/2 tsp pure vanilla extract
2 tsp orange zest
1/2 cup orange juice
1/2 cup sliced almonds, toasted and cooled
Glaze:
1 1/2 cup confectioner's sugar
3 tbsp milk, soy milk, or water
¼ tsp fresh lemon juice
¼ tsp almond liquor
Equipment:
9-inch round cake pan
Directions:
1. Preheat the oven to 350°F. Grease and flour the pan and set aside.
2. In a medium bowl, whisk together the flour, almond flour, baking powder, and salt.
3. In a large bowl, crack the eggs and whisk them slightly to break up the yolks. Add the sugar and whisk it in very thoroughly. Add the olive oil and whisk until the mixture is lighter in color and has thickened slightly, about one minute. Whisk in the extract and zest, and the orange juice.
4. Add the dry ingredients to the bowl and whisk until they are thoroughly combined and you are left with a smooth batter.
5. Fold in the cooled toasted almonds.
6. Pour the batter into the prepared pan, and bake the cake for 40 to 45 minutes.
7. The cake is done when it springs back slightly when touched and a cake tester comes out clean. Allow the cake to cool completely before glazing.
8. To make the glaze, pour the confectioners sugar into a owl and whisk slightly to break up any clumps. Add the milk, liquor, and lemon and whisk until completely smooth. Taste the glaze—if it's too sweet, add a few more drops of lemon juice. Pour the glaze onto he top of the cake and allow it to drip down the sides. Let it set for a couple of minutes, and enjoy.
Also try:
Not Your Bubbe's Indian Spiced Latkes
Not Your Bubbe's Southern Chili Cholent
Not Your Bubbe's Thanksgiving Turkey