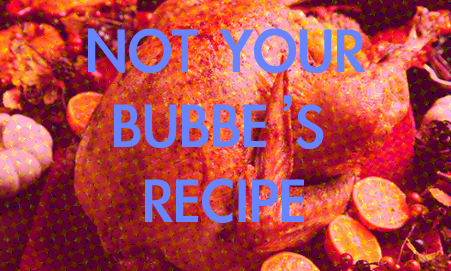 There's something special about sitting around once a year and simply being grateful. Just as the pilgrims observed the day to give thanks for their safe arrival in a new world, Jewish immigrants and their descendants can, and have, easily latched onto that idea. While not all Jews in America observe the holiday, my family Thanksgiving has always been seen as a chance to show our pride in being American.
Like countless other Eastern European Jews, my great grandfather wanted to leave his home and move to the United States. He made a pit-stop in Havana, Cuba to wait for his visa, but quickly fell in love with the country. He and the rest of my family stayed until Fidel Castro came into power and then they finally headed over to Miami (with a short detour in Brooklyn).
There are small traits that mark my family as new Americans and descendants of immigrants. First, we take voting very seriously. Second, we have a history of fairly traditional views on gender roles and curfews. Third, like every good immigrant family, we treasure our culinary inheritance. At least once a week, usually on Shabbat, we feast on a classic dish from Cuba, Romania, or Hungary. But no meal fuses these two parts of my family's story like Thanksgiving dinner.
My whole extended family eats Shabbat dinner together at least once or twice a month. We rotate houses, and thus cooks and cuisines, but the format is basically the same. When Thanksgiving comes around, we gather around the table and awkwardly wait for Kiddush to start before realizing that it's not, in fact, Shabbat.
In researching her book, Jewish Cooking in America, Joan Nathan interviewed a number of Jewish Cubans (also known as Jewbans), who regularly returned to the theme of Thanksgiving, the "real melting pot." A typical Jewish-Cuban Thanksgiving "includes a roasted turkey as the centerpiece surrounded by cranberry sauce, plantains, rice, black beans … with pumpkin pie for dessert." This is more or less a description of nearly every Thanksgiving I've ever celebrated (at least, the ones I can remember).
Like the typical American Thanksgiving, turkey is the main entree, but this is no ordinary American turkey. It's not carved at the table with a flourish or deep fried. It's not dry and sandpapery, doesn't require greasy gravy, thick with fat. So maybe it's not as photogenic as those whole glistening birds that belong in a Norman Rockwell painting, but it is juicy, flavorful, and a star in its own right.
Using citrus juice and carving the turkey half-way through the cooking process allows the turkey to retain flavor and moisture. Cutting the turkey in the kitchen also adds a secret reward—there is nothing so delicious as using your fingers to pick bits of meat straight off the bone. Plus, this is one of those rare dishes that actually tastes better after being defrosted and reheated, so you can make it in advance without panicking. It's also great on a sandwich for lunch the next day. I think the pilgrims would have been impressed with that kind of thrift.
Not Your Bubbe's Cuban Turkey
Serves 8-10 people
Ingredients
15 lb whole turkey
1 tbs Lawry's season salt (enough to cover surface of turkey)
1 tsp paprika
1/4 cup fresh-squeezed lime juice (about 2 limes)
1/4 cup fresh-squeezed lemon juice (about 2 lemons)
1/2 cup orange juice
1/2 cup vino seco (white cooking wine)
4 cloves garlic, chopped
Special Equipment
Directions:
1. Heat oven to 350 degrees.
2. Wash turkey and season inside and out with Lawry's and paprika. Place turkey in a cooking bag.
3. Mix lemons, limes, orange juice, and wine (about two cups total) and pour over and inside the turkey. Rub garlic over turkey and leave the pieces under the skin.
4. Cook for about two and a half hours (or follow directions on cooking bag based on turkey's weight). Then take the turkey out of the bag and cut the legs while still hot so that the skin does not stick. Slice the entire turkey and place in a large pan. Pour liquid through a colander and over the turkey.
5. Cook for one more hour, covered. Continue to cook, uncovered, for 15 minutes.
Also try:
Not Your Bubbe's Stuffed Cabbage Kugel
Not Your Bubbe's Squash Pie
Not Your Bubbe's Kasha Mac and Cheese