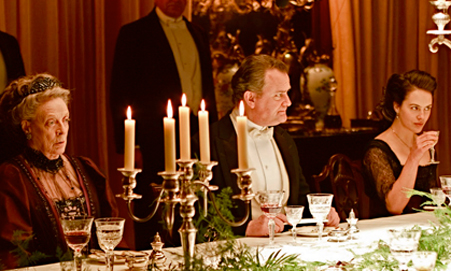 We're an agonizing four days away from the season premier of Downton Abbey on PBS. That is, agonizing for those of us who live in the United States and are planning on watching the new episode legally (the season already aired in England). Just thinking about the swelling intro music is enough to make my heart palpitate in anticipation. The long months since the end of the dazzling second season have left (American) viewers anxiously awaiting news of their favorite characters—will Matthew and Mary finally get married or will there be more obstacles to their bliss? Will Bates be freed and reunited with Anna? Will Thomas ever stop being a pest? My guess—three resounding No's.
But here at Jewcy, the answers to these questions stopped mattering when the producers announced that Shirley MacLaine would be brought onto the show as Lady Cora Grantham's mother in Season 3. Beyond the excitement of what will surely be an epic battle of wills between MacLaine's nouveau riche American Martha Levinson and Maggie Smith's Dowager Violet Grantham, I'm hoping MacLaine brings the Jewish twist we've all been waiting for since historian Jonathan Sarna outed Lady Grantham's Jewish roots (as a proud Cincinnatian, I'm particularly pleased with the connection). The cast of characters inhabiting Downton Abbey certainly spans the gamut of personalities, but it is most definitely missing a good dose of Jewish guilt, something we've been saying for some time now, even if we were wrong about the "no Jewish characters" bit.
What better way to honor Downton Abbey's return to U.S. primetime programming than hosting a themed viewing party for the season premier on Jan. 6? Now, I know Downton Abbey viewing parties have happened before. But this time, it's different. To date, all of the many meals and parties featured on the show have been elaborate, multi-course affairs, but none of them were particularly Kosher-friendly. Let's imagine the season premier is going to start with Cora preparing—okay, ordering—a lavish, Kosher (style, at the very least) feast for her mother. Why shouldn't the fan club join in on the fun?
Since this menu is for a crowd watching television, we're going to cut down the number of courses and fancy forks, which are difficult to navigate while wearing a fitted gown and perching on the armrest of a crowded couch. Incidentally, the lords and ladies of Downton will probably be trimming a bit from their meals this season, too, given the changing economic and labor structures. As we saw in Season 2, World War I took the lives of many servants and those who returned weren't necessarily interested in returning to their former roles. With fewer hands on deck and rationing of imported and luxury food items, preparing elaborate, 20-plus course dinners was less feasible. British households began looking for more economical approaches to cooking—both in time and ingredients. While earlier periods in British cuisine were butter-based, by the 20th century, British cooks were using suet and dripping, according to food historian Stephen Mennell. You're welcome to use schmaltz or another animal fat, but the recipes below will be slightly less authentic and based on olive and vegetable oils to appeal to the modern appetites of your guests. There was also an increased emphasis on dishes that could be repurposed, leading to the popularity of recipes like shepherd's pie and the use of breadcrumbs.
As with any fine meal, this one should start with soup. Creamed soups were very popular during this post-war time period, and, lucky for us, it's pretty simple to make them dairy-free if you decide to serve meat. Serve your soup in a shooter to whet your guests' palates and make it easy to drink while watching Edith's desperate attempts to find a husband.
To add some texture and protein to the evening, consider serving roasted chicken or brisket on toast points. Make sure to add a dollop of sauce, such as horseradish sauce, as that was the main vehicle for flavor and demonstration of sophistication. If you want to round out your meal with something green, consider making Brussels sprout lollipops. I'm fairly certain the Grantham's would never have considered skewering their sprouts with toothpicks, but roasted Brussels sprouts were incredibly popular in the 1920s England, since they were easy to grow and prepare and the population was becoming increasingly health-conscious.
A warm slice of apple galette is the perfect way to finish this culinary journey. Pudding (known to us Americans as dessert) was essential to high quality entertaining and apple galette is a sure-fire crowd pleaser. It's delicate, earthy, not too sweet, and easy to put together. Now with this recipe we run into the issue of the fats again. Assuming you want to make this without dairy, the obvious contemporary substitute for butter would be margarine. However, I'm on a one-woman (maybe two?) crusade to eradicate the use of margarine in Jewish cooking and the recipe I've included below favors coconut oil instead.
And don't forget to pair your meal with a glass of champagne, a hot toddy, or a cocktail inspired by one of the Grantham sisters. Cheers! To a season full of intrigue, scheming, romance, and drama.
Not Your Bubbe's Cream of Parsnip Soup
Ingredients:
2 tbsp extra virgin olive oil
2 medium leeks, chopped, white and light green parts only
6 cloves garlic, sliced
6 parsnips, peeled and cut into 1-inch pieces, stored in lemon water until needed
6 sprigs thyme, wrapped in cheesecloth
6 cups vegetable stock, see recipe
4 tsp lemon juice (about 1 lemon)
1/3 cup almond milk
2 tsp salt
1/4 tsp fresh ground black pepper
Special equipment:
Immersion blender, cheesecloth
Directions:
1. Heat oil in a medium saucepan over medium heat. Add leeks and garlic, and sauté five minutes, or until leeks are softened and translucent.
2. Add parsnips, thyme (wrapped in cheesecloth), and stock. Cover and bring to a boil. Reduce heat to medium-low and simmer, partially covered for 20-25 minutes until parsnips are very soft.
3. Remove thyme and blend soup in blender until smooth. Return to pot and stir in lemon juice, almond milk, salt, and pepper to taste.
Not Your Bubbe's Brussels Sprout Lollipops
Ingredients:
1 lb. Brussels sprouts
2 tbs olive oil
1 tbs honey
salt and pepper to taste
Special equipment:
Toothpicks
Directions:
1. Preheat oven to 375°. Toss the Brussels sprouts with the olive oil, honey, salt, and pepper.
2. Roast until tender (about 30 minutes) and stick with tooth picks.
Not Your Bubbe's Apple Galette
Ingredients:
1 3/4 cups unbleached all purpose flour or whole wheat pastry flour
1/4 tsp salt
3/4 cup coconut oil at room temperature
2 tbsp (or more) ice water
1 1/2 lbs Granny Smith apples, peeled, cored, cut into 1/8-inch-thick slices
1 tbsp lemon juice
4 tbsp sugar, divided
1 tbsp almond milk
Special equipment:
Food processor, parchment paper
Directions:
1. Blend the flour and salt in a food processor. Add coconut oil and pulse, using on/off turns, until mixture resembles coarse meal. Add 2 tablespoons ice water and blend just until dough begins to clump together, adding more ice water by teaspoonfuls if dough is dry.
2. Gather dough into ball; flatten into disk. Wrap in plastic and chill 1 hour.
Steps 1 and 2 can be done two days ahead. Keep dough chilled. Soften slightly at room temperature before rolling out.
3. Roll out the dough between sheets of parchment paper to 1/8-inch-thick round, 14 inches in diameter. Remove top sheet of parchment. Using bottom sheet as aid, transfer dough on parchment to large unrimmed baking sheet. Chill for 15 minutes.
4. Preheat oven to 450°F. Combine apple slices, 2 tablespoons sugar, and lemon juice in medium bowl; toss to blend. Sprinkle 1 tablespoon of sugar over prepared crust. Arrange apple slices in concentric circles, overlapping slightly. Using parchment as aid, fold plain crust border up over apples, pinching any cracks in crust. Brush crust with milk. Sprinkle crust edges and apples with remaining 1 tablespoons sugar.
5. Bake galette 20 minutes. Reduce oven temperature to 375°F and continue baking until crust is golden, about 30 minutes longer. Remove from oven. Slide long thin knife between parchment and galette. Let stand at least 10 minutes. Cut into wedges and serve warm or at room temperature.
Also try:
Not Your Bubbe's Almond Olive Oil Cake
Not Your Bubbe's Indian Spiced Latkes With Apple Chutney
Not Your Bubbe's Southern Chili Cholent