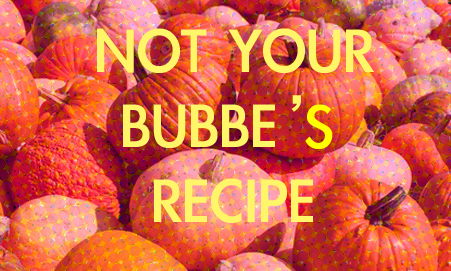 Maybe you haven't heard, but it is officially the time of year when we are bombarded by pumpkin-flavored seasonal treats. While this is a largely seasonal phenomenon, in certain Jewish circles the reach of squash pie knows no bounds.
I had never heard of this dish until I got to college. Our first week there, we were all trying to make friends and play nice, so when a few girls decided to put together a Shabbat dinner in the dorm, somehow it became a 50-person meal. A few people pitched in to make chicken, I made a ton of green beans (which became my assignment for the rest of the year); there was challah and grape juice. But as I looked around the room checking out people's food so I wouldn't have to remember their names, I noticed that squished onto paper plates between the chicken and the green beans was a slice of something bright orange.
The mystery food, of course, was squash pie. I'm still not sure if it's because my home was too traditional or not traditional enough, but as far as I could tell pies were—and still are—dessert foods. My dad grew up in a meat-and-potatoes household, where every dinner had at least two vegetables complementing the plate. My mom's home cuisine was a fusion of her varied heritage—Cuban with dashes Hungarian and Romanian.
My childhood was basically a mix of both—we always had two vegetables and something green, but not quite so "all-American" since instead of meat loaf the entree was usually albondigas or chicken paprikash. In other words, squash pie did not factor into weekly menu plans. While the dish is made from vegetables, these veggies are loaded up with margarine and brown sugar and plopped into a graham cracker crust. Last time I checked, sweet potato pie was a dessert—so why isn't squash pie? We've already covered how we feel about serving dessert as a side dish.
But that's not to say you can't have a little sweetness with your meal. And certainly the idea of a baked custard or pudding side dish has a long history at Jewish dinner tables. To make this dish fit in with the main course, eliminate the crust (or at least replace the graham cracker with your favorite savory crust). Next, the margarine and sugar have to go. In order to appease those of you who are certainly cringing at the desecration of this sweet treat, this recipe takes squash pie in an entirely new direction by giving it a Mexican spin and placing it squarely in "side-dish territory." Honey is commonly used as a sweetener in Mexican cuisine and here it is used to provide smoothness and balance to the final product. The recipe also calls for a variety of traditional Mexican spices, such as cumin and oregano. This warm and whole-heartedly fall food is now ready to share a plate with your chicken. If you want to carry the theme out, pair the squash dish with a chicken cooked in mole sauce. Or, if you really need to have a pie, put it in your favorite crust and serve it for dessert.
Not Your Bubbe's Squash Pie
Serves 6
Ingredients:
2 pounds winter squash, peeled and cooked
2 eggs, beaten
½ cup whole wheat pastry flour
¼ cup honey
1 teaspoon cumin
½ teaspoon chili powder
¼ teaspoon dried oregano
¼ teaspoon cinnamon
salt and pepper, to taste
Directions:
1. Heat the oven to 350F. Spray a 9-inch baking dish with nonstick spray.
2. In a medium bowl, mash or blend the cooked squash.
3. Add eggs, flour, honey, cumin, chili powder, oregano, cinnamon, salt, and pepper. Mix until combined.
4. Pour batter into the prepared baking dish. Sprinkle with cinnamon and a drizzle of honey.
5. Bake uncovered for 30-40 minutes until the mixture has set and it is beginning to turn gold/brown.
Also try:
Not Your Bubbe's Kasha Mac and Cheese
Not Your Bubbe's Honey Chiffon Cake
Not Your Bubbe's Kibbeh Agemono