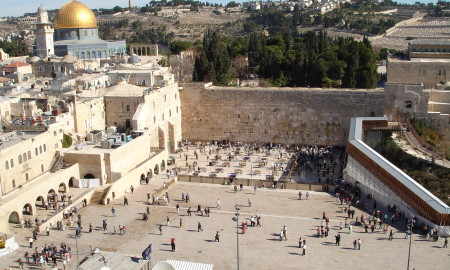 After a lot of recent excitement about the new arrangement for the Western Wall, Israeli Prime Minister Benjamin Netanyahu announced that no, never mind, what, who said anything about a deal, quick look over there Iran looks suspicious!
What Bibi actually said was that "several difficulties arose" in establishing an "egalitarian" area at the wall, many of those difficulties taking the form of right-wing officials, including Kotel Rabbi Shmuel Rabinowitz who had originally acquiesced to the deal, and Minister of Religious Affairs David Azoulay refusing to accept it in the first place in a way that smacks of Kim Davis. For them, apparently the idea of legitimizing women reading Torah and laying tefillin anywhere in the vicinity would be an abomination (seriously, Azoulay made comparisons to not committing murder).
Netanyahu asserted that he's not giving up, and appointed his bureau chief David Sharan to try to work out a solution over the next couple of months, but obviously progressive Jewish groups are discouraged, if not infuriated.
I'm on record as disliking the deal anyway; it was too little for the women who want the right to pray in a way that they find meaningful in the main women's section of the Wall (a section that is also too small and oppressive, while we're on the subject).
But the fact that Netanyahu couldn't even accomplish that is pretty telling.  Once again, he acts powerless in the face of pressure from the religious right, like when he reneged on action that would make Haredi Jews more beholden to Israel's mandatory military draft.
The odds that Sharan is going to come back with a better deal than the previous one are smaller than the constrained women's section at the Kotel (which would be 20%, by the way. The women's section of the Western Wall is one-fourth the size of the men's section).
See you 60 days to explore further disappointment!
Photo credit: Wikipedia