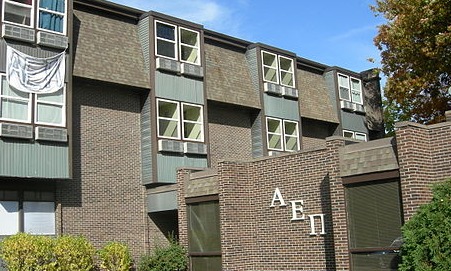 Looks like several Alpha Epsilon Pi (AEPi) chapters landed themselves on Hanukkah Harry's naughty list this year. In the past month, the chapters at the University of Vermont, George Washington University, and the University of Michigan have all been reprimanded for hazing, drinking, and general debauchery.
Most recently, on December 4, an AEPi spokesman announced that the GW chapter would undergo an investigation after a hazing complaint. The spokesman kind of admitted that that allegation involved alcohol (he told The GW Hatchet that he wouldn't say if there was alcohol, but that "the two often go hand in hand"), but wouldn't give more detail. "He also declined to say what sanctions the chapter could face, but said the chapter's charter likely would not be revoked," the Hatchet reported. Poor GW. Where are all the sorority girls going to find NJBs (nice Jewish boys, duh) in the nation's capital now?! But at least the chapter is in good company.
On November 7, AEPi at the University of Vermont got into trouble— three of the chapter's members ended up hospitalized for over-intoxication. The chapter was placed on suspension, but the president didn't seem too worried about the situation. He told the Vermont Cynic that, "While the suspension is indefinite, we've been on probation for two years, so it's not really changing much."
Also on November 7, the Michigan Daily reported that its AEPi chapter would be investigated by the national organization on the heels of hazing allegations. In the UMich case, the higher ups were called in after a complaint in an anonymous email. "Sometimes reports like that are credible, and they are trying to protect themselves or trying to maintain some anonymity for fear of repercussions," The AEPi spokesman told the Daily. He continued, "in other cases, they're competitive fraternities who are trying to get our fraternity in trouble." The chapter president has since been removed from his reigning throne, and the University's Office of Greek Life's Hazing Task Force has also gotten involved. The result of investigation has not yet been published, but there are certainly a lot of cooks in the chapter house's kitchen.
Previous: Alpha Epsilon Pi Turns 100 Years Old

(Photo by Mshaolian/Wikimedia)