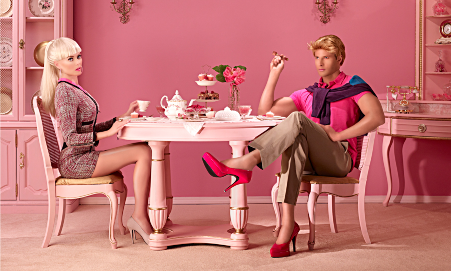 Tel Aviv-born, Canadian photo artist Dina Goldstein, of Fallen Princesses fame, which depicted the far from happily ever after mid-lives of Disney princesses, has a new photo series, this time depicting the imperfect life of Barbie, titled In the Dollhouse.
As in her previous series, there is a distinct feminist perspective in Goldstein's latest work. Though the shots feature the troubled relationship of Barbie and Ken— he's apparently a gay man who likes to try on Barbie's stilettos—Barbie is clearly the protagonist. The sequence closes in on her emotional deterioration as she struggles, in vain, to win her man's affection. The narrative gets a little confusing at the end when, after cutting her hair and dressing in drag, perhaps to please her man, Barbie's head pops off.
Goldstein enlightens us on her website:
Barbie, the idealized woman. More than any other childhood construct, Barbie represents the concept that Beauty is Power and necessary to attain Happiness. However, when Ken, Barbie's handsome but emasculated boyfriend, expresses his individuality, the value of beauty as an apex trait is exposed as a cheap, plastic facsimile.
See the website for Goldstein's full photo series.