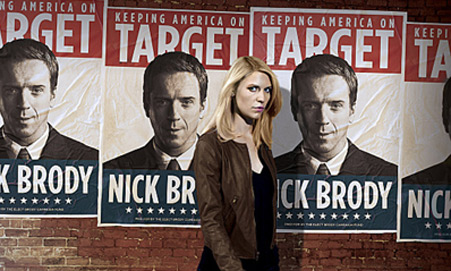 The trailer for the new season of Homeland is here, and while the Showtime hit might not be the key to achieving Middle East peace, as co-star Mandy Patinkin believes, it's one of our favorite shows on TV right now.
So what does the trailer reveal? Not much, unsurprisingly, but there are a ton of scenes packed into the three-minute video: Brody shaves his head, Carrie wears a hospital bracelet, Carrie and Saul get called before a hearing, Saul maybe sells her out, Brody wears a hoodie, someone maybe puts a bomb together, police come for Carrie, and angsty teen Dana Brody snaps a topless selfie (really, Howard Gordon?) and possibly takes up Islam. Have a look:
Need another Homeland fix before the September 29 premiere? Check out Dov Friedman's ode to Saul Berenson, who he argues is the most accurately depicted American Jew on television; and Sarah Breger's sharp analysis of why the American adaptations of Israeli dramas like Homeland (called Hatufim in Israel) and In Treatment have been (wildly) successful, while Israel comedy transplants like The Ex-List have fallen flat for American audiences. She also points out the glam makeover the casts of both Homeland and In Treatment got when the show was revamped for American audiences.
Or you can always watch this video of Mandy Patinkin completely freaking out after learning his Good Day New York interviewer's wife just gave birth to the couple's first child. In the words of the plotzing Patinkin, "Oh my god, how thrilling!"