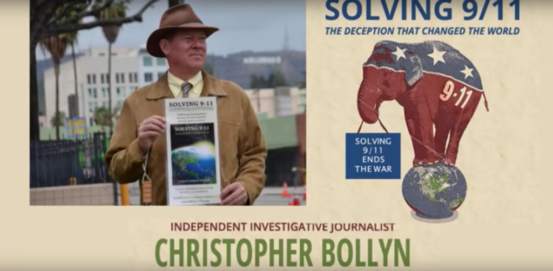 In case you missed it, Brooklyn Commons, a space for progressive community gatherings, is hosting an anti-Semitic writer and speaker tonight.
Christopher Bollyn is a run-of-the-mill conspiracy theorist, a 9/11 truther whose thumbtacks-tied-to-string ideas frequently blame "Jewish Zionists" for the 2001 attacks and continuing ills of the world.  In response to the controversy of his current speaking tour, many places that originally booked him have cancelled their event.
Not so Brookyln Commons.
The Commons responded with a laughable response letter, about how they couldn't possibly have time to research all their speakers, how the Commons is so dedicated to fighting bigotry in all forms, and most bafflingly, but that how inviting someone like Bollyn is good because it helps "get to the root of racist thinking."
This is obviously not satisfactory, and if you're interested in going to the event tonight in protest, you can join an independent group currently organizing to attend the event, either to picket outside or cause disruption inside.
The information is all on Facebook, but here is some information it contains:
To get inside (assuming you're not just staying outside to protest) it costs $10.
Any signs being brought cannot use a wooden pole or stick.
Although Bollyn has a history of working with major White Power publications, the person introducing his talk is a black anti-Semite named Rudy Dent. Because of the "optics" of calling someone a neo-Nazi in public when they are appearing alongside people of different backgrounds, it could be a little tricky.
If you plan to go inside, the use of whistles and noisemakers is rather effective.
The address is 338 Atlantic Avenue in Brooklyn.
You can coordinate with protest organizers here.
See you there?
Image via BKReader