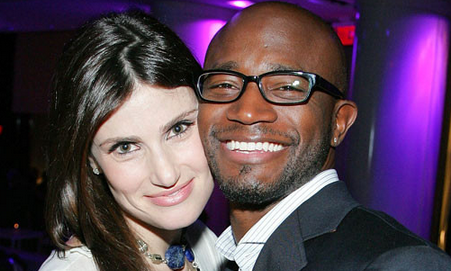 Today is a sad day for enthusiasts of musical theater and perfect genetics: Broadway power couple Taye Diggs and Idina Menzel are separating after 10 years of marriage. While the Internet is buzzing with announcements of the talented (attractive, perfect) pair "calling it quits," let's all just take a deep breath. For now they're just separating, not divorcing. I mean, Kris and Bruce Jenner are still married, right? Hanukkah may have passed, but maybe there's room for another miracle this year— let's hope the Diggs-Menzel's have enough oil left for another year. Re-light each other's candles! No day but today!
Menzel and Diggs, both 42, met while costarring in the original production of Rent on Broadway. (Fun fact: Menzel worked as a bar mitzvah singer while in school at NYU!) They got married in 2003 and had a little boy, Walker, in 2009. But more recently, a rep told People that though the pair is separating, their "primary focus and concern is for their son."
Earlier this year, Menzel alluded to People that life with Diggs wasn't perfect. "We work at it," Menzel said. "I'm not going to glamorize it or glorify it — we go through tough times like everybody else, but we love each other very much. We try not to be away from each other for more than two weeks at a time and we try to find new ways to communicate."
Well, duh. Between Tony Award winning Menzel's recurring role on Glee, and other projects like Disney's Frozen and her upcoming musical If/Then, plus all of Diggs' projects, like his most recent film, The Best Man Holiday, things get busy.
In December's InStyle, Diggs was featured as the "Man of Style," and he dished a bit about how sexy he finds Menzel's laid-back style. "…When she's wearing a sweater and it's falling off one shoulder and she'll throw on some jeans that fit just right and some chunky heels… it's so sexy," Diggs told InStyle. "Man, my wife does that whole look really well."
So kiss and make up, you two. Puh-puh-puh-please don't do this to me.