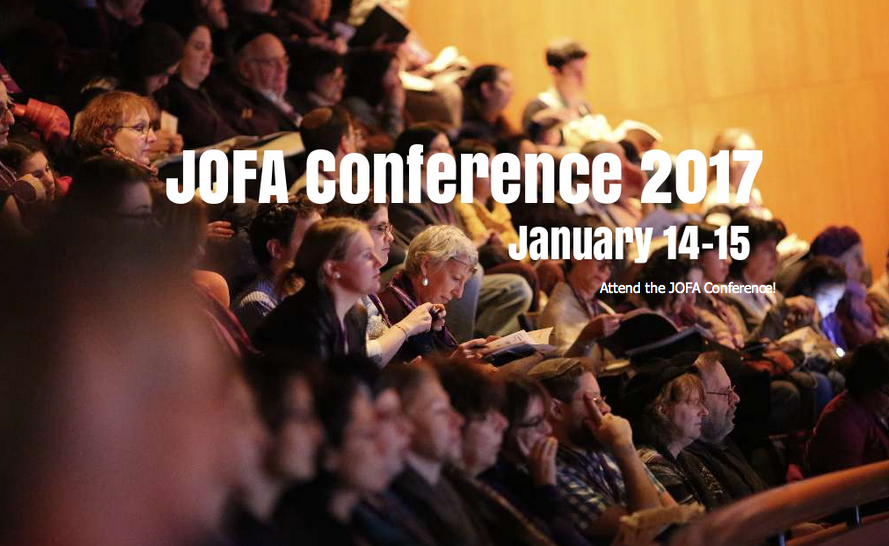 Get on your feminist hats, or tichels, or sheitels, because it's time for the JOFA Conference 2017.
Once every three years, Jewish women and allies gather under the mantle of the Jewish Orthodox Feminist Alliance for a conference that explores the state of affairs for Jewish women in the larger world.
The conference is this weekend, Saturday night and Sunday, January 14 and 15. The weekend will include performances, art installations, a town hall, and well over a hundred speakers on everything from abuse in the Jewish community to navigating the bureaucracy of the Israeli rabbinate to how to make LGBT students welcome in your Jewish day school.
The timing of the conference is also rather fortuitous, given today's Israeli Supreme Court ruling in favor of the Women of the Wall (who also have a panel Sunday).
There are also shabbatons prior to the official conference, special programming for High Schoolers or college students, and leadership training after the conference.
Seriously, you name it, and JOFA probably has it covered. The conference nearly has 1,000 attendees registered so far, and despite the name, the draw of the crowd is across a wide spectrum of religious identities and observance levels.
"It's pretty interesting because there's a huge range of types of people who come with a range of wants needs and expectations," says JOFA's Executive Director, Dr. Sharon Weiss-Greenberg.
After all, the same weekend has a "Jewish Vagina Monologues" (Monologues from the Makom), a conversation on girls' dress code in Jewish private schools, "Ask a Frum, Gay Couple," a discussion on race in Judaism, deep exploration of the topic of women as Orthodox rabbis, and both interfaith and intrafaith programming.
The first JOFA conference was in 1997, so this year marks two decades since the first time Jewish women gathered to explore women's rights through the lens of Orthodoxy. Greenberg is optimistic about the trajectory the organization, and the Jewish world, has taken since then.
"I think then it was so new," she said, of publicizing the organization's issues. And while she still sometimes hears that it's an inherent contradiction, there is less resistance now. "I think in some ways it's so obvious that there should be feminism within Orthodoxy."
JOFA's early work, for example, included agunot, women unable to acquire a Jewishly legal divorce, then an often-ignored topic. Today, there are several organizations that exist solely to deal with the issue, and it's considered a mainstream concern in many Orthodox circles.
Of course, no fight is over.
"As you're totally entrenched in the world of Orthodox feminism and feminism at large, it's concerning and comforting at the same time that sexism is everywhere," says Weiss-Greenberg. In some ways, the Jewish community's path forward is arguably less murky. "There are clear rituals, there are clear leadership positions. We know what steps are worth taking or we're able to take, and in some ways that clarity is helpful."
You can probably still register in person at the conference, but if you want to sign up online, in advance, today is the last day to do so.
Image via JOFA.