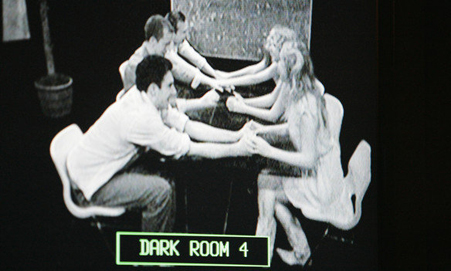 The daughter of a former Israeli government minister. A gay drag queen from Tel Aviv. A divorced Holocaust survivor.
On face value, these three may seem to have little in common, but they're all part of what makes the surprise hit Israeli reality-TV show Deit Bachashicha, a copycat of the Dutch show Dating in the Dark, so great. Already in its second season, the show has become one of the most watched in the nation, for good reason. I didn't even know the Israeli version existed until I walked past it playing on a TV in my office a couple of months ago (it comes on after the news, I swear). I had fond memories of the American version, being a sucker for a reality dating show, and, as a recent olah, have lately been trying to watch more Israeli TV to improve my Hebrew—particularly reality shows since they portray more "street" language. I now know how to call someone a "hottie," a "sexpot," and "chill." I also know that Israelis use heavily-accented English words and phrases like "old fashioned," "chance," and of course, "sexy."
The premise of the show is fairly straightforward. Six single people move into a house, generally three men and three women. The men and women live in separate quarters of the house, and only ever meet up in a totally pitch black room (infrared cameras allow viewers to see what's going on). After a couple of days of meeting in groups and one-on-one in the dark, the participants invite one another for an unveiling in the light.
Dating shows are a dime a dozen, but Dating in the Dark distinguishes itself by exposing the vulnerabilities of even the most confident and cocky daters: When the lights go up, will whomever they've found a connection with still want to continue things?
Whereas reality show contestants tend to be young, pretty, and heteronormative—what most people presumably want to see on TV—the Israeli version has showcased a unique and varied cast of characters. Israel is undoubtedly a melting pot—on just one block you can hear a mix of Hebrew, English, Arabic, Yiddish, Russian, Amharic, and French. From the ultra-religious to the ultra-secular and everything in between, Israel is a country of extremes—and presenting those unique viewpoints on TV is almost like a snapshot of my commute on the bus each day: This is Israel.
The first Israeli season played things relatively safe, with a few interesting contestants. One episode featured Maya, a woman who said she's only ever dated other women, but wants to try to find a connection with a man. Another episode featured Sassia, who grew up in an ultra-Orthodox home but left at 14, and was scared to tell the guys that she was still a virgin. More than one episode featured obese contestants who were worried what their potential love connections would think in the light.
But Season 2 was where things really got interesting.
In Episode 4, we meet Dor, who was born a Palestinian Muslim in Gaza. But at age 12, he ran away to Israel, was adopted by an Israeli family, and converted to Judaism. He is now religious; he keeps Shabbat, and lays tefillin every morning.
Of course, this came as quite a surprise to both the other men and the women in the house. When he first meets his fellow male contestants, he tells them he made aliya at age 12.
"From where?" they ask. "From Khan Younis," he tells them. There is a moment of shocked silence, before the camera cuts to an aside from one of the other men.
"I know Khan Younis," he says. "I used to bomb Khan Younis."
But Dor asks the guys to keep his origins a secret from the women, and doesn't reveal the news until he has built a connection with Shiran. (At one point the girls speculate on his accent: "Argentinian, I'm sure of it.")
When he does tell Shiran, she struggles with the news, wondering what her friends and family would think, and how his last girlfriend's family accepted him (not well).
The very next episode was a special titled "Gays in the Dark," featuring, of course, six gay men. Mostly from Tel Aviv—plus a kibbutznik who makes cheese—the group addressed some complex issues within the gay community, in addition to placing gay couples in the living rooms of hundreds of thousands of Israeli homes.
Despite being assured by his date that his job as a drag queen was just a job, one participant couldn't wrap his head around the idea of waving goodbye to his boyfriend every night as he left the house in a dress and heels. Another man confessed to his date that though he had lost more than 50 pounds recently, he was still far from the svelte look prized in the gay community. Another, more effeminate contestant, was derided by several of the men for being too feminine. ("If I wanted to date someone feminine, I'd date women.")
But the most illuminating and entertaining episode was the one that followed, a special titled "The Golden Age." Almost no dating shows feature elderly contestants, but there are obviously plenty who are looking for love. And, as a recent Bank of Israel report pointed out, the percentage of elderly individuals in the population is rapidly growing, and that demographic will become an even more prominent part of society in the coming decades.
The Golden Age show featured contestants ranging from age 66 to 78. They included Masha, a Polish Holocaust survivor whose husband of 22 years died a year after they divorced; Yossi, who hasn't been on a date since his wife of 59 years died three years ago; and Yona, a 74-year-old divorcee who is looking for "sex every day" or "Bar Rafaeli."
I may be a bit of a reality TV (and TV in general) junkie, but the Israeli Dating in the Dark was captivating to watch for so many reasons. As a new-ish immigrant, I felt an entry into understanding Israeli life and the myriad of personalities within it: the club-going bartender from Tel Aviv, the IDF pilot from Beersheva, the Haredi rebel from Bnei Brak, and the yoga instructor from Tzfat.
Will I keep watching? For sure, in fact I'd like to suggest an episode with Arab-Israeli contestants, or with religious participants, and certainly more Ethiopian representation across the episodes.
Listen up producers: Don't disappoint.
(Still image from the show via Facebook)