Facebook Doesn't Want Jews or Arabs
Is Facebook blocking Arabic names and the word "Palestinian" from being used on it's site?  It seemed that way to the Palestinian Refugee ResearchNet, who were apparently blocked from creating a page on the popular website (note: not a group … Read More
By The Notorious Avi / July 27, 2010
Is Facebook blocking Arabic names and the word "Palestinian" from being used on it's site?  It seemed that way to the Palestinian Refugee ResearchNet, who were apparently blocked from creating a page on the popular website (note: not a group or fan page) whose creator believes can bridge the gap between all cultural problems.
The issue was resolved, but now according to Valleywag, the site is blocking people with the last name "Arab," from using the site. 
Just to be fair, we decided to sign up for Facebook using the last name "Israel," to see what we got.
1.  I guess Jewcy.com doesn't register as a valid e-mail?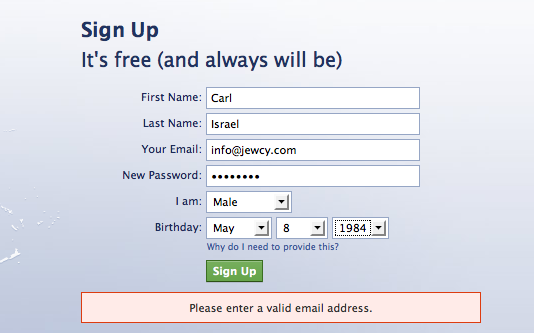 2.  I tried a second time, this time using a Gmail account, and yup, I got in alright under the name "Carl Israel". 
3.  At this point I was feeling low, and was wondering when it would be my turn to get turned down by Zuckerburg's secret police?  So I figured I'd go for broke and try to register under the name "Shlomo Jewish," and surely enough I got rejected.
So it would seem for today, if your last name is either Arab or Jewish (seriously, who do you know with that last name?) you are both united by the fact that you can't sign up for Facebook.
Just one more nugget : I signed up under the name "Timmy Christian" and guess what?  No trouble!  Also tried Mordechai Christian, Vishnu Christian and until I tried Christian Christian, I was able to freely sign up for several accounts with the last name "Christian".  All it took to get "Christian Christian" was to add a middle initial.
Sadly though, if you're named after the popular 80's rock ballad by the band Night Ranger, looks like you're out of luck: