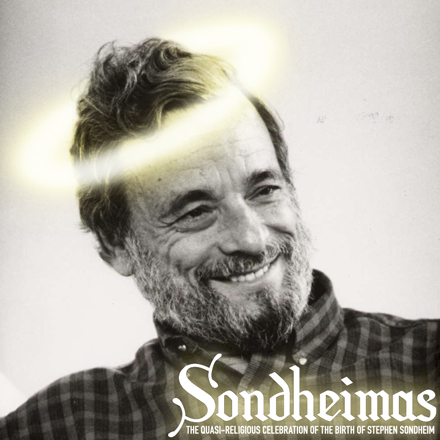 It truly is Holy Week, and not only for Christians. If you're Jewish, not only does Purim begin tomorrow night, but today is a Jewish Saint's Day— the birthday of a living legend, Stephen Joshua Sondheim.
While Sondheim turns 86 today, last night was only the third annual "Sondheimas" celebration in Feinstein's/54 Below, one of New York City's most treasured cabaret spaces. The evening is always something between a concert and religious ceremony, with the "faithful" gathering to listen to top-notch performers pay homage, but also to share in a communal devotion to the "savior of musical theatre," according to the event's official description.
Despite the Jewish subject, and Jewish contingents in the evening's organizers (while run these days in part by David Levy, the term "Sondheimas" was even coined by Tablet writer Rachel Shukert), to say nothing of the crowd, Sondheimas tends to steal from Catholic mass for its "religious" content. This includes a homily (sermon), given this year by actor Martha Plimpton (Sondheim and Love, was her topic). And it's always satisfying to hear someone say, "Steve be with you," and respond with, "And also with you."
Throw in a framing device of a fake fan convention, fake tweets from Cher, a video call from a Sondheim puppet facsimile,  and a trivia contest about Sondheim lyrics with religious allusions, and you can start to piece together the deliberate chaos that is a rabid pack of theatre nerds who aren't quite sure where the joking about Sondheim as a god ends and authentic belief begins.
Even stripping the gimmicks, the performances this year were unbelievable, as always a mix of big names and people whose names you'll know soon enough, singing a mix of Sondheim's big hits and obscure numbers. Sure, West Side Story was represented (By Hamilton cast member Ariana DeBose, no less), but one segment included the entire score of the musical teleplay Evening Primrose (which is very underrated, as many people in the audience could readily explain).
At what other evening could you do an arrangement of the title song from Sweeney Todd in the style of a 1950s "Guy Group?" The sooner this year's Youtube clips go up, the better.
In the meantime, here's 2014's pageant of the Birth of the Savior.  And a very Merry Sondheimas to us all:

There was literally no mention all evening of Andrew Lloyd Webber, who shares Sondheim's birthday.
Image credit: Feinstein's/54 Below