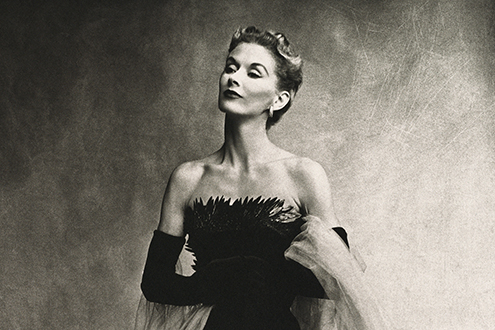 This year marks the centennial of the birth of Irving Penn (1917-2009), a photographer perhaps best known for his work with Vogue. The Metropolitan Museum of Art is celebrating with a retrospective of his career, not only of his work in high fashion, but of his broad interests, from indigenous cultures to sometimes unusual still-lifes.
Penn was from a Jewish family (his brother, director Arthur Penn, also had an artistic eye), and Menachem Wecker once argued in The Forward that a "Jewish humor" pervades his photographs, the way he abstracted detritus of Manhattan streets into high art. But as this exhibit shows, he also held a respect everything, "high" or "low," on which he cast his eye, and his camera lens. (Is this Jewish, too? Well, what isn't?)
Every subject of his photo looks like they're the most important person in the world, whether they're a celebrity, a supermodel, or a Peruvian laborer. Even the closeup of a discarded cigarette butt (and there are several) becomes riveting.
And so, at this exhibit there's something for everyone. Do you want to see some of Vogue's chicest looks, high fashion over the course of decades (he worked with the magazine for a staggering six)? Or do you want to see images of celebrities, both pop culture stars and intelligentsia, from Marlene Dietrich to Ruth Bader Ginsburg, (RBG looking fly, as always). There's even a room of nude studies, and after decades of photographing nearly identical body types for fashion, Penn was able to indulge a fascination with human shapes you'd pass on the street, once again with respect, attention to detail, drawing the viewer's eye to what seems to be ordinary in a new way.
For someone who made a name for himself in the most mainstream, high-class photography-oriented magazine of its day, Penn, with Jewish humor or not, was awfully prone to bring the same celebration of culture and design to workers, people in indigenous societies worldwide, even images of fruit. Regardless of the subject, or from when in his long career a photograph dates, each of them is a unique joy to see.
Irving Penn: Centennial runs at the Metropolitan Museum of Art through July 30, 2017.
Photo by Irving Penn via the Met.