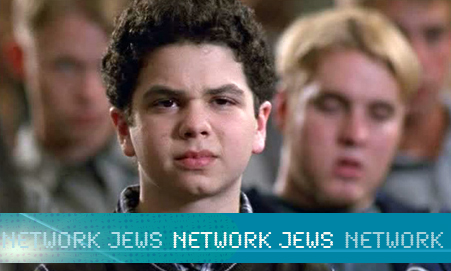 Almost every character on Freaks & Geeks could have been Jewish. After all, it was a Judd Apatow show. Lindsay Weir (Linda Cardellini), all dark hair and trigonometry prowess, and her scrawny little brother, Sam (John Francis Daley), totally could have been Jews. Bill Haverchuck (Martin Starr) also had a Jewish way about him, so nerdy and hairy was he. James Franco and Jason Segel are Jews in real life. And Ken, as played by Seth Rogen? Forget about it. So Jewish.
But this was network television. Though our beloved Freaks & Geeks ultimately (and cruelly) lasted only one season, the Weirs were probably conceived as a spin on the market-tested, relatable every-family, the kind at the center of a long line of family sitcoms. That means not Jewish. For all of Judd Apatow's Jewish influence, the other creative force behind the show was Midwesterner Paul Feig, whose Michigan upbringing provided the basis for many a Freaks & Geeks (but mostly Geeks) plotline. So it makes sense that the Weirs were goyim. But it also entirely amazing that Neal was so Jewish.
Neal Schweiber, arrogant but mostly loyal friend to Sam and Bill, played by Samm Levine (why the double m, Samm?), probably wasn't the only Jew in his school or town. But he was enough of an outlier that the class bully singled him out with cracks about his circumcision and, as Neal once confided to a fellow William McKinley High minority, a black kid, "Last year I was elected school treasurer. I didn't even run!" The show went out of its way to point out Neal's Jewishness at every opportunity. When the geeks needed to buy nonalcoholic beer to neutralize the potential danger of a kegger, it was Neal's bar mitzvah money that provided the funds. When the geeks considered whether ninth grade was too old for trick-or-treating, Neal declared that when he hit 13, he became a man. As a part of the show's ensemble, Neal helped flesh out the different shades of geek that appear in the wild: as opposed to sub-100-lb. Sam or nut-allergy-prone Bill, Neal's geekdom was expressed in the form of … well, annoying, crotchety Jewiness. It's almost surprising that to call someone a Schweiber doesn't carry the same cultural weight as calling someone a Shylock. It's kind of like being a Jewish Eddie Haskell.
Like Seth Cohen would a few years later, Neal took a special pride in his own comedic stylings, dressing up as Groucho Marx for Halloween and confidently but haplessly advising his fellow geeks that the way to land a woman is through one's sense of humor. The three geeks were all obsessed with comedy—Bill Murray, Steve Martin, Saturday Night Live—a detail easily attributed to Mr. Apatow's own youthful interest in funny business. Neal took it a step further, though. See, Samm Levine didn't play Neal like he was playing of a Jewish high school freshman; instead, Neal was more of an elderly Jewish man, perhaps a veteran of the Catskills comedy circuit, trapped in the body of a 14-year-old boy. Witness his penchant for sweater vests, the throwaway detail that he chose to write his book report on an autobiography of Sammy Davis, Jr., and even the small but perfect way Neal posed during the show's credits sequence, a picture day montage set to Joan Jett's "Bad Reputation": other characters smiled awkwardly, embarrassed, but Neal plastered on his best Lounge Lizard grin, as if to say "Who loves ya, baby?" Neal was so confident about his own wit that when the position of school mascot became available, he was convinced he could revolutionize the job with his use of props and physical comedy. And of course, when he had problems at home, his mode of acting out was to take up ventriloquism, performing cringe-inducing routines with a dummy he called Morty.
The show's portrayal of Jewishness wasn't all shtick. Freaks & Geeks drew class distinctions between the freaks that we were to understand came from the wrong side of the tracks and the nicer, middle class Weir family, in which Mr. Weir owned a sporting goods store and Mrs. Weir was a homemaker. But then we can compare the Weirs to the Schweibers, headed by dentist Dr. Schweiber (who had vanity plates reading "I Flossem") and the kind of mother who took tennis lessons and ordered in for dinner, which is to say, one with more disposable income. Their house was slightly nicer, and Neal was slightly more spoiled—remember, he was the first to get an Atari. And can we pause here to appreciate the immaculate casting of Amy Aquino as Neal's mother and David Krumholtz, in one episode, as Neal's older brother home from college? Rarely have two Jewier Jews Jewed (well, Googling doesn't confirm that Amy Aquino is Jewish, but her hair on the show was so flawless). If the show had gone on to a second season, surely Lisa Edelstein would have appeared as an aunt or Hebrew High teacher.
As strange as it is that Neal's most notable character trait was his Jewishness, and that this was often portrayed as a punch line in and of itself, knowing that he was created by Judd Apatow & co. makes it seem like a loving, rather than offensive, portrayal. Neal feels like a special Easter Egg—or perhaps hidden Passover matzo?—for all the Jews who were watching. I like to think that he paved the way for all the Network Jews that came after him, all of whom he schmoozes with on the high holidays at the big TV Temple in Jewcy's imagination.
Previously on Network Jews:
George Bluth Sr., the erstwhile Jew and patriarch of Arrested Development
Fran Fine, the nasal-voiced star of The Nanny

Noah Puckerman, the coolest Jew in school on Glee