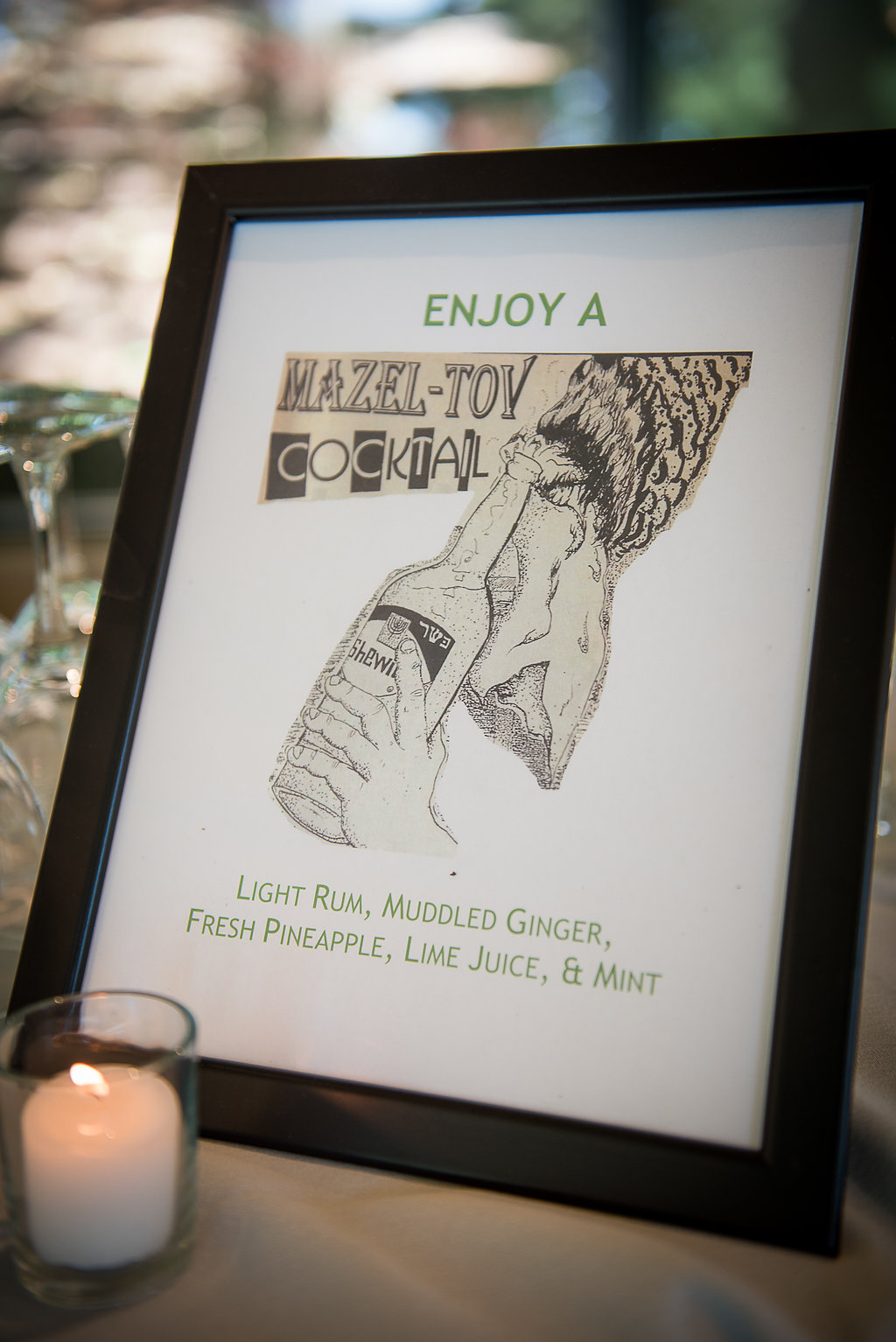 When I married my wife, Tamara, in June, the Mazel-Tov Cocktail was the signature drink at our wedding.
The name was an easy choice— Mazel-Tov Cocktail, a zine published in 1995, was the first comprehensive work exploring the connections between Jews and punk. As the author of Oy Oy Oy Gevalt! Jews and Punk, I am a particularly big fan.
And while Tamara and I were planning our wedding, and considering a signature drink, a crazy thing happened: The Mazel-Tov Cocktail was in the news! Two days before Election Day, a Donald Trump supporter inadvertently said "mazel-tov cocktail" instead of "Molotov cocktail" on CNN. The Internet had a field day, and I explained the origin of the term in a Jewcy article. With Tamara's blessing, I now felt compelled to name our signature wedding drink the Mazel-Tov Cocktail.
It turned out, our wedding venue already had a signature drink for the season. It was called a Pineapple-Ginger Smash, also known as a pineapple-ginger mojito. The cocktail consisted of light rum, muddled ginger, fresh pineapple, lime juice, and mint. It sounded nice, but Tamara and I never would have conceived of that combination of ingredients.
I was in a quandary; neither Tamara nor I drink much, but this was an opportunity to put our own stamp on our special day. The idea of creating a Mazel-Tov Cocktail had a personalized touch: punny, punky, and Jewish. The Pineapple-Ginger Smash sounded like an adequate option among many at the bar, but we had already thought about having a signature drink, and it felt like this cocktail was random, and had nothing to do with us.
The solution was ultimately obvious: As a compromise, we renamed the Pineapple-Ginger Smash the Mazel-Tov Cocktail. It didn't have blatantly Jewish signifiers like Manischewitz wine, but dayeinu. Between the rum and ginger, it packs a punch, and the pineapple is sweet, but just tart enough to be perfect for a happy occasion. It turns out it pairs really well with a wedding where Golem is the band. And I was able to drive home the drink's name with signs featuring the cover image from the zine Mazel-Tov Cocktail.
The Mazel-Tov Cocktail was a hit. I got to taste one in a bridal suite following the ceremony. Both bars ran out, until my mother urged the event manager to remedy the situation.
You can make your own Mazel-Tov Cocktail, for your punk (if slightly tropical) simcha! This recipe, inspired by our wedding, is based on similar ones from Food.com, Kitchen Sanctuary, and mostly Domesticate Me.
L'Chaim!
Ingredients:
3 tbsp cup pineapple puree OR one pineapple ring
1/2 tbsp of ginger, muddled
1 ounce light rum
6-8 mint leaves
1 tbsp lime juice
Shaved ice
A spritz of seltzer
Additional mint and lime wedge to garnish
Directions:
In a cocktail shaker, muddle the ginger, mint leaves, and lime juice. Add the pineapple ring or puree (you can blend fresh pineapple), rum, and a couple ice cubes, and shake vigorously to combine. Pour into a cocktail glass filled with shaved ice. Top off with seltzer, garnish with a fresh mint sprig and a lime slice. Serves 1.
Recipe photo by Christopher Duggan Photography. Drink photo by Michael Croland.