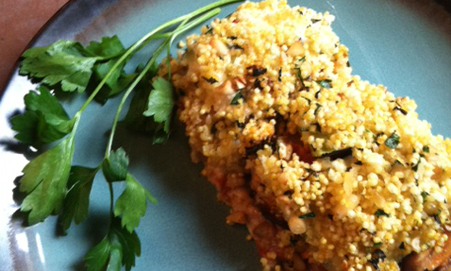 So you're going to a potluck this Shavuot, a holiday known for dairy blintzes and cheesecakes. You know the meal is going to be vegetarian so you can only assume that the main dish will be … lasagna, the tuna casserole of our generation. I'm over it. You're over it. So why does it still show up all over the place? I'm not a vegetarian, but I consider myself an ally and sympathize with their plight. What is it with omnivores thinking the only way to get filled with plant foods is to layer it between noodles and encase it with cheese? Public service announcement: It's not.
I bring this up because Shavuot is next week. For a range of reasons, Shavuot is traditionally commemorated both by staying up late to study and eating dairy. The tradition of all-night Torah study is a celebration of the anniversary of receiving the Torah at Mount Sinai. The dairy piece comes from a notion of the birth of calves and lambs in the springtime and the idea that the Israelites received the laws about separating milk and meat.
People might not tell you this, but I think it's actually because they're tired of always eating pareve desserts. But just because you want cheesecake, doesn't mean you should slap together a mediocre meal to get there. There are a number of ways to go about creating a beautiful vegetarian meal. As a starting point, I recommend reading J. Kenji Lopez-Alt's advice on making a vegan (also applicable to vegetarian) meal that's not just a bunch of side dishes. The major tenets: The main dish needs to have a centerpiece, contrasting and complementary flavors, distinct textures, and must look pretty. Lasagna can probably hit three of those categories, if done well, but unless you burn your noodles, you aren't like to get too many textures.
Enter moussaka. Moussaka is a multilayered dish, so those of you still hung up on lasagna can maybe get on board with this one. The recipe I'm proposing isn't your typical moussaka (although what that may be is debatable given the regional variations) of layered eggplants, ground lamb, tomato sauce, and béchamel. Although moussaka is one of the most famous Greek dishes, its origins only date to the early 20th century and its name actually comes from Arabic, not Greek. The lamb had to go, since the end goal is cheesecake and, of course, there's the whole not cooking meat in its mother's béchamel issue. I used tempeh as a substitute, since it's a good source of protein and because fermented soy has a number of health benefits and is a better option than textured vegetable protein.
But what makes this moussaka special is the crunchy millet topping. Remember, we want something with texture. The millet topping—a combination of millet, pine nuts, herbs, and spices—is allowed to crisp under the broiler. When you bite into it, you chew through soft layers of eggplant and zucchini, "ground" tempeh, creamy béchamel, and the satisfying crunch of the millet mixture.
I'm not going to pretend this recipe is a cakewalk, because it isn't, but I urge you not to be intimidated by the length of ingredients or steps! First, because a lot of this can be done in stages and made in advance. Second, because the end product is so worth it: lemon zest and garlic in the millet topping meet the earthy cinnamon and tanginess of the tempeh tomato sauce meet the sweet richness of the béchamel. It's really that good.
In terms of technique and pacing, the tempeh sauce can be made ahead of time and even frozen. It would also be delicious on pasta or, if you must, as a lasagna filling. The millet itself can also be made a few days or hours before assembling the final product. I recommend mixing the millet topping ingredients together while your tempeh is cooking or reheating on the day you plan to make the moussaka. You can make béchamel up to a day in advance and refrigerate it.
Not Your Bubbe's Moussaka
Ingredients:
1 onion, diced
2-3 tablespoons extra virgin olive oil
3-4 cloves garlic, minced
1 ½ cups tempeh, grated or crumbled
2 tablespoons tomato paste
½ cup red wine
1 cinnamon stick
3.5 cups canned tomato sauce
Sea salt, to taste
2 cups cooked millet
½ cup pine nuts, toasted and chopped
3 cloves garlic, minced
1-2 tablespoons extra virgin olive oil
½ tablespoon dried oregano
1 tablespoon fresh mint, minced
1 tablespoon fresh parsley, minced
1 lemon, zested
Sea salt and pepper, to taste
2 ½ tablespoons unsalted butter
2 tablespoons all-purpose flour
2 cups milk, boiling hot
1 teaspoon salt
¼ teaspoon nutmeg
2 pounds eggplant, sliced on mandolin
1 pound zucchini, sliced on mandolin
Sea salt
Olive oil to grease the pan
For the tempeh tomato sauce:
1. Heat olive oil in a large saucepot over medium-low heat. Add diced onion and salt to the pot, sauté until translucent, about 5 minutes.
2. Add minced garlic and grated tempeh to the onions and cook another 4-6 minutes, allowing tempeh to color. Stir in tomato paste and wine until incorporated.
3. Add tomato sauce and cinnamon stick. Mix until incorporated and allow to simmer over low heat, stirring often to prevent the bottom from burning. Cook for another 40 minutes OR until the sauce becomes thick and reduces by about half.
For the millet topping:
1. While the sauce is cooking, in a medium bowl, mix cooked millet, pine nuts, olive oil, salt, pepper, garlic, oregano, mint, parsley, and zest using two forks. Set aside to top moussaka.
For the béchamel:
1. In a medium pan, heat the butter over medium-low heat until it is fully melted. Add flour and combine until smooth. Continue stirring constantly until the mixture is a light gold color, about 5-7 minutes.
2. Gradually add milk to the butter mixture and whisk until smooth. Bring to a boil. Cook for about 10 minutes, stirring constantly, then remove from heat. Season with salt and nutmeg.
For the moussaka:
1. Preheat oven to 350F.
2. Using a mandolin, thinly slice eggplant and zucchini lengthwise and keep in separate bowls, toss eggplant with sea salt.
3. Roast eggplant and zucchini on parchment lined sheet pan in oven for approximately 7 minutes OR until cooked through.
4. Remove them from pan and let cool.
5. Lightly oil a shallow 9×13 pan and layer moussaka:
a. 1 layer eggplant
b. 2 ½ – 3 cups tempeh tomato sauce
c. 1 layer zucchini
d. 2 ½ -3 cups tempeh tomato sauce
e. 1 layer eggplant
f. 1 ½ cups béchamel
g. Millet topping
6. Bake in a conventional oven at 350F for 20-25 minutes until heated throughout.
7. Broil for 3 minutes until crispy and golden. Remove from broiler let cool and serve.
Also try:
Not Your Bubbe's Lag B'Omer S'mores
Not Your Bubbe's Spelt Honey Challah
Not Your Bubbe's Modern Gefilte Fish Fillet