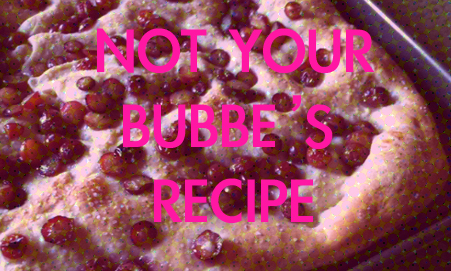 Kadesh. U'rchatz. Karpas. Scratch that. Wrong seder. While the Passover seder is my favorite ritualized meal, I've always had a soft spot for the Tu B'Shevat seder. Tu B'Shevat, which is coming up this Friday, not only provides a space to celebrate our inner Jewish tree-hugger, but it also has good food and no matzah. Unlike Passover's seder, this one does not have a set rabbinic text, so over the centuries, people have come up with a number of innovative ways to commemorate the holiday. From eating significant fruits to reading passages about Jewish environmentalism to trying out Jewish meditation, there is a wide range of ways to celebrate the birthday of the trees. Personally, I'm all for everyone standing on their chairs and yelling, "I am the Lorax. I speak for the trees!"
The 15th day of the month Shevat, or Tu B'Shevat, was initially a place marker used to remind farmers to bring crops from their fruit trees to the Temple. It shows up in the mishnah in tractate Rosh Hashannah during a discussion of the four Jewish new year celebrations—did you know that there were four? Me neither. There is a new year for kings and a new year for animal tithes in addition to the one that comes 10 days before Yom Kippur and Tu B'Shevat, which was considered the new year for planting and tithing.
After the Temple's destruction, the holiday was revived by Kabbalists in Tzfat, who tapped into the mystical essence of nature using fruit to symbolize our relationship with God. They created a structure for the Tu B'Shevat seder, including four glasses of wine and 10 different fruits, believing proper observance would bring the world closer to tikkun. Stemming from their use of fruit, it became customary in some parts of Europe to eat 15 different fruits on Tu B'Shevat, and other communities celebrated the day by eating a fruit for the first time in the last year. The Talmud also uses Tu B'Shevat as the literal birthday of the trees, counting a tree's lifespan by the number of Tu B'Shevat's it has witnessed.
A long-standing tradition of Tu B'Shevat entails eating Israel's seven species, which include wheat, barley, grapes, figs, pomegranates, olives (often consumed in the form of oil), and dates. I have clear memories of Tu B'Shevat when I was a student in Jewish day school. The whole school would file into the "festively" decorated cafeteria toward the end of the school day. There would inevitably be a dramatization of Honi and the carob tree, an interpretive scarf dance about the life of a tree, and an eagerly shrieked rendition of Eretz Zavat Chalav U'Devash.
After some supplemental readings on the land of milk and honey and a poem about the New Year of the Trees, we would (finally) turn to the partitioned Styrofoam plates before us and, after reciting a plethora of blessings, gingerly taste the figs and dry crackers, wishing we were actually eating the honey we'd spent the last hour talking about.
For this year's Tu B'Shevat celebration, I wanted to use all of the species, but I actually wanted it to feel a little more grown up and make the food taste good, so instead of nibbling at each ingredient on its own, I've put together three recipes that combine them in a way that showcases the wonderful flavors in each and form a cohesive meal. Start the meal with a hearty winter salad and warm hunks of grape focaccia dipped in rich Israeli olive oil. Not totally sold on putting grapes on your focaccia? Fulfill your grape requirement with a nice glass of Israeli wine.
Then enjoy flavorful, juicy roasted chicken with figs and olives. If you want to keep your meal vegetarian, use the focaccia as a vehicle for homemade hummus and fig and olive tapenade. The barley and date recipe below is inspired by Turkish cuisine and uses pomegranate molasses to bring a tangy flavor to this grain salad that can be served warm or room temperature. If you're not feeling the pomegranate molasses, throw some pomegranate seeds in with the dates instead. Be aware that non-pearled barley takes a very long time to cook. You can, of course, substitute another whole grain for the barley, but then you would be down one of the seven species! Incidentally, barley is the grain of the month for February, so you would be getting a jump-start on that celebration if you go with this recipe.
Don't forget to add a new fruit to your meal—ideally something grown in Israel that you haven't eaten in the last year—so you can say the shehechyanu.
Not Your Bubbe's Grape Focaccia
Ingredients:
1 ⅔ cups lukewarm water
1 (¼ ounce) package active dry yeast
5 cups unbleached all-purpose flour, plus additional for kneading
¼ cup plus 3 tablespoons extra-virgin olive oil, divided
1 tablespoon coarse sea salt
1 ½ cups halved grapes, seeded
1 teaspoon fresh rosemary, roughly chopped
1 ½ tablespoons coarse sugar
2 teaspoons coarse sea salt
Directions:
1. In a large bowl, gently combine the water and yeast until the water becomes murky and let it stand for 5-10 minutes. Add 5 cups flour, ¼ cup olive oil, and 1 tablespoon salt and mix vigorously with a wooden spoon until the ingredients form a dough.
2. Lightly flour the counter and turn out the dough to begin kneading by hand, until the dough is soft and smooth, but still sticky. Add flour as you go to prevent the dough from sticking to the counter, but remember that it should be a sticky dough. This should not take more than ten minutes.
3. Clean out your large bowl with warm water, dry, and lightly oil it. Transfer the dough to the bowl, and let it rise, covered with plastic wrap, at warm room temperature, until dough has doubled, about 1 to 1 ½ hours.
4. Generously oil a large (13″x17″) rimmed baking sheet or lightly oil a baking sheet lined with a silpat mat. Turn dough onto the baking sheet, and use your fingers (you may want to dip them in olive oil first) to spread the dough evenly to fill the sheet, letting the dough rest periodically. The dough will be dimpled from your fingertips–this is the rustic look we're going for! Once the dough fills most of the whole baking sheet, let it rise again, covered with kitchen towels, until it doubles, about 1 hour.
5. Preheat the oven to 450°. Brush the top of the dough with the remaining olive oil and sprinkle grapes, rosemary, coarse sugar and coarse sea salt evenly over the dough. Bake in the middle of the oven for 25-30 minutes, until the bread is golden and and the grapes are bubbling. Immediately slide the focaccia from the baking sheet onto a cooling rack. Cool slightly and serve warm or at room temperature.
Not Your Bubbe's Roasted Chicken with Figs and Olives
Ingredients:
8 ounces dried mission figs, stems removed
1 cup green pimento-stuffed olives
½ cup balsamic vinegar
¼ cup olive oil
1 chicken, cut in eight
1 lemon, zested
Cracked black pepper, to taste
Special equipment:
Food processor
Directions:
1. In the food processor, combine figs and olives and pulse until thoroughly minced. Add ¼ cup of the balsamic vinegar and run the food processor for 15 more seconds.
2. Drizzle some of the olive oil (reserve the rest) into the bottom of a baking pan and arrange the chicken, skin side up. Spread the fig and olive mixture over the chicken, tucking some under the skin so that it is nestled against the meat. Pour remaining olive oil over the chicken and allow it to marinate, covered, in the refrigerator for at least one hour and up to four.
3. When you are ready to cook the chicken, heat the oven to 350° Fahrenheit.
4. Pour the remaining oil and lemon zest over the chicken. Add the cracked pepper. Roast chicken in the oven for about 40 minutes, or until the skin has browned and the meat has cooked through.
Not Your Bubbe's Barley with Dates and Pomegranate Molasses
Ingredients:
2 tablespoons extra virgin olive oil
1 cup pearled barley, rinsed
2 cups water, salted
⅓ cups dates, chopped
⅓ cup scallions, thinly sliced
¼ cup parsley, chopped
¼ cup mint, chopped
2 teaspoons harissa, optional
½ cup pomegranate juice or 3 tablespoons pomegranate molasses
Juice of ½ lemon
salt and pepper to taste
Directions:
1. In a large saucepan, heat the olive oil. Add the pearled barley and cook over moderate heat, stirring, until lightly toasted and fragrant, 3 to 5 minutes. Add the water and bring to a boil. Cover and cook over very low heat until the water is absorbed and the grains are tender, about 30 minutes. Fluff the grains with a fork.
2. To make the pomegranate molasses, pour ½ cup of pomegranate juice in a small pot and bring to a low boil over medium-high heat. Allow the juice to simmer until reduced by at least half and has become a thick syrup, about 6-8 minutes. Remove from the stove and allow the syrup to cool. The molasses can be refrigerated in a sealed container for up to one month.
3. When the barley has cooled, add the dates, scallions, parsley, mint, harissa (if using), pomegranate molasses, and lemon to the bowl and toss to combine. Add salt and pepper to taste and pomegranate molasses or lemon juice as needed.
Also try:
Not Your Bubbe's Downton Abbey Viewing Party
Not Your Bubbe's Almond Olive Oil Cake
Not Your Bubbe's Indian Spiced Latkes With Apple Chutney