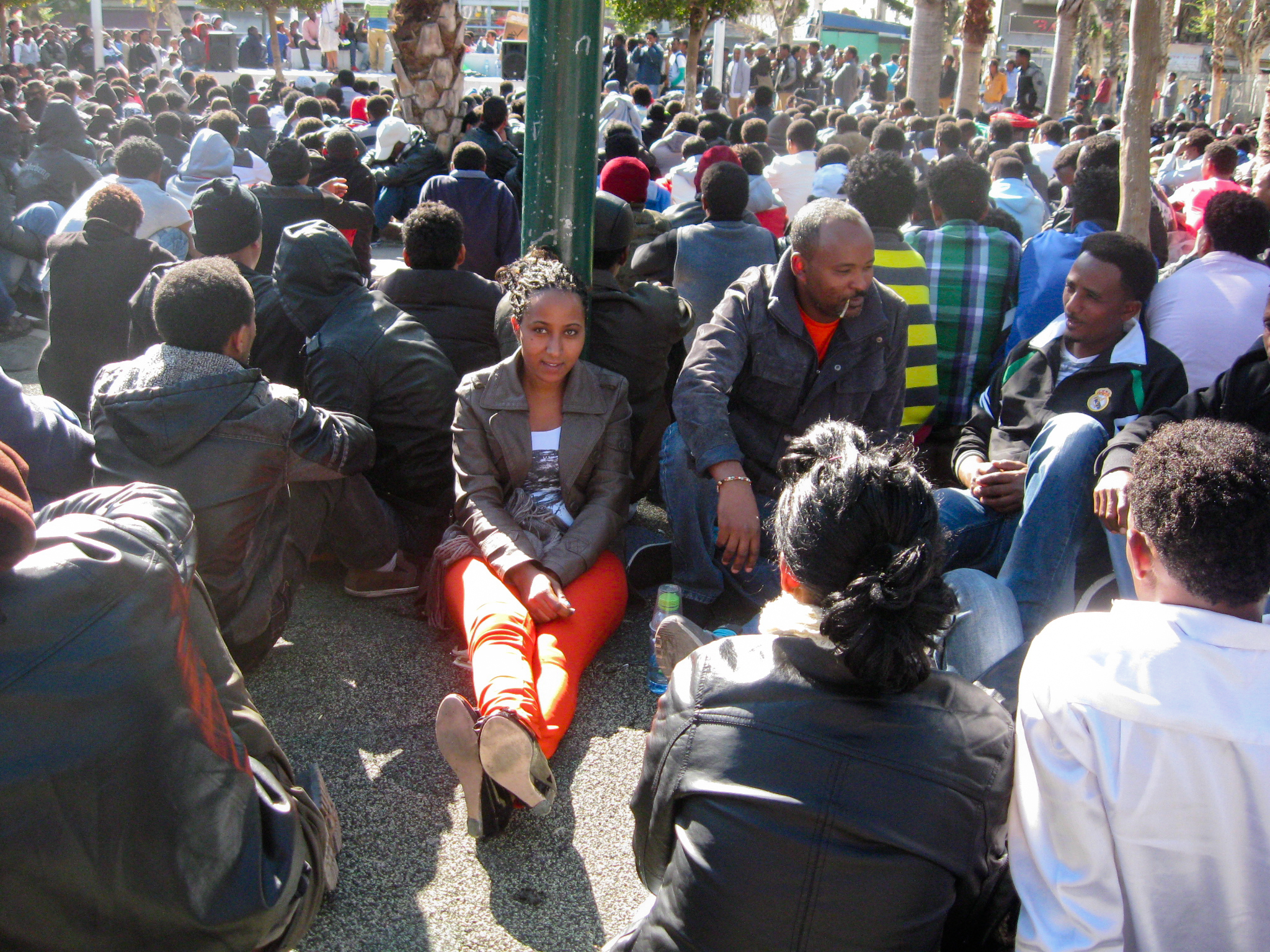 The street was long and filthy. Along its sides were dusty shops creaking under tall, concrete Bauhaus-inspired buildings that crumbled behind tired-looking groups of men speaking unfamiliar languages. In front of us a young man in the park reached for his friend's needle to shoot up a dose of heroin. Across the way a police station stood idle, not interfering, as the police had more important issues to deal with than everyday drug use. No, this wasn't a shanty town in South Africa, the favelas of Rio De Janeiro or American urban slums. Rather, this was Tel Aviv.
I went to Israel this past summer as a member of Greater MetroWest Diller Cohort 9. The Diller Fellowship, based out of San Francisco, is an international program centered around four pillars: Social Action, Israel, Leadership and Jewish Identity. Each city with a Diller grant selects 20 students to engage in the 15-month initiative and is paired with an Israeli city. Over the summer the cohorts meet in Israel with their sister communities as well as with all 26 international cohorts. My group, from Greater MetroWest, New Jersey, had been in Israel for three grueling, yet eye-opening weeks and for our last day we were finally given a chance to relax in Tel Aviv. After getting off our bus, we quickly noticed this was not the modern, cosmopolitan Tel Aviv we had become so accustomed to seeing. Around us the milieu reeked of sewage as we witnessed an African man being beaten by a gang of Israeli men in broad daylight. Hurriedly, we crossed the street and ducked into a side alley where our guide was waiting. Here in South Tel Aviv, this was not an anomaly.
Today this neighborhood is home to many of Israel's 60,000 African and South Asian migrants and asylum seekers. We learned that these immigrants, African ones especially, traveled thousands of miles, often walking, just for the opportunity to step foot in a free land. They were forced to survive in barren deserts as they trudged toward Jerusalem. When the journey got tough, they were forced to give away most of their meager possessions to Sinai Bedouins in exchange for guidance.
In the Sinai, families were tricked, women raped, and men murdered by manipulative and deceitful guides. If they were lucky enough to survive up to this point, the immigrants would be forced to pay more to be smuggled into Israel or find ways to circumvent the border fence. Immigration has stopped since 2015, however, since Israel's closing of the Rafah Crossing due to ISIS's growing presence in the Sinai.
Israel has long been open to immigration, even financing and organizing transports for Jews abroad. Unfortunately for these particular non-Jewish migrants, they arrived at the wrong time in Israeli history. With additional generations of Palestinians claiming refugee status and a right wing government struggling to preserve a Jewish State, non-Jewish immigrants have not been able to obtain asylum status in Israel. With no life to return to and no rights in Israel, the stranded migrants have been clumped into South Tel Aviv, an area known for being Israel's "wasteland." The government has not only blocked these immigrants, but has put pressure on them as well, demanding they leave or face detention at Saharonim Detention center in the Negev.
This is a horrible situation that has no easy resolution. The preservation of a strong, secure Jewish State has always been a top priority to the Israeli government, but even so, the country cannot sacrifice human rights to do so. Yet, the Likud leadership is willing to exploit people in life-or-death situations in exchange for the prospect of a purely Jewish state. These immigrants came to Israel because they believed it was a true democracy in the Middle East, a nation where human rights were valued and a destination on the doorstep of Europe where their Christianity would be accepted, even respected. Yet, what they have encountered is severe poverty, racism, and hatred. One 2012 study even found that over half of Israeli Jewish citizens approve of likening African migrants as a "cancer."
This issue was reported on when it first came to prominence, but has since faded from the public consciousness. The issue, however, has not gone away. It's too big of a human rights infringement not to address. While it may not have been Israel's responsibility to accept these migrants, it has now become Israel's undeniable burden.
Outside of the greater argument that this is a moral obligation, if Israel is concerned with battling BDS on college campuses, they should think pragmatically about the fates of these migrants. Today, pro-BDS groups ground their arguments in civil rights, portraying Israel as a systematically racist and repressive state that resembles apartheid (or worse).
The PR disaster that will ensue if Israel does not help these asylum seekers, who make up a mere 0.5% of the population, will be tremendous. It is perhaps easier to cast blame and deny asylum to Palestinians when their leadership bombards the country with rockets, but when a group's only crime is their presence, we must ask ourselves how Israel has failed them. Whether we like it or not, the migrants are here to stay and with European nations saturated with refugees and civil war raging around the Middle East, Israel must learn to absorb those at society's fringes, not only because it is the right thing to do, but because the world is watching.
Today, walking through Lewinsky Park on the outskirts of this migrant metropolis, a close observer will notice the gentrification slowly taking place as young Caucasians live just blocks away from these migrants in order to escape the real estate prices of central Tel Aviv. This poses a new challenge, as modern Israeli society will have two options: coexist or force the migrants out. This issue is by no means a new dilemma; rather it has been culminating for over a decade. In that time no progress has been made and previous Israeli governments have simply practiced a "kick the can" approach. After seeing the situation firsthand, I believe this problem must be resolved immediately.
I also think every Jew who visits Israel has to understand all of Israel through first hand experiences that include the good and the bad. I saw the raw, unscripted version of Israel firsthand. I am both in awe of its beauty and in fear of an impending crisis. I am unafraid and even eager to admit its flaws, because I know eventually it will only make Israel stronger.
Image: Eritrean asylum seekers at Levinsky park Tel Aviv. Via Wikimedia