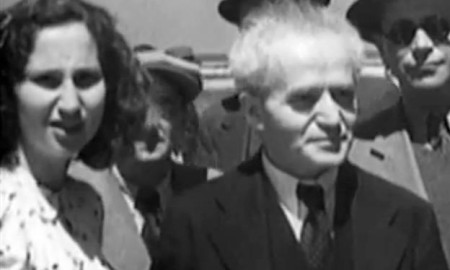 Hello, everybody! My name's Gabriela— what's yours?
I've been the editor of Jewcy for about two weeks now, and I just thought I'd pop in and introduce myself. I enjoy museums, ice cream, philately, dismantling the patriarchy, and the ongoing discussion of Jewish racial and ethnic identity in the 21st century.
I've been a journalist in the Jewish sphere for several years now, and my background includes interning at Tablet, and freelancing for them ever since.
If you want to know what I've posted here on Jewcy so far, I would suggest my article about the slang that Victorian Brits either took from or had about Jews. If you want news that you might have missed, read about Shia LaBeouf's new engagement. And for something a bit more serious, try this piece about the century-long delay on the Triangle Shirtwaist Factory Memorial.
In the near-ish future, keep an eye out for pieces about James Franco, homebrewing for Passover, and Jews in space (though not in the way you think).
You can always reach me through @JewcyMag on Twitter, or at Gabriela@Jewcy.com (bonus points if it's about musical theatre).
See you on the Internet!
Image Credit: Screenshot from 'Inventing Our Life: The Kibbutz Experiment'