(WE FINISHED THE COMPETITION AND ANNOUNCED OUR WINNER. YOU CAN LEARN WHO IT WAS HERE.)
Round 3 of this bizarre tourney was harsh and unforgiving, like a 19th century schoolmaster before some Anne Shirley-type waltzes in and gently points out that you don't need to strike children for them to learn in a classroom environment.
Anyway, what we mean to say is, Scarlett Johansson is gone. As is Daniel Radcliffe, Mayim Bialk, Lenny Kravitz, Rachel Bloom, Aly Raisman, Rachel Platten, and Mark Zuckerberg. A moment of respect for our fallen heroes…
OK, time to regroup. We're voting to turn out remaining 8 into a Fab Four. That's right; this is the quarterfinals. The competition is getting tighter. Choose wisely.
New subscribers to our email list will get the results of this round before we post Round 5:
[mc4wp_form id="160321″]
ONWARDS AND UPWARDS!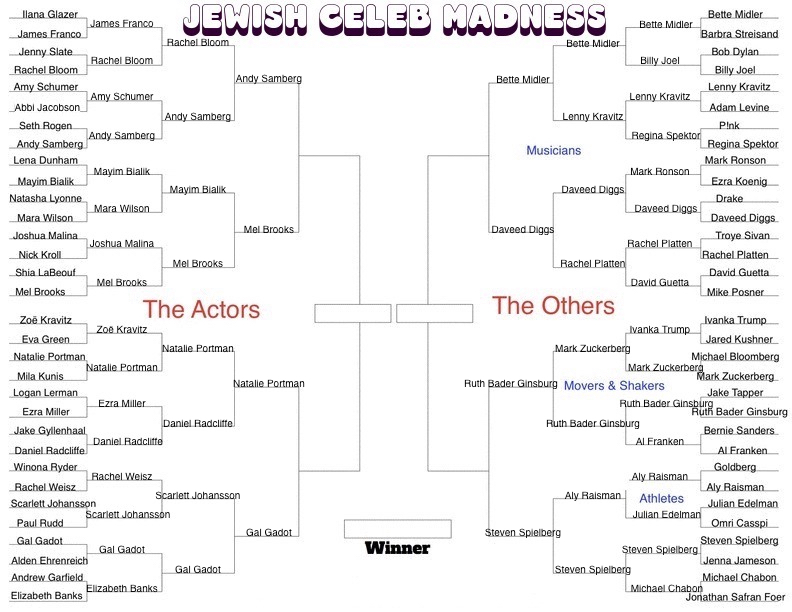 Voting ends this Thursday night, March 30th, at 8 p.m. And you can still tweet us with why you think your fave deserves to go all the way to number 1!  For example here are a couple of reader arguments for (and against) two of our top competitors:
RBG is 84 but could beat up anyone else on that list. Also, she is basically standing between us and the apocalypse. She should win this award and also every other award.— Ayelet Parness

Mel Brooks will win. As great and awesome and Jewish as Ruth BG is, Mel Brooks's career has done more for the culture, people, heritage, and world than any judge could hope to accomplish in a lifetime. — Dov Alpert
So how are you voting?
THE ACTORS:
[yop_poll id="59″] [yop_poll id="60″]
THE MUSICIANS (For the last time!):
[yop_poll id="61″]
THE OTHERS:
[yop_poll id="62″]